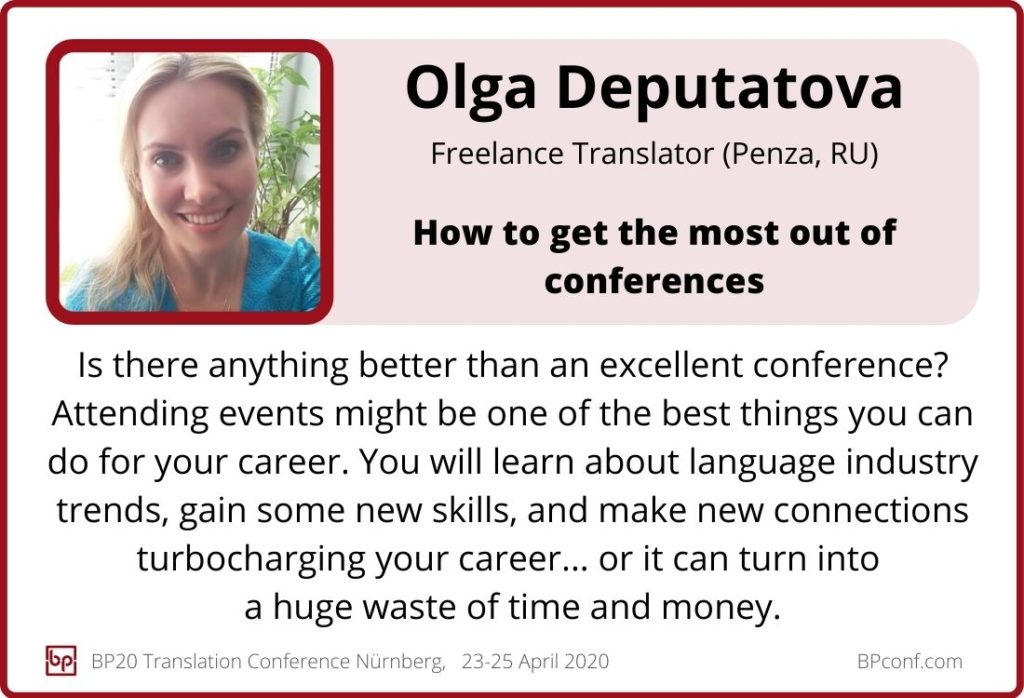 Is there anything better than an excellent conference? Attending events might be one of the best things you can do for your career. You will learn about language industry trends, gain some new skills, and make new connections turbocharging your career… or it can turn into a huge waste of time and money.
Will you achieve striking results or feel disillusionment? It is partly up to you, the attendee. When we say successful conferences, we mean highly effective conference goers, dealing with the challenges and opportunities of new trends.
In this presentation, we'll look at conferences from the viewpoint of an organizer, an LSP, and a freelancer. Based on years of experience, we have put together some tips on how to get the most out of translation conferences, creating win-win-win opportunities for all participants. Here are some best practices we want to share with you so your attendee experience is as fulfilling as it should be.
Olga Deputatova grew up in a multicultural family. Her relatives have been speaking Hindi, Farsi, French, English, German, Polish, Belorussian, Armenian, and Russian that inspired her to learn languages.
Since 2000, Olga has been working as a freelance translator from English, French, and Spanish into Russian. Her clients include local authorities, law-enforcement agencies, LSPs, factories, universities, and private individuals.
She actively participates in the language industry and regularly takes part in national and international events.
Olga is a proud member of the Union of Translators of Russia (UTR).
She has a keen interest in continuous learning and developing her expertise.
The exact time and room will be announced by late March.