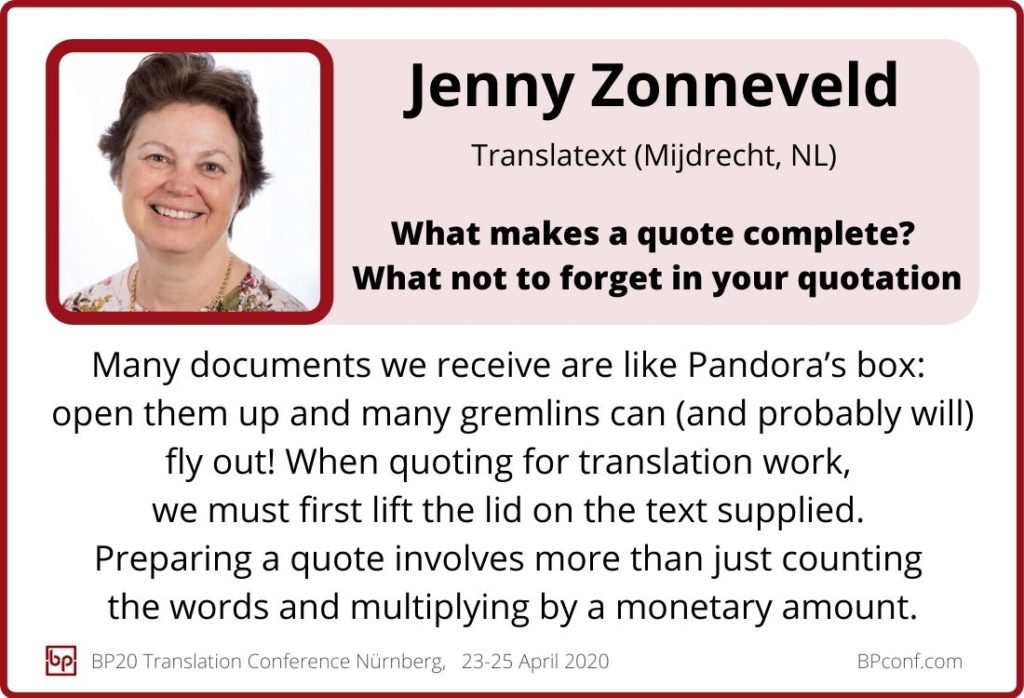 Many documents we receive to translate are like Pandora's box: open them up and – surprise, surprise – any number of gremlins can (and probably will) fly out at you! When quoting for translation work, we must first lift the lid on the text supplied. Preparing a quote involves more than just checking the number of words and multiplying by a monetary amount.
In this talk we'll look at what is needed to deliver a ready-to-use document and discuss how to identify and analyse the features and quote for work involving Word, Excel and PDF files as well as PowerPoint presentations.
We will examine the translation workflow and look at tried-and-trusted methods for preparing the numbers behind winning quotes. There will be time to discuss the merits of pricing per word, per hour or per project – something that many translators consider a troublesome topic.
Jenny Zonneveld has a business background. Before she became a freelance translator, copywriter, and editor, over 20 years ago, she spent more than 15 years at a firm of management consultants and worked in the UK, USA, Belgium, and the Netherlands, specialising in managing IT and Logistics projects. Jenny has drawn up many quotes, often for substantial translation projects involving multiple files and thousands of words. Jenny has built long-term relationships with her clients, who appreciate her insight into language matters as well as all things technical and who still like to know what to expect on the invoice in advance! Jenny is a member of MET, ITI and NEaT, besides her long-standing membership of SENSE. She was SENSE chair from 2015 to 2018 and is currently SENSE webmaster.
The exact time and room will be announced by late March.