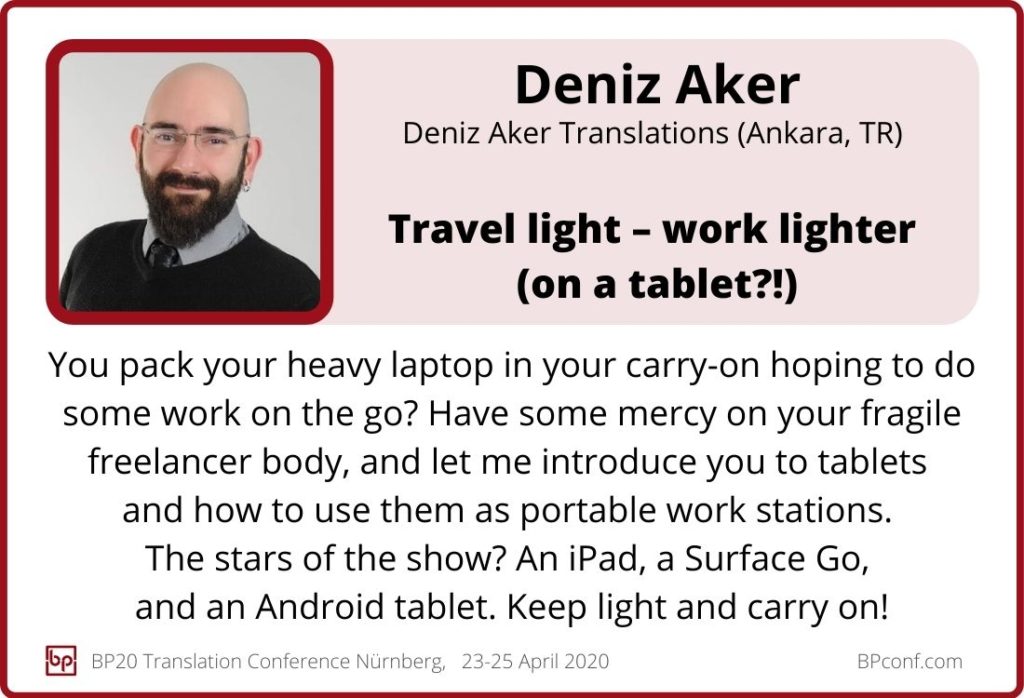 With the possibility of ever-improving tablets to be used as laptop replacements, now it is high time to shed the weight of 15 inch laptops and to start using tablets when we are freelancing on the go. The 20-minute presentation will provide the audience with the ways to work on a tablet and adapt these portable slabs of screen with high-capacity batteries to how we work.
The sample hardware to be introduced will be a third generation 10.5 inch iPad Air released in 2019 running iOS, a Microsoft Surface tablet with a 10 inch screen running Windows 10, and a Samsung Galaxy Tab tablet with 10.5 inch screen running Android 9. All these tablets have advantages and disadvantages over one another which will be dealt with in the presentation, specifically their limitations in terms of the software that freelance translators normally run on their machines, and how to overcome such limitations for the sake of traveling lighter.
A translator with a larger-than-life beard and 20 years of experience in the business, Deniz has been making communications easier between English and Turkish native speakers while helping doctors and patients alike to get their messages across. He plans to work as a translator until his retirement, a.k.a. his last breath.
The exact time and room will be announced by late March.