Focus your business: Finding the right niche for YOU
The aim of this talk is to encourage my fellow translators to bring focus to their interpreting/translation business and try to get more translation jobs in a field they are passionate about. To do so I will share the approach I took when I decided to specialize in marketing copy for German organic companies.
This approach is called Discover, Identify and Position (short "DIP") technique. After highlighting the factors that helped me choose the niche I wanted to pursue, I will share some inbound and outbound marketing strategies that proved to be quite effective for me in terms of acquiring new visibility and reaching out to new clients.
Last but not least, I will explain what I do on a daily basis to stay on top of my game in my specialization, i.e. how I manage to find time to read industry publications and cultivate my genuine interest for the niche I'm specializing in.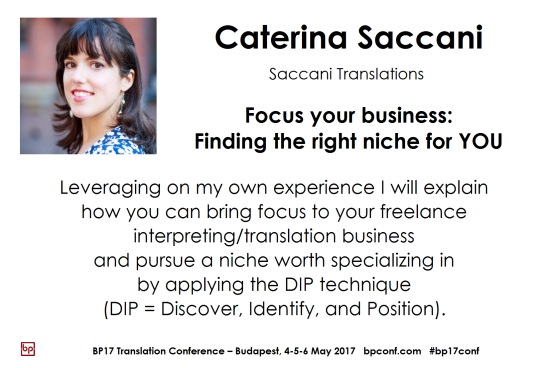 Caterina Saccani
Caterina is a Germany based Italian conference interpreter and translator specializing in legal texts and marketing copy for organic and green companies. I keep a blog where I share interesting information about the organic industry as well as the Italian culture, food and traditions. I enjoy networking with fellow translators as well as prospect clients and other interesting professionals. In my leisure time I try to hone my public speaking and leadership skills at the local Toastmasters Club, practice yoga and read enjoyable literature in my working languages and subject fields.
Practical details
This 50-minute session is scheduled for Saturday, 6 May, 2017.  You can attend this session by purchasing a 2-day pass to BP17, covering both Friday and Saturday.