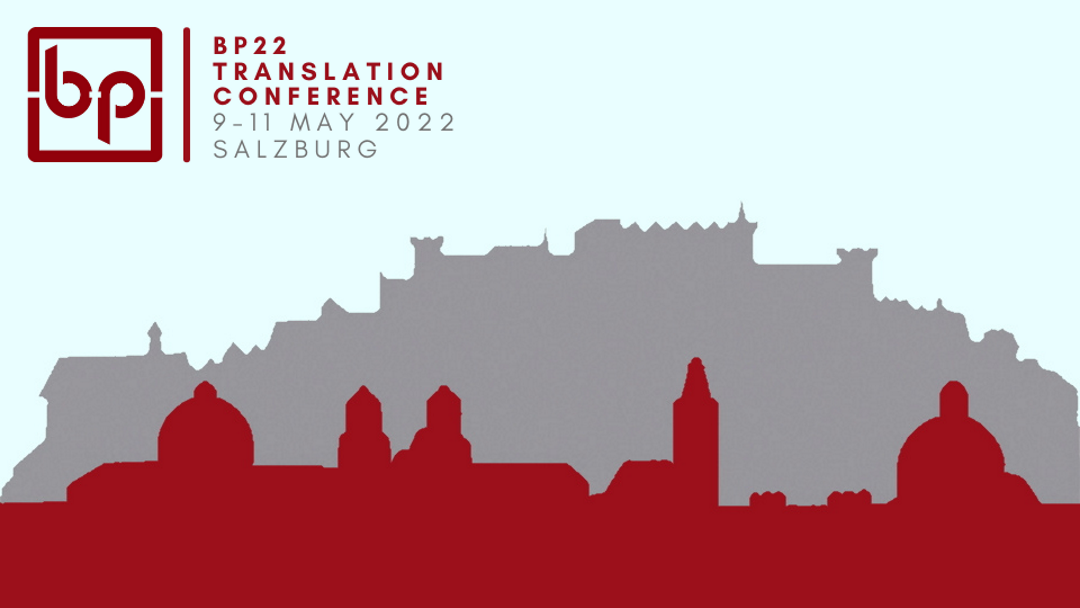 Let's meet again in person!
With two online conferences behind us, by next spring it will be high time to meet in person again.  The majority of the usual and other potential attendees are already vaccinated, so hopefully we'll be able to hold the conference as in the 'good old days'. 
Some people may prefer to join us from their homes.   For this reason BP22 will be held as a hybrid event.  Remote attendees will be able to follow the sessions and interact with the speakers in real time.  We'll also do our best to involve them in networking as much as possible.
If you are new to BP Translation Conferences, you may wonder what BP stands for.  Well, Business & Practice… for Badass Polyglots. In short, our events boost your confidence as a freelance translator and equip you with practical skills to thrive on the market.
Salzburg: An ideal location
As of now, Austria allows in-person events, and hopefully this will stay like this next spring as well.  Famous for its baroque old town and, of course, Mozart, Salzburg is easily accessible from around the Europe (and beyond) by plane, train, and bus.
Frequently Asked Questions
How can I apply as a speaker?
We are constantly looking for new and engaging speakers who have something relevant to say to a dedicated international audience of freelance translators.
About 60% of our presentations fall into to the broad field of 'business', while the rest belongs to 'practice'.  For a list of subjects presented at our previous conferences, see our session cards on our Video page.
How does COVID affect the event?
Obviously it's impossible to predict how the pandemic will unfold in the coming months. Regulations and restrictions change on a weekly basis, especially in view of the latest rise in the number of infections.
After examining the current (August 2021) regulations in place in various European countries, Austria seems to have adopted an approach that makes makes it probable that indoor events can be held properly.
Soon you will see a separate F.A.Q. section dealing with all possible implications of the pandemic, including proof of vaccination status and a more flexible cancellation policy.
You can read about the prevailing regulations in Austria here.  A link from this page shows you detailed information about entry into Austria from individual countries.
What's the event format?
On the pre-conference day (Monday, 9 May) we will have some workshops and possibly also an ATA certification exam.
In the evening we'll have our usual welcome reception, a great way to get to know each other before the actual conference starts the following day.
On Tuesday, 10 May, we'll kick off the day with a keynote speech or two, then after the first coffee break we'll have three tracks for the rest of the day.
We'll close the day with a gala dinner.
On Wednesday, 11 May we'll start the day with 3 separate tracks, switching back to plenary either after lunch break or after the afternoon coffee break. We'll finish off the conference with a farewell reception at the hotel premises.
We'll probably have a day trip on Thursday, 12 May, as well as a walking tour of Salzburg before the conference.
The farewell reception will be included in the conference ticket, while the two other dinners as well as workshops will be available as separate items.
How can I register for BP22?
As usual, tickets will be available from early January, available on this website.
Since this will be a hybrid event, there will be different types of tickets.
If you are new to BP conferences, it's a good idea to sign up for notifications above.
For a rough indication of expected costs, see the preliminary survey above.
Flying to Salzburg
There are a handful of useful direct routes to Salzburg, from cities such as Oslo, Copenhagen, Stockholm, St Petersburg, Niš, Istanbul, Dubai, London, Amsterdam, as well Franfurt, Düsseldorf, and Berlin.
There are many more seasonal flights as well, but these probably won't run in May.   Here's a list of direct routes to Salzburg.
Alternatively you can fly to Vienna or Munich, both with a wide range of European and long haul flights.   You can reach Salzburg from both airports conveniently by train, both under 20€ (if you book early).    Direct trains connect Vienna airport with Salzburg in about 3:20, while from Munich airport you can take an S-Bahn to the main railway station, then switch to a train to Salzburg – the journey from the airport to Salzburg takes less than 2 hours.
By train
Travelling by train offers a comfortable and lower-impact alternative to fying, and Salzburg is a great destination to arrive by train.
There are direct routes to Milan and Venice (both are night trains), as well as Zurich, Cologne, and Vienna/Budapest.   If you include a change (e.g. Munich/Frankfurt/Zurich/Cologne/Vienna), you can reach Salzburg from Paris, Brussels, Amsterdam, anywhere in Germany, anywhere in northern Italy, and many other places, for under 40€.
Tickets usually are available 6 months in advance, and the earlier you book, the cheaper the tickets are.
There's an excellent and highly detailed description of railway links from Salzburg here.
From Vienna, the most obvious option is ÖBB (Austrian Railways), with direct trains to Salzburg from both Vienna Airport and Vienna Hauptbahnhof (main station).  Tickets start from 19.90€ (if you book early).  Some of these trains actually from Budapest.  Alternatively, you can use privately run  FlixTrain from Westbahnhof.
You can search for connections and buy your tickets at oebb.at, or the website of your national railway company.
The conference hotel (Pitter) is a short walk from the train station.
By bus
Salzburg is part of an extensive network of long-distance bus routes operated by FlixBus.  They run comfortable buses that come with wi-fi and sockets, and offer cheap rides over long distances.
Some of the direct routes to Salzburg include the ones below, clockwise from North.  (A double >> sign means intermittant stops. Information collected from the FlixBus website.)   Some of these direct routes operate only on certain days of the week. There are many more options if you include a change.
Berlin >> Bayreuth > Nürnberg > München > Sb
Wrocław > Praha >> Strakonice >> Passau > Sb
Košice >> Nitra > Bratislava > Wien > Sb
București >> Brașov >> Sibiu >> Arad >> Wien > Sb
Sofia > Zagreb > Ljubljana > Villach > Sb
Maribor > Graz > Sb
Split >> Zadar >> Rijeka > Ljubljana > Sb
Trieste > Udine > Villach > Sb
Venezia > Udine > Villach > Sb
Paris > Strasbourg >> Karlsruhe > München > Sb
Bruxelles >> Luxembourg >> Saarbrücken >> Stuttgart > Ulm > A > M > Sb
Maastricht > Aachen > Bonn >> Frankfurt >> Fürth > München > Sb
Frankfurt > Mannheim > Ulm > Augsburg > München > Sb
For the lowest prices book as early as possible.  
Most of these rides stop at 'Salzburg South'.  Take trolleybus 3 (runs every 10 minutes) from near the bus station (1 minute walk), and ride 19 minutes to Mirabellplatz, then walk 350 meters to the conference hotel on the main street.
The conference venue
BP22 will take place at Hotel Imlauer Pitter, a family-run 4-star hotel near the train station, and just a few blocks from Mozart's birthplace.
As usual, conference attendees will be able to book hotel rooms at a discounted rate.  More details later on.
Things to see in Salzburg
Despite its compact size, Salzburg has plenty of things to offer to keep you busy for several days. The old town has been on listed as a World Heritage site since 1996.
Here's one informative website with a top-15 list, but there are plenty more.
Beyond the city itself, there are a number of possible day trips, including Hallstatt, Bad Ischl, Brechtesgaden (in Bavaria), and a number of hiking trails. We will post more information about these later on.
If all goes well, we can have a day trip for BP22 attendees to Hallstatt and neighbouring areas.
We always have a Plan B (and C... and D...)
When the world came to a halt in March 2020, BPconf was the first event in the translation industry (and one of the very few anywhere) that successfully converted to an online platform in just a few weeks.
With the majority of potential BP22 attendees vaccinated, organizing an in-person event for spring next year seems plausible.
However, we must follow any existing regulations and any restrictions, and we must take into account that these may change any time.  For this reason we must come up with several contingency plans to make this event happen.
First of all, BP22 will be a hybrid event. Some of you will be present in person, while others will follow the event from their own homes.
The most likely scenario
Of course it's impossible to predict the restrictions 9 months in advance, but as of now (August 2021) what seems likely is that indoor events, such as conferences, will be allowed in Austria for fully vaccinated people.
In fact, right now there's no cap on the number of people allowed to attend such events, and hopefully it will stay like this.
Should there be any major change in the regulations regarding events, you'll read about it here.
Cancellation policy
We plan to start selling tickets to BP22 in January, but not before a new (and more relaxed) cancellation policy will be in place.
We are still negotating the terms and conditions with the hotel venue, aiming at flexible terms that cater for any official restriction or ban on indoor events.  
Entry into Austria
Travel restrictions change often, sometimes even on a weekly basis. 
Here's  a regularly updated web page with the prevailing entry regulations.
Overland travel should be more or less without any obstacles, while air travel remains more regulated.
As of now, all incoming air passengers are required to fill in an online registration form and testify about their vaccination status, any recent encounter with a COVID-infected person, as well as the proposed address in Austria.    Now it seems that this type of preliminary registration remains in place for some time to come (just like pretty much everywhere else).
If necessary, you'll receive invitation letters for your Schengen visa. This worked fine before BP18 that took place in Vienna.
At the event
We'll abide by all prevailing regulations and we'll take all the usual precautions.
Currently event organizers need to take special measures for events with over 100 attendees, such as submitting a COVID-19 prevention plan.
Currently masks are not required at events, but a so-called 3G policy is in place.  This means you need to prove you're either fully vaccinated, recovered, or have a recent negative PCR test.
Some cool metrics from our 8 conferences (BP14 to BP21)
For most people the highlight of BP events is the easy-going, yet supercharged atmosphere that makes it easy to make lasting connections with your colleagues from other countries.
Year after year, a colourful crowd of professional translators come together from around the world at BP Translation Conferences. 
At a typical conference around 40 countries are represented. Over the years we've had translators from over 60 countries from around the world.
At a typical conference around 40 countries are represented. Over the years we've had translators from almost 60 countries from around the world.
Many translators return every year, no matter where the next BP Translation Conference takes place.
BP Video Library
170 conference sessions
Summer sale: 30% off until 30 August
Check out the sessions available in BP Video Library