Tuesday/Wedneday, 18/19 April 2023
3 weeks before the actual conference we'll have a 'Bonding Prequel' online, with some sessions, a workshop, and a great deal of networking.
18 April, 13:00 – 13:50 CET
More about the subject / speaker
Networks are important to us as freelance language professionals. Some say our networks should be considered a key business asset. We are all part of many different networks and, consciously or not, we play a different role in each. We sow network seeds, never knowing when they might germinate or how long it will take to reap benefits.
Over the past few years, networking has become less of an in-person thing and has shifted to various online modes. We have to learn to network in the digital age. This can be scary for even the most extravert among us. Online networking has its advantages, but for some, it is an enormous obstacle.
In this talk, I'll help you understand how networks work and function naturally. We'll also look at different types of network and strategies for gaining new contacts so you can build a flourishing network.
Jenny Zonneveld has a business background. Before she became a freelance translator, copywriter, and editor, more than 25 years ago, she spent about 15 years at a firm of management consultants and worked in the UK, USA, Belgium, and the Netherlands, specialising in managing IT and Logistics projects.
Jenny likes to build long-term relationships with her clients. However, when clients drop off the radar, they make space for new and exciting opportunities which are quickly filled through contacts in her network.
Jenny is a member of several professional organisations including ITI, MET, NEaT and ProCopywriters, besides her long-standing and now honorary membership of SENSE.
https://www.translatext.nl/
https://www.linkedin.com/in/jennyzonneveld/
18 April, 14:00 – 14:50 CET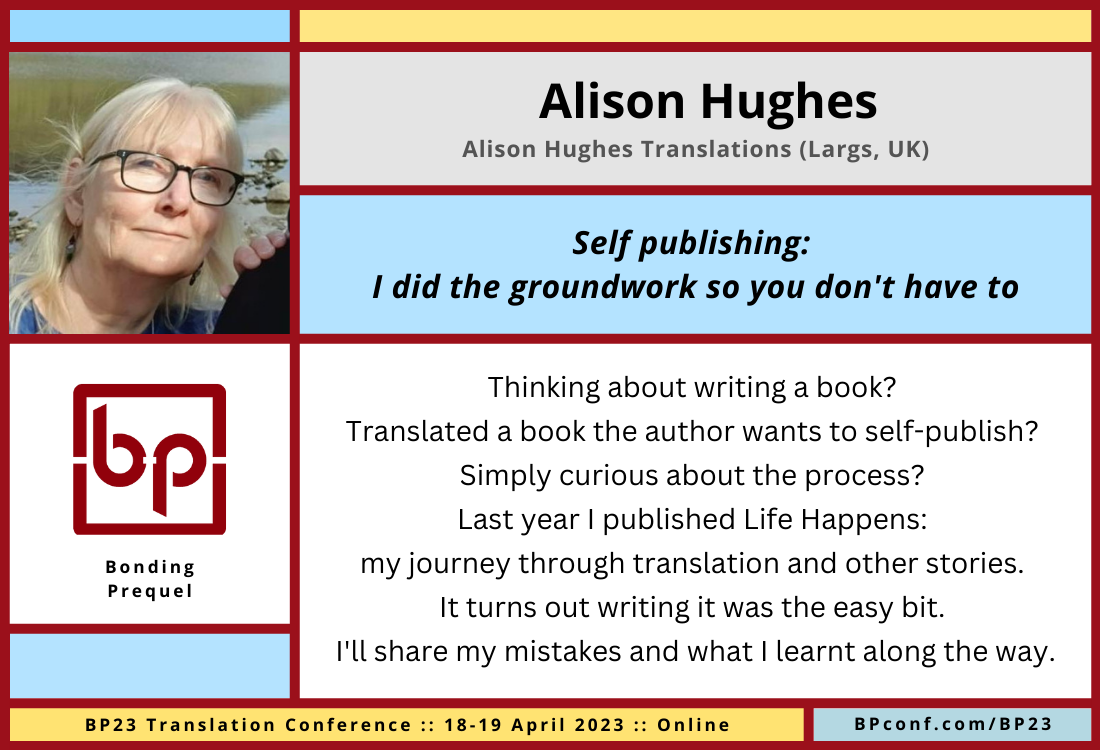 More about the subject / speaker
Translators gain experience in different fields over their career. They also learn a lot of business skills. Newer translators may have a specific skill or specialist subject they'd like to share. Some may have considered writing a book but not known where to start. What to include. What precautions to take. And when it's written, how to publish it and get it out to their target audience. In this talk I intend to discuss the ins and outs of the whole process, from putting fingers to keyboard to promoting the finished product, based on my own recent experience.
Following on from my shorter talk at the WTF (Winter Translation Forum), I would like to offer a more in-depth look at the self-publishing process, sharing the mistakes I made and the information I learnt along the way. Because my book takes a light-hearted look at my journey through translation, it also contains some practical information about building a network and seeking out opportunities which also apply to the book publishing process. The book didn't come about on a whim, I spent several years laying the foundations and building an audience, both processes which have served me well for translation too.
Maybe you have an idea for a book and don't know where to start? Perhaps you've translated a book and the author has asked you to help with the publication stage? Or you might just be curious about the process. As the title of the presentation says, I did the groundwork (felt the pain) so you don't have to.
After 17 years in the wines and spirits industry, Alison embarked on a freelance career in 1997 and is now a French to English translator and copywriter for the creative industries. Her specialisms are food and drink (specifically French wine and champagne), fashion and cosmetics, jewellery and contemporary art. In 2022, she published her first book entitled Life Happens: my journey through translation and other stories. Available from Amazon: https://amzn.to/3UdxfQB .
18 April, 16:00 – 16:50 CET
More about the subject / speaker
This presentation explores the benefits and drawbacks of specializing in fields such as legal, medical, technical, and marketing translation. We'll discuss how specialization can lead to higher pay, better job satisfaction, and a competitive edge in the market. But we'll also explore the potential pitfalls, including the risk of pigeonholing oneself, turning down work outside one's area of expertise, and the potential for monotony. Through examples, we'll delve into the world of specialized translation and help you decide whether it's the right path for you.
Daniel Gonzalez Menez is a Certified Translator with extensive experience in the field of language services. He specializes in providing high-quality translation and localization for clients in a variety of industries, including legal, financial, and technical. With fluency in multiple languages, including Spanish, English, Portuguese, and German, Daniel has built a reputation for accuracy, attention to detail, and excellent communication skills. He is known for his commitment to delivering results that meet the needs and satisfaction of his clients, while fighting for a fair translation industry. Daniel is the founder and director of LinguasPro and proud dad or Olek, his German Shepherd.
19 April, 13:00 – 16:30 CET
More about the subject / speaker
memoQ is a versatile software intended both for translation and review work. However, many default settings in memoQ are defined with translators, not reviewers in mind. During the workshop we will discuss various scenarios for reviewing text both translated in memoQ (offline and online projects) and bilingual imports from different software (e.g. Trados Studio) and how to work efficiently with, not against the software, employing various memoQ features like penalties for users/TMs/metadata, match insertion threshold and status changes.
Marek Pawelec graduated in Molecular Biology at the Jagiellonian University in 1992 and worked as researcher at faculties of Medicine and Chemistry of the Jagiellonian University, Kraków, Poland. Since 2001 works as a full time English to Polish freelance translator: started with literature, later added technical translations of medical, life sciences and chemistry texts. Translated close to 50 novels and millions words of medical texts, including medical equipment manuals, IVD, pharmacology and clinical trials-related materials. Experienced computer aided translation (CAT) software user and trainer, certified memoQ trainer. Presented on multiple translation conferences and teaches on practical aspects of freelance translation, CAT tools, regular expressions and translation related software. He is interested in technical communication, passionate about terminology and cats.
Before, between and after the sessions on both days
Networking sessions & games
Saturday/Sunday, 6/7 May 2023
With many attendees likely to arrive over the weekend, this is will be an ideal time to explore Utrecht or make a day trip to Amsterdam or elsewhere in the country. You can form groups of your own using our conference app.
Workshops
We'll have two workshops on this pre-conference day, each of them giving you three hours of in-depth training, with a half-hour coffee break. You'll also receive certificates of attendance.
The workshops are not covered by the conference ticket, you'll need to buy these extra.
Stand-alone tickets to the workshops are also available.
Silvia's workshop will take place between 9:30 and 13:00, while Virginia's workshop will take place in the afternoon, between 14:00 and 17:30. Both of these take place at room Singel at Crowne Plaza (inside the Hoog Caterijne shopping mall).
Both workshops will be offered as hybrid events.  This also means recordings will be available.
More about the subject / speaker
Do you struggle with the copy on your website? After this workshop you'll walk out with an optimized site architecture, and one killer service page that is optimized for search engines, targets your ideal clients, and converts leads into customers.
As an SEO Copywriter, I write service pages for my clients that land regularly on the top spots in Google – and I'll teach you how to do the same.
We'll take the time to go through my sales page template, brainstorm ideas with other attendees, and fill in your workbook during the workshop.
Bring your pen and let's get creative together!
Included:
– A short presentation on SEO and conversion copywriting
– A workbook
– Lots of fun!
Silvia's love affair with the localization industry began by mere chance when she—unexpectantly—landed her first job at a translation agency in Tokyo 16 years ago.
Over time she transitioned from technical translations to transcreation, SEO, and copywriting. At the moment, her biggest passion is helping small and medium-sized companies with their German websites – optimizing their content for search engines to increase traffic and conversions.
In her free time, she takes figure-skating lessons and dreams about her next snowboarding trip.
Let's connect on LinkedIn (Silvia Schulz)
www.winwithwords.nl
More about the subject / speaker
Are you tired of time-consuming long-term marketing strategies that don't bring any tangible results to your language business? Are you a starting-out translator and you would like to become fully-booked in less than 3 months? Are you an established translator but you would like to take the next step in your business? Expand to new markets or even work less and earn more? Then this session is for you. We are going to talk about online client-acquisition strategies and mindset shifts that will help you become fully booked in an efficient way. You will learn how to contact and acquire new customers online without extra budget and in a non salesy way.

Virginia Katsimpiri, PhDc, is a certified translator & business strategist with over 15 years of experience. Holding an ΜA in translation and an executive MBA in client acquisition strategies, she has helped hundreds of freelance translators & interpreters worldwide attract international clients and rapidly build their profitable business through her mentoring programs. Virginia is the creator of the Fully Booked Translator Formula & the Ultimate LinkedIn Prospecting System, the first comprehensive, results-oriented Business Mentoring Programs for Language Professionals. She is also the founder of the Ask Your Mentor Anything initiative; a virtual live show where she and other experts discuss translation business-related issues on a weekly basis. Virginia teaches translator mentoring methods and provides seminars, webinars and eBooks such as "60 Ways To Get Clients As a Translator". She gives talks at the biggest international conferences of the industry and has appeared in numerous online publications, podcasts and marketing shows. Currently Virginia studies translators/interpreters' business performance at a PhD level and runs two businesses: www.vtranslations.gr & www.vmentoring.com.
Welcome reception
As always, we'll have a welcome reception on the eve of the conference itself (probably from 19:00). An informal event with no set agenda, just mingling with fellow translators from around the world.
Now it looks like we'll meet at Crowne Plaza itself for an international buffet dinner + drinks.
We'll also have our own BP netwowking game to help you meet more people.
The welcome reception is included in the 'Utrecht Premium' ticket, or you can buy a separate ticket for this.
Vegan / Lactose-free / Gluten-free options are available
These are fow information purposes only. The exact schedule will be published around a month before the event.
Also, individual sessions may be moved between Tuesday and Wednesday until the final schedule will be published.
Conference, day 1
This will be the first day of the actual conference, with sessions running in 3 parallel tracks from 9:00 until about 17:00.
We'll start the day with a keynote speech (to be announced soon) in plenary session, then after the first cofee break, we'll have three tracks for the rest of the day.
Both coffee breaks and the lunch break will be extra long to allow you to socialize. We may even have thematic discussions during these breaks (e.g. medical translators, legal translators, etc.)
The actual schedule will be determined about a month before the event.
More about the subject / speaker
Ever sat struggling with a translation for hours? Drinking endless cups of coffee as you burn the midnight oil? But still, the words won't come? Creativity isn't something you can turn on and off like a tap. As a society, we fixate on productivity and scorn those who are idle. Productivity isn't a virtue. It's a means to an end. But maybe there's another way. Sometimes doing nothing can actually make you more productive. Join me and let's explore how and why.
Andrea Garfield-Barkworth has been translating German to English for more than thirty years and for more than half that time, she's been running her own business – The English Translator. Andrea comes from Lancashire, UK and is now based in Appel in Northern Germany. She translates for a variety of magazines and periodicals.
More recently, she became interested in copywriting and completed the College of Media and Publishing Copywriting course with Distinction. Besides the German translators' association, Andrea is also a member of ProCopywriters. She has given several talks on the importance of Tone of Voice and ways to practise honing your writing skills and applying this to your translations.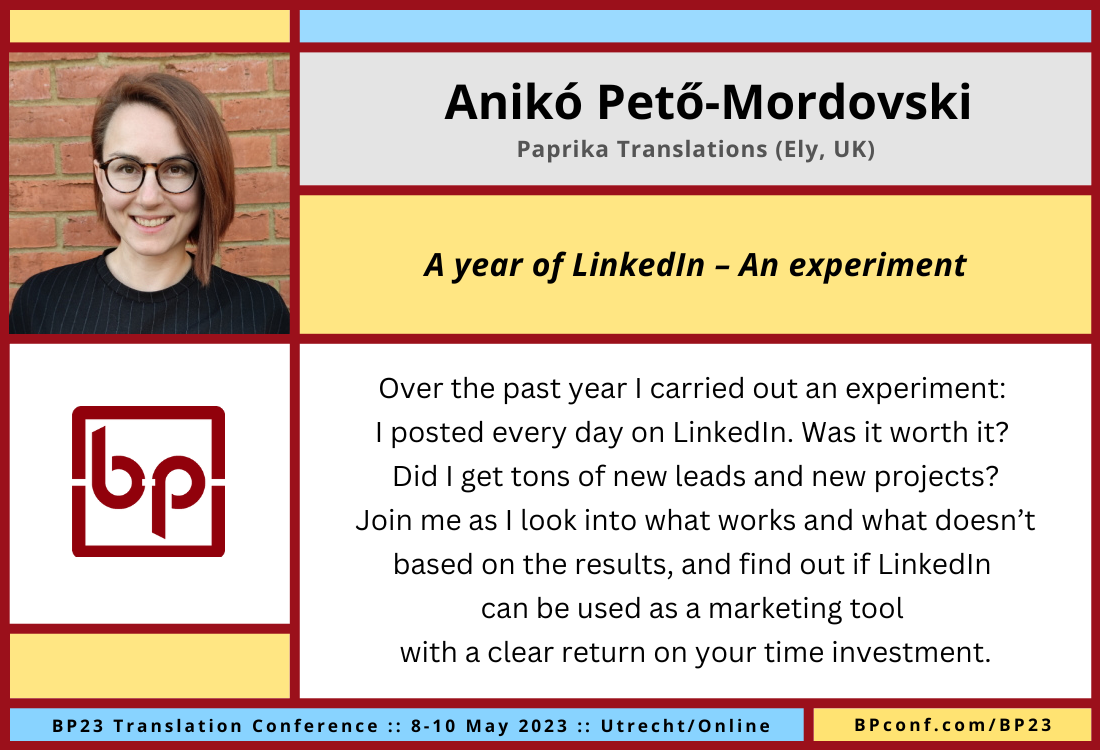 More about the subject / speaker
Over the past year I carried out a marketing experiment: I posted every day on LinkedIn. Was the effort worth it? Did I get tons of new leads and did those mean new projects?
Join me as I look into what works and what doesn't based on the results of this year-long experiment, and find out if this professional networking site can be used at all as a marketing tool with a clear return on your time investment.
Anikó Pető-Mordovski has been working in localisation for more than a decade, switching from an in-house project management role to translating as a full-time freelancer in 2018. As a Hungarian translator, she is specialised in the creative fields, including marketing translations, transcreation and game localisation. She was born and raised in Hungary; however, she has lived in beautiful Cambridgeshire for 13 years.
She is an active member of the ITI East Anglia Network as its secretary and she volunteers in the UK chapter of Women in Localization as part of the social media team. She is also the co-founder of #TeamTranslator, a positive, supportive group for freelance translators.
Website: www.paprikatranslations.co.uk
LinkedIn: www.linkedin.com/in/aniko-peto-mordovski
Twitter: www.twitter.com/AnikoTranslates
More about the subject / speaker
Do you receive a lot of subtitling projects and have to turn them down because they take too long? Learn how to use basic artificial intelligence tools, such as automatic transcription, timecoding, and speech recognition tools to speed up the subtitling process. You will be able to focus on conveying video content efficiently while applying the stylistic conventions of subtitling and will spend less time on the technical part of the process.
Angélica Ramírez holds a Ph.D. in translation from Alicante University. She has been an audiovisual translator for 30 years for Mexican television and pay channels in Latin America. She translates from English and French into Spanish, both for subtitling and dubbing. Angélica has also worked as a translator for publishing houses, such as Simon & Schuster and Larousse Mexico. She currently teaches subtitling in undergraduate and graduate programs in Mexico and translates educational and corporate videos. She is a member of the American Translators Association (ATA) and Organización Mexicana de Traductores (OMT).
https://angelicaramirez.com.mx/
https://www.linkedin.com/in/angelica-ramirez-translator-subtitler/
More about the subject / speaker
When you are an avid reader, and like me love scouring the bookshops for new authors or rare classics, you have probably come across that gem of a book that you feel everyone should read. Or you live in an area where a minority language is spoken (like I do) and all the "good books" are only available in the majority language. How do you pitch your idea to a publisher? What are the pros and cons of self-publishing? Come along on my journey of translating "The last crossing" by Brian McGilloway, and learn more about how to make your dream translation a reality.
Ammerins is both a translator and interpreter, working between English, Dutch and Frisian, under the company name Babylonia. She studied English at the University of Groningen and spent her third year as a Harting Scholar at Trinity College Dublin. After graduating, she went to Queen's University Belfast to do a Master's in Irish literature, where she met a dashing Northern Irish man at the university drama society. They moved back to the Netherlands, got married and had two kids, now teenagers. She started out translating chicklit and computer manuals, but now mainly gets her teeth stuck into complicated legal and medical texts, and dashes from court hearings to notary's offices to conference venues to interpret. However, she still loves reading, especially in Frisian. She is a board member of It Skriuwersbûn, the Frisian Writers' Association, and of the NGTV, the Dutch Association of Interpreters and Translators. Oh yeah, and she knits!
http://www.babylonia-vertalingen.com
More about the subject / speaker
Many of us have an "inner critic", a relentless critical voice that brings us down and feeds our self-doubt, sometimes even holding us back from taking on new exciting challenges. If this sounds familiar, this session is for you!
In this presentation, we'll take a closer look at the inner critic and how they manifest themselves. We will also discuss surprising (and even fun) ways of dealing with them which you can then apply to your individual situation. While we might never completely get rid of your inner critic, we can certainly keep them in check – so we can enjoy our work and move towards our goals without being held back by self-doubt.
Bettina Röhricht is a freelance translator and coach based in England. Originally from North Germany, she translates from English and Portuguese into German, specialising in politics and the environment.
Having worked as a freelance translator for over 20 years, Bettina is very familiar with all the stress and responsibilities that come with the territory. In addition to her career in translation, she started working as a coach about 10 years ago to help other translators deal with work-life balance and self-care issues, overcome internal barriers and be happier, more successful, freelancers.
https://www.linkedin.com/in/betttina-roehricht/
https://www.instagram.com/bettinaroehricht/
http://bettina-roehricht-coaching.com/en/
More about the subject / speaker
Transcreation is often touted as one of the most future-proof translation specialisations. And that makes sense too, as transcreation always involves high-profile copy – the kind of copy that needs to be tackled properly. To actually land transcreation projects, you do need to be able to stand out from the crowd. We all know that isn't always easy.
In this talk, I'll share all the lessons I've learned in my 9 years as a transcreator. I'll give you new strategies to find transcreation clients, tips and ideas on how to better pitch new clients and delight current ones, and I'll unveil a methodic approach you can use to keep delivering quality even when the creative juices aren't flowing.
Branco van der Werf has been translating and copywriting since 2013, and has worked as a translation and language lecturer since 2018. His specialisations include business translation, creative translation, education, and, last but certainly not least, transcreation. He has undertaken thousands of hours of transcreation projects for clients in the UK, US, Germany, Singapore, Mexico and Spain.
As a speaker, he has given presentations and lectures on transcreation and the translation industry at several universities in the Netherlands and Belgium, always preferring a style that is to the point and laden with examples and practical advice.
Website: https://werf-straalen.nl
LinkedIn: https://www.linkedin.com/in/brancovanderwerf/
More about the subject / speaker
Trade fairs are a great place to get the latest industry insights, but also to find leads that might turn into direct customers. I used to work in marketing and customer service and one my duties was attending trade fairs. So I have seen both sides of the stand – as an exhibitor and as a freelancer – so I can share with you some tips and tricks to make the most out of this experience, plus a handy list on what to pack for the day.
Chiara Vecchi is an English and German into Italian translator specialised in beauty & cosmetics, marketing, medicine, and travel & tourism. Now based in Italy, she has studied and worked in the UK and Germany. Before becoming a translator she worked in marketing and customer service. Chiara has held webinars and sessions for BP Conference, the ITI, TradInFo (Italian association of translators and interpreters) and the training platform TranslaStars.
https://chiaravecchi.com/
www.linkedin.com/in/chiara-vecchi-italian-translator
https://www.instagram.com/italian_cosmetics_translator/
More about the subject / speakers
With video content on the rise, subtitling services are now in demand more than ever. Our talk aims to answer the question, "Why offer subtitling as an additional service?" We share the benefits for you as an experienced or new freelance translator or interpreter and your clients, and highlight gaps in the market you could fill. Find out what skills you need (and may already have) to be a subtitler, and how to gain and develop key additional skills. Finally, we share our tips on how to add subtitling as a service, such as finding clients, pricing, and marketing.
Chloe Stout is a French and Italian into English translator and subtitler based in West Yorkshire. She holds an MA in Audiovisual Translation Studies from the University of Leeds and has been freelancing for the last two years. She offers services in subtitling, including SDH and template creation, translation, and proofreading and editing. She mainly works on material in marketing, entertainment and education and loves combining her linguistic and technical capabilities in her subtitling work.
Dot is a British English translator and subtitler based in Manchester, UK.
She creates English subtitles, subtitle templates, and subtitles for the deaf and hard of hearing for German, Dutch, and English movies, TV shows, and other audiovisual content.
Dot's been freelancing since 2019 and has a Master's in Translation studies as well as a Bachelor's in German with Dutch.
She also hosts her own podcast called Meet the Translator in which she chats with a different colleague each episode about a topic relating to translation.
www.dotrobertstranslation.com
www.linkedin.com/in/dot-roberts-ma-aiti/
More about the subject / speakers
As translators, we all have our own versions of "professionalism." But unconventional does not have to mean unprofessional. In this talk, we'll address uniqueness as a strength and show how it can lead to higher value clients. We'll touch on points of imposter syndrome and motivation, while giving real-life examples of unconventional professionalism and practical steps to attracting the perfect client by being yourself.
Dot is a British English translator and subtitler based in Manchester, UK.
She creates English subtitles, subtitle templates, and subtitles for the deaf and hard of hearing for German, Dutch, and English movies, TV shows, and other audiovisual content.
Dot's been freelancing since 2019 and has a Master's in Translation studies as well as a Bachelor's in German with Dutch.
She also hosts her own podcast called Meet the Translator in which she chats with a different colleague each episode about a topic relating to translation.
www.dotrobertstranslation.com
www.linkedin.com/in/dot-roberts-ma-aiti/
Kelsey's bio missing
More about the subject / speaker
In an age when everyone is constantly bombarded with information, marketing translators, transcreators, and copywriters must always find new ways to write copy that sticks. But there are tools that can come in handy and should always be included in their toolbox, like figures of speech, for example. Figures of speech – also known as figures of rhetoric, figures of style, and figurative language – are literary devices that add colour, vibrancy, and impact. They also trigger an emotional reaction and help readers understand ideas on a deeper level. But what figures of speech are most effective in "unborifying" any text and adding that extra oomph? And what pitfalls should we avoid if we want to keep readers interested and engaged? Let's find out together.
Elina I. Nocera is a bilingual Italian-English marketing translator and web copywriter with 15 years of experience, including 11 as a freelancer.
Elina helps brands and creative service-based businesses connect with their Italian- and English-speaking audience through compelling copy and a natural tone of voice.
She is a member of IAPTI, MET, and the Italian Copywriters' Association (A.I. Copy).
Elina is based in Umbria, Central Italy. When she's not glued to a computer screen, she's probably travelling, participating in a local theatre lab, enjoying a body combat workout, or watching tennis or the latest season of her favourite TV shows.
More about the subject / speaker
As translators or interpreters, we learn about translation theory, how to build a corpus, or how to research terminology. Unfortunately, when we become freelancers, we must learn on our own about how to deal with good clients, bad clients, and meh clients.
During this class I will share simple tips on how to set healthy boundaries, get good working conditions, and build long, happy relationships with clients. In short, you will leave with tips on how to keep good clients, get rid of bad ones, and turn the meh clients into fantastic ones!
Gloria M. Rivera is an English/Spanish certified medical and California court interpreter, conference interpreter, translator, and instructor.
Gloria is Core Faculty of the National Center for Interpretation at the University of Arizona and the recipient of 2018 CHIA's Instructor of the Year Award.
She mixes her background as a physician/surgeon (Lima, Peru), and her experience as a freelance and staff medical translator and interpreter to develop classes that are practical, interesting, and fun at Blue Urpi.
Gala dinner
We'll have our gala dinner at Humphrey's, a spacious restaurant right at Oudegracht, or 'old canal'.
It's very easy to reach: it's about a 5-6 minute walk from Crowne Plaza, or a 12-15-inute walk from Jeerbeurs, our conference venue.  
We'll have a 3-course menu, as well as drinks.
The gala dinner is included in the 'Utrecht Premium' ticket, or you can buy a separate ticket for this.
You can bring along a guest by buying an additional ticket. Stand-alone tickets (without attending the conference) may be available from 1 April.
Vegan / lactose-free / gluten-free options will be available.
These are fow information purposes only. The exact schedule will be published around a month before the event.
Also, individual sessions may be moved between Tuesday and Wednesday until the final schedule will be published.
More about the subject / speaker
The demand for high-end translation is still on the rise. How come high-end clients are that difficult to find? I will home in on marketing and acquistion strategies in the language industry. I will draw on the white elephant gift exchange as a simile for ineffective strategies found among many language professionals, and introduce value proposition specificity as a driver of professional success. The main takeaway of my talk will be: never become the elephant, if you want to source high-end clients.
Gys-Walt van Egdom is affiliated to Utrecht University. He lectures on translation, and is the course coordinator of the unit "Labour-market orientation for translators". He is co-author of books on translation didactics, translation quality and entrepreneurship (latter is yet to be published). He is also a board member of Stichting Tolk en Vertaalcongres. https://www.uu.nl/medewerkers/GMWvanEgdom
More about the subject / speaker
Few translators are natural-born negotiators. The result? Poor rates, income instability, work overload, and more. Disturbingly, and contrary to what many translators think, poor negotiation and communication skills are often to blame, not a lack of expertise or experience. By analyzing real-life interactions that I've had with prospects during my translation career, which spans 15 years, I will give you highly practical and actionable insights, empowering you on your way to better jobs, a healthy work-life balance and satisfied clients. I've learnt this the hard way, so you don't have to.
Jakub is a legal translator, interpreter, consultant and lecturer working with English, Czech and Slovak. He holds a Master's in English Linguistics and a postgraduate diploma in legal translation. His clients include elite law firms, award-winning manufacturers, law enforcement agencies and public authorities.
Jakub is a Visiting Translation Lecturer at the University of Westminster in London, a Chartered Linguist, and member of the Chartered Institute of Linguists (CIOL), the International Association of Professional Translators and Interpreters (IAPTI), the Chamber of Court Appointed Interpreters and Translators of the Czech Republic, and the Czech British Chamber of Commerce.
He is registered as a sworn translator with the Czech Embassy in London and Dublin as well as the Czech Consulate General in Manchester.
You can follow him on LinkedIn and Facebook.
https://www.linkedin.com/in/jakub-res/
https://www.facebook.com/res.jakub/
More about the subject / speaker
Pricing is still a taboo subject… but it doesn't have to be. As a mid-market translator, I'll take you through some of my best-earning projects as case studies, being brutally honest about how much I earned and how I negotiated a great price for each one.
You'll come away with ideas on how to apply my experience to your own situation and learn how to leverage your unique skills and attributes to land the projects you're worth.
I want to bring up a subject that people tend to just dance around. There's the odd talk about pricing here and there, but we need more practical strategies and more frank discussion.
Lloyd Bingham runs Capital Translations in Cardiff, Wales. He works from Dutch, German, French and Spanish into English, specialising in business, marketing, technology and education, lately branching out into cybersecurity.
Lloyd is a board member of ITI, the coordinator of ITI Cymru Wales and a member of SENSE and MET.
This is Lloyd's third BP, having spoken about 'Dealing with Denglisch' in Vienna in 2018.
www.medicolegaltranslations.com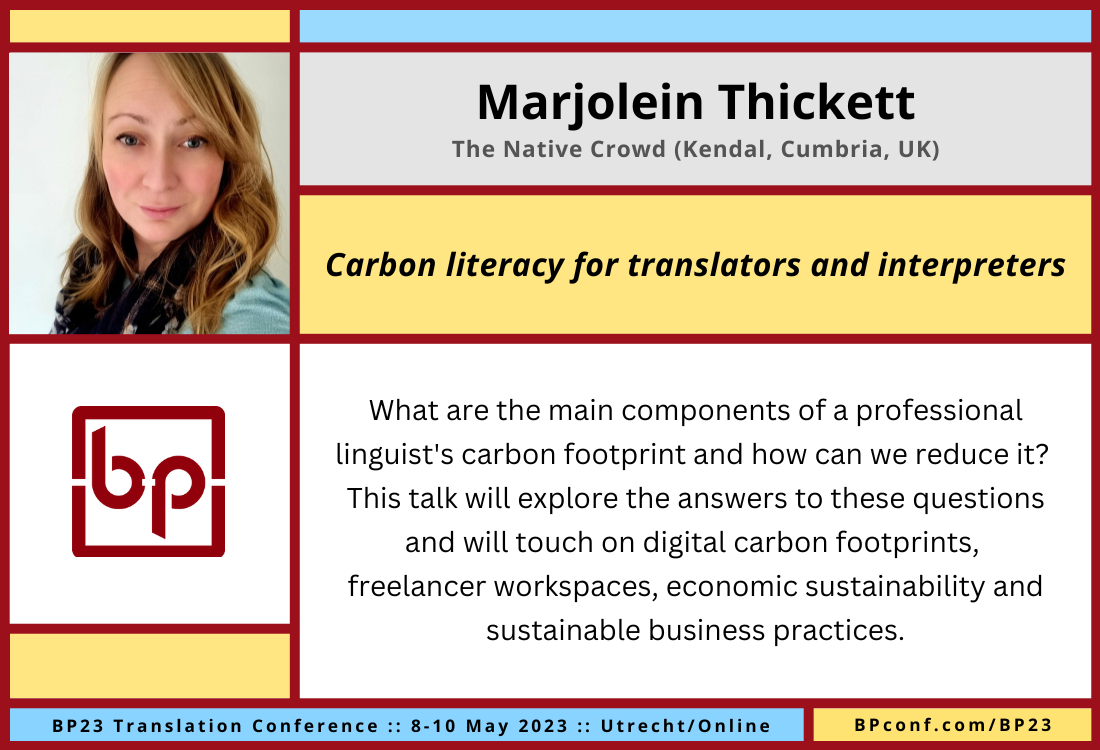 More about the subject / speaker
Working in a sustainable manner is a social responsibility and corporate best practice these days. All of us have to do our bit to counter the climate emergency, but as freelancers how to go about this is often unclear.
This talk will explore the main components of a professional linguist's carbon footprint and how we can reduce it. I will cover digital carbon footprints, freelancer workspaces, economic sustainability and sustainable business practices.
Sustainability can be both good for the planet and good for business!

Marjolein Thickett is a freelance translator and editor based in the North of England. She translates from Dutch, German and Russian into English and specialises in sustainability, sports, marketing and corporate communications.
Marjolein recently completed Jen Gale's carbon literacy program and has more than 10 years' experience in industry working on ground-breaking sustainability projects.
You can reach her by email, on her website, LinkedIn or Instagram.
[email protected]
www.thenativecrowd.com
www.linkedin.com/in/marjolein-thickett-the-native-crowd/
www.instagram.com/thenativecrowd/
More about the subject / speaker
Transcreation works best as a collaboration, with shared input and often some brainstorming. The process of transcreation will normally need to be slept on and, in an ideal world, the process would never be same-day.
The process of transcreation has various stages.
Oana Maria has over 10 years experience of working in the industry as a translator and interpreter.
She is the founder of City Translate and currently the Head of Transcreation, where she leads a team of linguists in delivering creative content for some of the largest UK brands.
Oana-Maria is the author of several books, including Secrets of six-figure translators and Transcreation- How it's made and why.
More about the subject / speaker
In the era of digitalization and Industry 4.0, you only have one choice: either you evolve with the technology or you disappear from the market. With completely new concepts emerging every other day and with an increasingly strong fusing of many different disciplines in complex connected systems and infrastructures, you cannot rely on your university knowledge from 20 years ago and only translate in one or two specific areas. In this session, we will discuss strategies how technical translators can keep pace with technological progress and continuously learn in order to provide high-quality translations in their niche.
Olga Scharfenberg-Dmitrieva is a qualified technical translator with Master's degrees in Engineering and Technical Communication. She is based in southwest Germany and has over 20 years' experience of translating technical material as a freelancer. Her working languages are German, English and Russian. Olga is owner of Textorus Fachübersetzungen and co-founder of Translators4Industry.
https://textorus.de
https://translators4industry.de/
More about the subject / speaker
Have you ever thought about your translation business in terms of a process? Taking a closer look at your business and translation processes provides a better understanding of how you work. How does a translation job enter your business? What kind of data comes with it? How do you process the translation and the accompanying data? Understanding the different steps of the process will show a lot of potential for optimization. There are as many ways to set up your processes as there are colleagues. Thus, I am going to take you on a short journey of how I have set up my processes (and how this developed over time).
Peter is a copywriter, marketing and legal translator from Berlin, Germany. As managing partner of a partnership company, he was responsible for the ISO17100 certification and dove deep into the processes of that translation company then. Today he works as freelancer again and uses the knowledge in his everyday business.
He works from Dutch (and sometimes English) into English. His very first translation was done some 50 kilometers from Utrecht.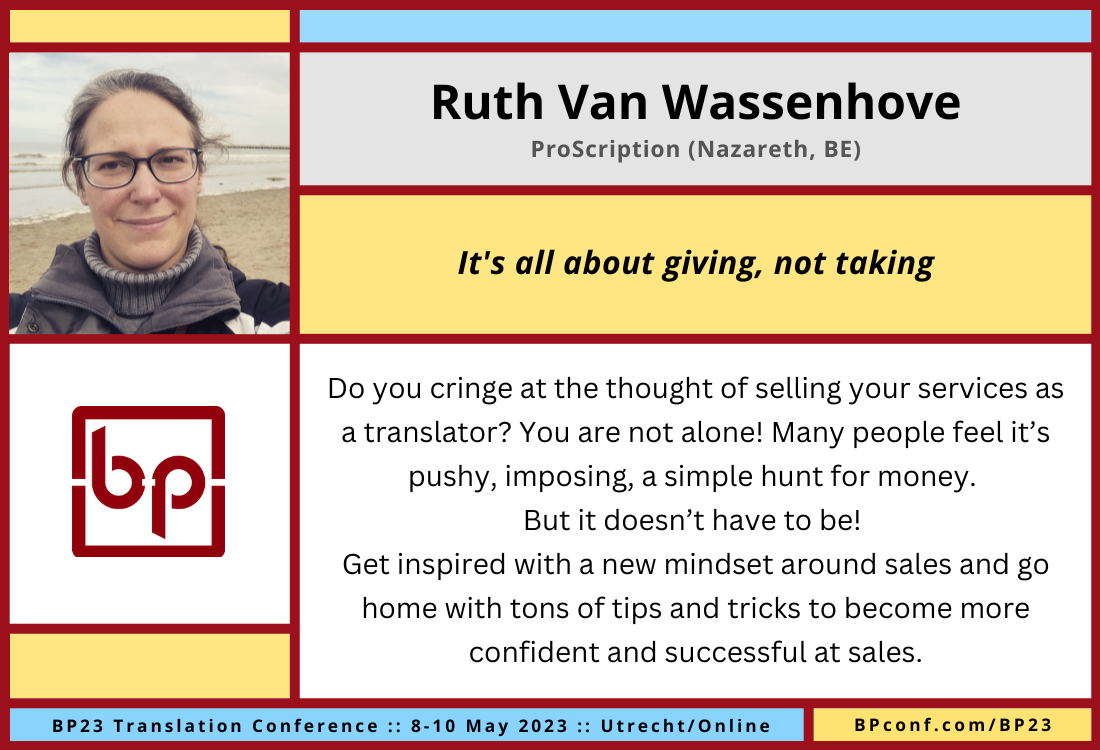 More about the subject / speaker
Many translators struggle with the idea and even more so the practice of selling their own services. They feel it's pushy, imposing and a simple hunt for the prospect's money. In this talk you'll get inspired with a new mindset around sales and get tons of tips and tricks to become more confident and successful at selling your services. We'll first dive into the different types of selling. Then we'll discuss which types work best for truly offering help and building a long term relationship with clients. After this session, you will never look at sales the same way you did before.
With over 10 years of experience in the industry, Ruth has built a solid reputation as a marketing translator and copywriter for clients who mainly work in tech and innovation. Technology for accountants, innovative systems for circular building… it's what she loves to sink her teeth into. When she's not translating or writing, there's a good chance you can find her at some network event because she loves being around other entrepreneurs. And last but not least, she is also passionate about general business processes such as project management, finance and sales. At this conference she will focus on the sales aspect and hopes to spark that same passion in other translation professionals.
https://www.linkedin.com/in/ruth-van-wassenhove-74a43822/
www.proscription.be
More about the subject / speaker
Have you ever wondered how massive translation-related tasks are done in weeks and months by some people, and accomplished in a few hours by others? The secret is always in the know-how that has been acquired over the years, and the innovative techniques that only very few professional translators possess, and the diversification of the proper tools that allow you to get more done and having less to do. Tips include, automation, shortuct scripts creation, Regex by example, time-saving techniques and tools, lightening-fast access to translation resources, and more.
Sameh Ragab is an ISO 17100 Lead Auditor and Certified Translation Provider, CAT Tools and Terminology Management Expert, UN and World Bank Registered Translation Vendor, DTP specialist, and Certified Localizer. A renowned international speaker and trainer focusing on the technical side of translation, Sam has over 30 years of expertise in the translation and localization industry and sets the benchmarks for quality work, with a focus on Arabic and Middle Eastern translation, localization and DTP services.
More about the subject / speaker
All of us want to increase our productivity, but do you know where your productivity comes from? Who are your best clients – not just the best rates, but overall best clients? What are the assignments that make you the most money per hour? Is the flat hourly rate the best solution for everyone?
We'll look into new ways of looking at old things, re-evaluating our rates and earnings logic as well as ranking clients in order to find out where our own sweet spot of productivity lies.
Tiina Kinnunen is a Finnish professional audiovisual translator with over 30 years of experience. Her specializations include U.S. politics, documentaries, and project management (accessibility and translation in international projects). Her jobs range from translating the script of a children's movie to subtitling the Oscar Gala. A co-author of the Translator's Guide to the Industry, she believes in sharing, giving back, and spreading the word about best professional practices.
She is a frequent presenter at translation conferences and a guest lecturer to translation students at universities. She is the chair of the organization that has founded Finland's first conference dedicated solely to the continued professional development of translators and interpreters.
https://www.linkedin.com/in/tiina-kinnunen/
http://www.kaantajamestarinkirja.fi/
Conference wrap-up
We'll probably have a panel discussion with some of the conference speakers, then later Csaba will hopefully announce next year's location*.
No set agenda, just replying questions from the audience, both in the room and from those who join us from their homes.
(*I'm working on it, but nothing is confimed yet)
Farewell reception
We'll finish off the conference with a reception, with finger food and drinks.  This is included in all conference tickets.
This will take place most probably between 16:00 and 17:30.
Vegan / lactose-free / gluten-free options will be available.
Thursday/Friday, 11/12 May 2023
Usually many attendees extend their stay by a day or two.
You can form groups to explore Utrecht, take a boat around the canals, make day trips to Amsterdam or elsewhere in the Netherlands.
We'll publish some ideas here soon.