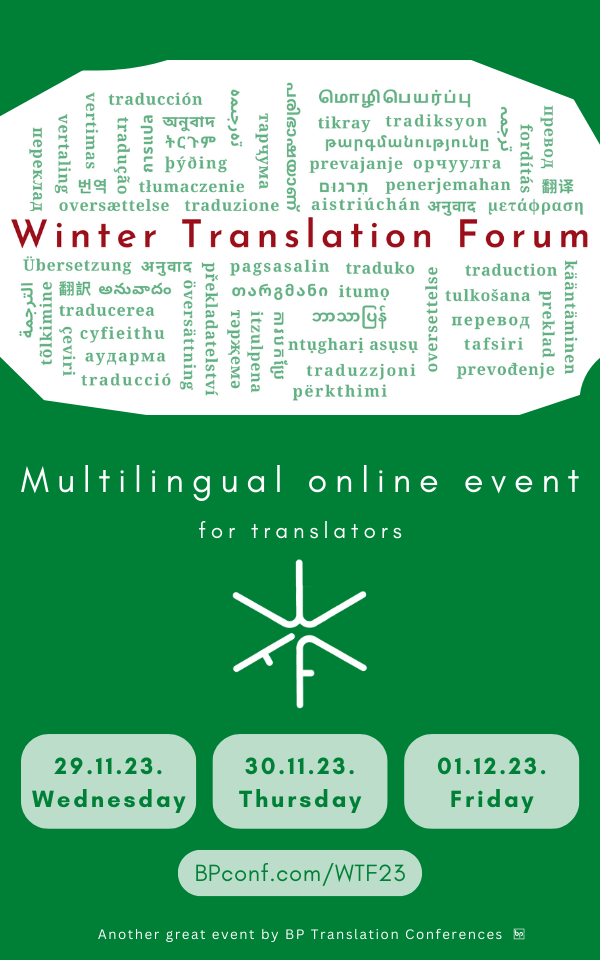 Winter Translation Forum '23
Multilingual online event by BP Translation Conferences
3 days :: 10+ languages :: 60+ talks :: 1000s of new connections
Expecting over 500 attendees from 60+ countries
Speaker application
by 2 October 2023
Speakers announced
throughout October
Event lobby open
around 10 November 2023
WTF23 live
29 November – 1 December 2023
Multilingual online event for translators
WTF23 is a multilingual training and networking event for translators, taking place online, over three days: 29 November (Wednesday), 30 November (Thursday), and 1 December (Friday).
Event format
This online event will consist of several 2-hour blocks, each in a different language or subject. For example, we may have a block in English on artificial intelligence between 12:00 and 14:00 CET, consisting of 3 or 4 sessions, followed by a networking break, followed by a 2-hour block in Polish, and so on.  There will be several tracks running simultaneously.  Sessions will likely take place between 12 noon and 8 pm CET (i.e. 6 am to 2 pm EST) each day.
How can you help?
If you think you can bring together at least 3 speakers and 20 attendees for a 2-hour block in your language, drop us a line.
If you'd like to volunteer as a host of a networking break, or you can spread the word to a large number of potential attendees, drop us a line.
A wide variety of subjects
We will have sessions on the business and practical aspects of translation, but other areas are also welcome: technology, (socio)linguistics, work-life balance, literary translation, MT/AI, specific specializations, or even quizzes.
Approved sessions will be published from mid-October.
Apply as a speaker
If you have something relevant to say to fellow translators, please apply as a speaker below by 2 October 2023.  The form is in English, but you can fill in the form in the language you wish to hold your presentation.  Ideally, we will group approved proposals into 2-hour blocks.
Speakers will receive credit that they can use for purchasing any future event at BPconf.com. The amount of credit varies between 50€ and 150€, depending on the number of attendees at your session and the rating you receive.
Événement multilingue en ligne pour les traducteurs
WTF23 est un événement multilingue de formation et de mise en réseau pour les traducteurs, qui se déroulera en ligne, sur trois jours : 29 novembre (mercredi), 30 novembre (jeudi) et 1er décembre (vendredi).
Format de l'événement
Cet événement en ligne consistera en plusieurs blocs de 2 heures, chacun dans une langue différente. Par exemple, nous pourrions avoir un bloc en français entre 12h00 et 14h00, composé de 3 ou 4 sessions, suivi d'une pause de réseautage, suivi d'un bloc de 2 heures en polonais, et ainsi de suite. Plusieurs sessions se dérouleront simultanément. Les sessions auront probablement lieu entre 12 heures et 20 heures CET chaque jour.
Comment pouvez-vous nous aider ?
Si vous souhaitez améliorer le texte dans votre langue, écrivez-nous.
Si vous souhaitez promouvoir cet événement auprès de vos collègues dans votre langue, écrivez-nous.
Une grande variété de sujets
Nous organiserons des sessions sur les aspects commerciaux et pratiques de la traduction, mais d'autres domaines sont également les bienvenus : la technologie, la (socio)linguistique, l'équilibre entre vie professionnelle et vie privée, la traduction littéraire, la traduction automatique, des spécialisations spécifiques, ou même des quiz.
Les sessions approuvées seront publiées à partir de la mi-octobre.
Posez votre candidature en tant qu'orateur
Si vous avez quelque chose de pertinent à dire à vos collègues traducteurs, veuillez vous inscrire en tant qu'orateur ci-dessous avant le 2 octobre 2023. Le formulaire est en anglais, mais vous pouvez le remplir dans la langue dans laquelle vous souhaitez faire votre présentation. Dans l'idéal, nous regrouperons les propositions approuvées en blocs de deux heures.
Les orateurs recevront un crédit qu'ils pourront utiliser pour l'achat d'un événement futur sur BPconf.com. Le montant du crédit varie entre 50 et 150 euros, en fonction du nombre de participants à votre session et de l'évaluation que vous avez reçue. Tous les orateurs reçoivent également un certificat.
Evento multilingüe en línea para traductores
El WTF23 es un evento multilingüe de formación y creación de redes para traductores, que tendrá lugar en línea, durante tres días: 29 de noviembre (miércoles), 30 de noviembre (jueves) y 1 de diciembre (viernes).
Formato del evento
Este evento en línea constará de varios bloques de 2 horas, cada uno en un idioma diferente. Por ejemplo, podemos tener un bloque en español entre las 13:00 y las 15:00, que consistirá en 3 o 4 sesiones, seguido de una pausa para establecer contactos, seguido de un bloque de 2 horas en polaco, y así sucesivamente. Habrá varias pistas que se desarrollarán simultáneamente. Las sesiones tendrán lugar probablemente entre las 12.00 y las 20.00 CET de cada día.
¿No ve su idioma?
Si cree que puede reunir al menos a 3 ponentes y 20 asistentes para un bloque de 2 horas en su idioma, envíenos un mensaje.
Si desea ayudarnos a mejorar el texto en su idioma, escríbanos.
Una amplia variedad de temas
Tendremos sesiones sobre los aspectos empresariales y prácticos de la traducción, pero también serán bienvenidas otras áreas: tecnología, (socio)lingüística, conciliación de la vida laboral y familiar, traducción literaria, MT/AI, especializaciones concretas o incluso concursos.
Las sesiones aprobadas se publicarán a partir de mediados de octubre.
Presente su candidatura como ponente
Si tiene algo relevante que decir a sus colegas traductores, presente su solicitud como ponente a continuación antes del 2 de octubre de 2023. El formulario está en inglés, pero puede rellenarlo en el idioma en el que desee realizar su presentación. Idealmente, agruparemos las propuestas aprobadas en bloques de 2 horas.
Los ponentes recibirán un crédito que podrán utilizar para adquirir cualquier evento futuro en BPconf.com. La cantidad de crédito varía entre 50 y 150 euros, dependiendo del número de asistentes a su sesión y de la calificación que reciba.
多语种翻译在线活动
WTF23 是面向翻译人员的多语种培训和交流活动,将在网上举行,为期三天:11 月 29 日(星期三)、11 月 30 日(星期四)和 12 月 1 日(星期五)。
活动形式
本次在线活动将由若干个 2 小时的单元组成,每个单元使用不同的语言。例如,我们可能会在 12:00 至 14:00 之间安排一个中文时段,包括 3 或 4 场会议,之后是交流时间,接着是 2 小时的法文时段,以此类推。 届时将有多个分会场同时进行。 会议可能在欧洲中部时间每天中午 12 点至晚上 8 点之间举行。
如何提供帮助
如果您想在您所在的社区传播信息,或者您想自愿担任交流会的主持人,或者您想帮助我们改进您的语言版本,请写信给我们。
广泛的主题
我们将举办有关翻译业务和实践方面的会议,但也欢迎其他领域的会议:技术、(社会)语言学、工作与生活的平衡、文学翻译、MT/AI、特定专业,甚至问答。
经批准的会议将于 10 月中旬发布。
申请成为发言人
如果您有与翻译同行相关的内容,请在 2023 年 10 月 2 日之前申请成为演讲者。 表格为英文版,但您也可以用自己希望的语言填写。 在理想情况下,我们将把批准的提案分成 2 小时的小组。
演讲者将获得积分,可用于今后在 BPconf.com 上购买任何活动。信用额度从 50 欧元到 150 欧元不等,取决于参加会议的人数和您获得的评分。
A single event space
No need to switch between Zoom tracks
Select the sessions you wish to attend
New, intuitive event interface
Multingual content
Several language-specific mini events
Wide range of subjects
Aiming at 60+ countries
Enhanced networking
Content-rich attendee profiles
Chat in the lobby and in the sessions
Group and 1:1 video meetings
Translators unite
Excellent opportunity to learn and network
for seasoned colleagues
and new translators alike
Call for papers / Apply as a speaker
Until 2 October 2023
Thinking of being a speaker at WTF23?
Winter Translation Forum is a unique event, offering training and networking sessions in a multitude of languages, and covering a wide range of subjects.
If you have something relevant to say to a keen international audience, there's hardly any better place than this.  Novice speakers and conference veterans are both welcome to present. 
Open the application form here for more details.
How about hosting a networking session?
We'll have several 1-hour networking sessions in between 2-hour blocks of presentations, and we need hosts for these.
A networking session can be language-specific (e.g. a continuation of a 2-hour block in the same language before the break), and/or subject-specific.
More details and application in the adjacent form.
Want to have a 2-hour block in your language / subject?
Would you like to have a 2-hour block (consisting of 2-4 sessions) in your language or your subject area?
We'll probably receive many speaker applications in languages such as English or German or Spanish, but not so many in several other languages. If you know potential speakers in your language (or your subject area), tell them about this event.  
More info and application in the form.
Deals for communities / associations / students
If you'd like to spread the word about this event to a large number of colleagues, such as members of a professional association, followers of a social media account, or students at a university, let's get in touch.
More info and application in the form.
I'd like to improve the text in my language
To be honest, texts in most languages above were translated using deepL or GT, and this inevitably leads to mistakes.
Feel free to point out such mistakes using the same form.
(If you can see only an English text above, this means the content hasn't been localized to your country/language yet.   You can still submit speaking proposals in any language.)
Registration / Tickets
Current prices are valid until 16 October 2023
Full access :: 48€
Access to any and all sessions

Access to the event platform from mid-November

Access to the networking & expo areas

Access to the recordings after the event (until 29 February)

Certificate of attendance
A 27% VAT applies if you purchase as an individual, or if you are registered in Hungary
No refund is possible
Online bundle :: 118 €
Attendance at Winter Translation Forum '23 online
Any and all sessions on 29 November – 1 December 2023
Including access to all recordings until 29 February 2024
Including a certificate of attendance
Attendance at the online version of BP24 Translation Conference
Any and all sessions on 14-17 May 2024
Including access to all recordings until 31 August 2024
Including a certificate of attendance
1-year access to BP Video Library
200+ conference sessions (BP16 to BP22)
You receive a unique URL to access our Vimeo channel
Cancellation/Refund policy
60% refund in store credit if you cancel until 06/11/2023
30% refund in store credit if you cancel between 02/12/2023 and 01/05/2024.  You may use store credit for any future purchases.
2. Finish your registration
Training CPD for translators
Business training for freelance translators
 or
Where did the idea come from?
Back in 2020, when we all lived in a worldwide lockdown, event organizers were forced to hold online events. In fact, BP20 in April 2020 was the first translation conference that was moved to an online platform, and that in a matter of just a few weeks.
Seeing an opportunity, we experimented with a new event format a few months later, celebrating St Jerome's day with a 30-hour marathon. This massive online event consisted of several language-specific 2-hour blocks, sometimes with several blocks running simultaneously. 
There were short talks and presentations, followed by discussions in about 10 languages, covering all time zones.
In 2022, we held our first 'Winter* Translation Forum' in the first days of December with hundreds of participants, with sessions in 10 different languages.
Yes, the organizer is aware of what 'WTF' commonly stands for.  But we, as translators, know all too well that the meaning depends on context. 
Btw, WTF will take place on Wednesday, Thursday, and Friday 🙂
*If you come from the southern hemisphere, or from the tropics, let's just say this is a 'Warm Translation Forum', or a 'Weather-neutral Translation Forum' 🙂 
What is the event format?
Winter Translation Forum will consist of several 2-hour blocks spread over 3 days (29 and 30 November, and 1 December).
Each 2-hour block will take place in a particular language and/or a particular subject, and several blocks may be running simultaneously.  So at any one time, we may have a block on AI in German, a general block in Romanian,  and a block on transcreation in Spanish.
Each 2-hour block will consist of several sessions.  By default, these sessions will last for 30 minutes, but we may also have 60-minute and 90-minute sessions. In some cases, a 2-hour block will consisst of three 40-minute sessions.
There may be 2 to 4 such 2-hour blocks running simultaneously, and you'll be able to jump back and forth between any of them, without leaving the event platform.
We'll have 60-minute networking breaks between such blocks throughout the day.   These may be language-specific or subject-specific, following a 2-hour block immediately before them.  Or, networking breaks may have a special theme (e.g. literary translation in French, payment practices in English, a quiz in Polish, etc.)
The number of blocks and simultaneous tracks depends on the number and subject area of the talks.  A more or less final schedule will be available by mid-November.
If you'd like to host a networking session, apply through the form above.
What subjects will be covered?
At Winter Translation Forum, any translation-related presentations are welcome, not just about Business and Practice.
Are you an expert in a unique niche?  Have you translated an interesting book?   Do you have an inkling for linguistics?  Would you like to share your expertise with an international audience?  Have you always wanted to try yourself as a conference speaker?
Apply now, until 2 October 2023, using the form above.
There's no restriction as to what subjects will be included. We'll try to group similar talks into the same 2-hour blocks.
Approved sessions will be published from mid-October, and a preliminary schedule will be available from early November.
Certificates of attendance
Each attendee will receive a certificate of attendance in pdf format that you'll be able to use for CPD purposes. Certificates will be issued in English.
Will you have a track in my language?
In principle, any language can be represented if we receive proposals for at least 3 sessions.
The conference will spread over 3 days, probably running for 12 hours per day.  Each day will be made up of several blocks of 2 hours each, with each block consisting of 2 to 4 talks.
So if you'd like to have a mini event (a 2-hu block) in your language, and chat away with other translators who speak that language, convince your colleagues to submit enough proposals.
If you can reach out to a large number of translators in your country (e.g. you run a translators' association, have a large number of followers on social media, or run a training programme for future colleagues), fill in the form above.
Recordings
Recordings will be available shortly after each session, and will remain available until 29 February.
Is it free to attend?
Attendance at Winter Translation Forum will be available at a very reasonable price, but we cannot offer it for free.
We have to cover operational costs, platform licences, and compensation for speakers will also be covered from ticket revenues.
VAT
The event is organized by BP Translation Conferences, which is a brand name for a company registered in Hungary.
This means a 27% VAT rate is applicable in the following cases:
You purchase your ticket as an individual, no matter where you are based
You purchase your ticket as a company registered in Hungary
If you purchase your ticket as a VAT-registered company in any other EU member state, you'll need to provide your VAT number on the Checkout page.   Please note on the Cart page the total amount still includes the VAT — the net amount will appear on the subsequent Checkout page, after you entered your valid VAT number.
What if your VAT number is not accepted?   This can happen for one of two reasons:  (1) Either EU's VIES database or your national database of VAT numbers is down — this does happen occasionally. Please try again in a minute.  (2) You are currently based outside the country where your business is registered.  We use a geolocation plugin to show the relevant prices for each country. One side effect is that your VAT number must match the country that's guessed based on your IP address.  In this case please send us an email with your invoicing details, and a pro forma invoice will be issued for you (or use a VPN to set your own country as your location).
If you purchase your ticket as a company outside the EU, make sure you're eligible for VAT-free purchase according to the taxation rules of your own country. As far as the shopping process is concerned, simply tick off the box that says 'Company billing', and VAT will not be charged.   Please do enter a customer name that sounds like a company or use the necessary abbreviation to denote you're an entrepreneur eligible for VAT-free purchase.
How do I register for the event?
Please buy a ticket here on this website.   You'll receive your invoice as soon as your payment arrives.
Currently (until 31 August), an early registration ticket is availe for 50€, and for this you'll also receive a 1-year access to BP Video Library, a collection of 200+ conference videos.
You may also combine your WTF23 ticket with tickets to BP24 Translation Conference. Special pricing is valid until 31 August.
You'll receive an invitation to join the event space as soon as it's published, around mid-November.  You'll reveive a couple of reminders a few days before the event.
Technical requirements
The event will take place on Zoom Events, an event platform provided by Zoom.  You'll need to log in to your Zoom account to access the event.
Make sure you have a Zoom account associated with the email you use for purchasing your ticket.   
In case you currently use one email for Zoom and another for buying your ticket, please create a Zoom account for the email that you use for buying your ticket.
The event lobby will be available from about 10 November, and you'll receive furhter information then.
Pricing
WTF22 tickets are priced at a deliberately low rate.
Tickets are sold in three different periods:  Early Bird, Regular, and Late.
Tickets at Early Bird rates cost 23€, and this is valid for the first 300 tickets or until 7 November at the latest.
Regular rates (33€) apply as soon as the Early Bird period is over and last until 30 November 2022.  Anything after this is the Late period, when tickets will be sold at 53€.
The amount of the Early Bird ticket (i.e. 23€) counts towards your ticket to BP23 Translation Conference (for either in-person or remote attendance).  For example, if you buy your WTF22 ticket at the Regular rate (33€), you'll still get a 23€ discount off your BP23 ticket. Registration for BP23 opens in January 2023.
Prices are lower in some countries.
All pricecs are net, a 27% VAT applies if necessary. (More on this in a separate FAQ item.)
Why should I apply as a speaker?
If you clicked on this FAQ item, you're probably already toying with the idea of becoming a speaker at this unique event.
Winter Translation Forum welcomes seasoned and newbie presenters alike.  If you have spoken at translators' conferences and other training events before, you are familiar with the thrill of sharing your expertise with an eager audience of like-minded colleagues.
Or, if you have not spoken before at a similar event, this could be a good platform as any to come forward and get a foothold as a speaker.
If you have something interesting to say about any aspect of translation or interpreting, do apply as a speaker.
The unique thing about WTF23 is that it will consist of blocks in several  different languages — so you may even want to talk about the same subject both in English and your own language.
We'll provide hints and tips on how to prepare for your talk, how to stucture your presentation, ideas on your actual slides, and even Zoom meetings to help you along the way.
How do I apply as a speaker?
Very simple.  Please complete the form above: indicate the language, the proposed title of your talk, and provide a brief abstract (do these in the language you wish to present in).  Feel free to submit up to 3 proposals.
Application deadline is 2 October 2023.
The selection process will start shortly afterwards, and may involve requesting some additional details from you.
Approved speakers will need to provide a final version of the title and the abstract, as well as submit a short bio.
What do I get as a speaker?
All WTF23 speakers will receive a store credit that they can use on BPconf.com for any future puchases.  The amount will vary between 50€ and 150€, depending on the number of attendees at your session and the rating you receive.
You'll be able to list your speaker status on your LinkedIn and other social media profiles.
If you're a seasoned speaker, you may mention your online course, book, or other assets that the audience may find relevant — they may be your next customers.
If you're a newcomer, you'll gain valuable experience during the preparation and the delivery of your talk.
You'll also get to speak to a truly international audience, and after your talk you'll have a chance to get to know them a little during the open discussion that will follow each presentation.
Also, 
Sponsors / Exhibitors / Partners
What are the benefits for sponsors?
Sponsors will reach a worldwide audience of professional translators who are keen to learn and invest in their own freelancer careers.
We'll use a new platform, Zoom Events, which will give sponsors a unique and efficient way to deliver their talking points to conference attendees.
Depending on your sponsorship level, you can present your services during one of the networking breaks, or even deliver a talk or product presentation in one of 2-hour blocks.
If you're a freelancer and you'd like to a better exposure before and during the event, you may want to be a 'supporter'.
At a higher level of sponsorship we can display your logo on this page, together with a link pointing to your website.   We can also send out information about your company or service to all registered attendees.
Sponsorship levels
The event platform allows for 3 sponsorship levels:  Silver, Gold, and Platinum.  You can find the detailed description of each sponsorhip level under the Registration secion above, by clicking on the plus icons.
Since this is a new platform and a new event format, all sponsorship packages are offered at a very low initial rate:  290€ / 490€ / 790€ until 3 November, after which the rates increase to 490€ / 790€ / 1190€, respectively.
WTF23 sponsors also get a discount off their sponsorship packages of BP23 Translation Conference.
Sponsorshop packages will be available from late August.  Alternatively, you may contact us any time by email.
Once the event platform will be set up (early November), you'll receive further information on what assets are necessary to create your sponsor profile (logo, image, video, copy, links, etc.).
Feel free to contact us with any questions you may have about our sponsorship offers.
Partnerships
We at BP Translation Conferences are open to form partnerships with national and other traslators' associations, educational institutions, interest groups, and other similar bodies.
For example, if you mention our event in your newsletter going out to your members, in exchange we'll give you some free tickets that you can raffle out among your members.
We're open to other type of arrangements as well.
As a first step, please fill in the form above.