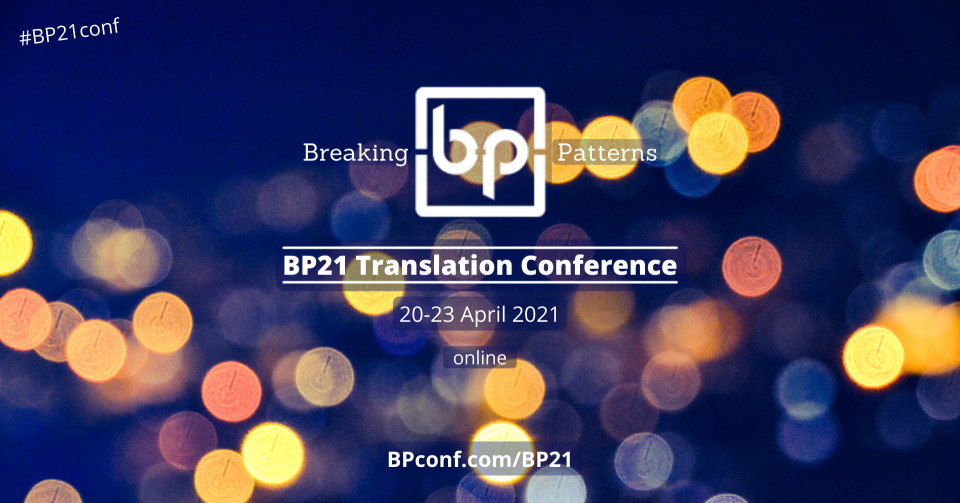 Here are some of the sessions / talks / masterclasses already approved. A few more to be added soon.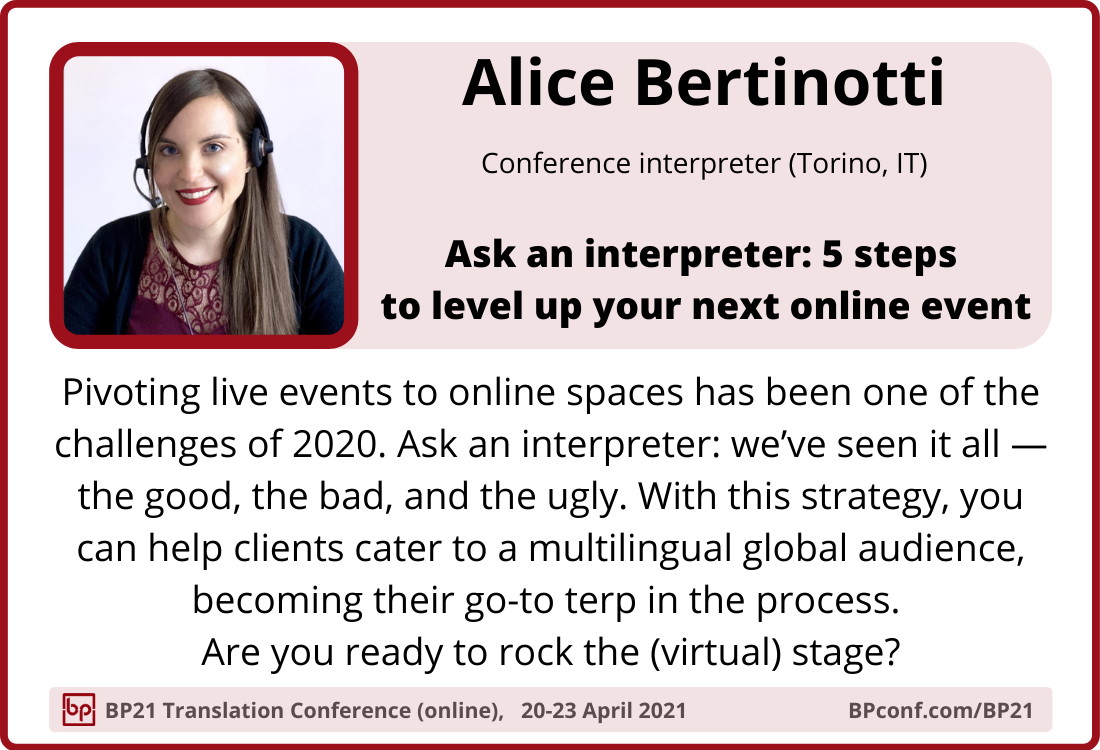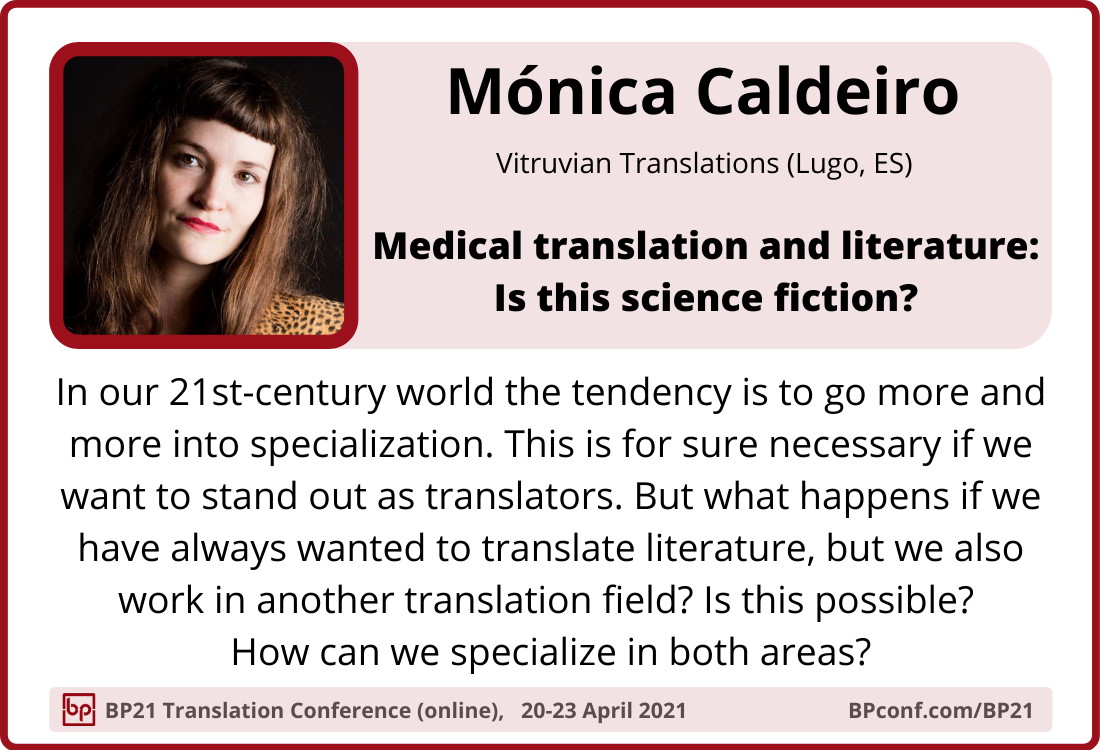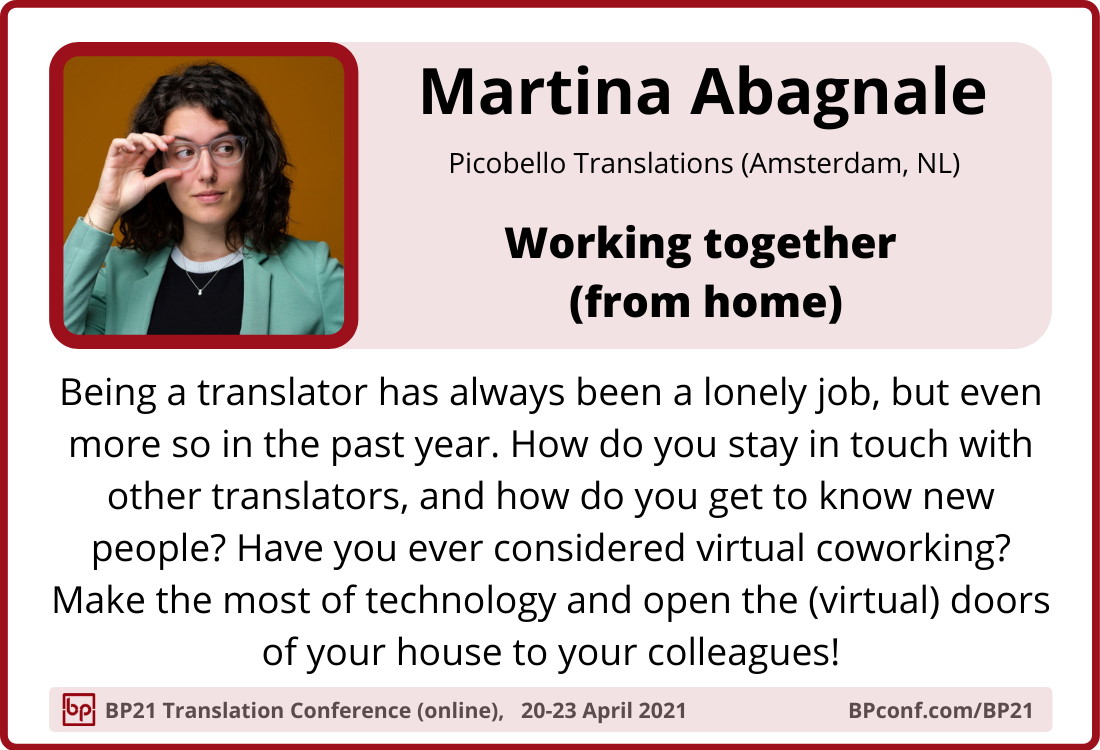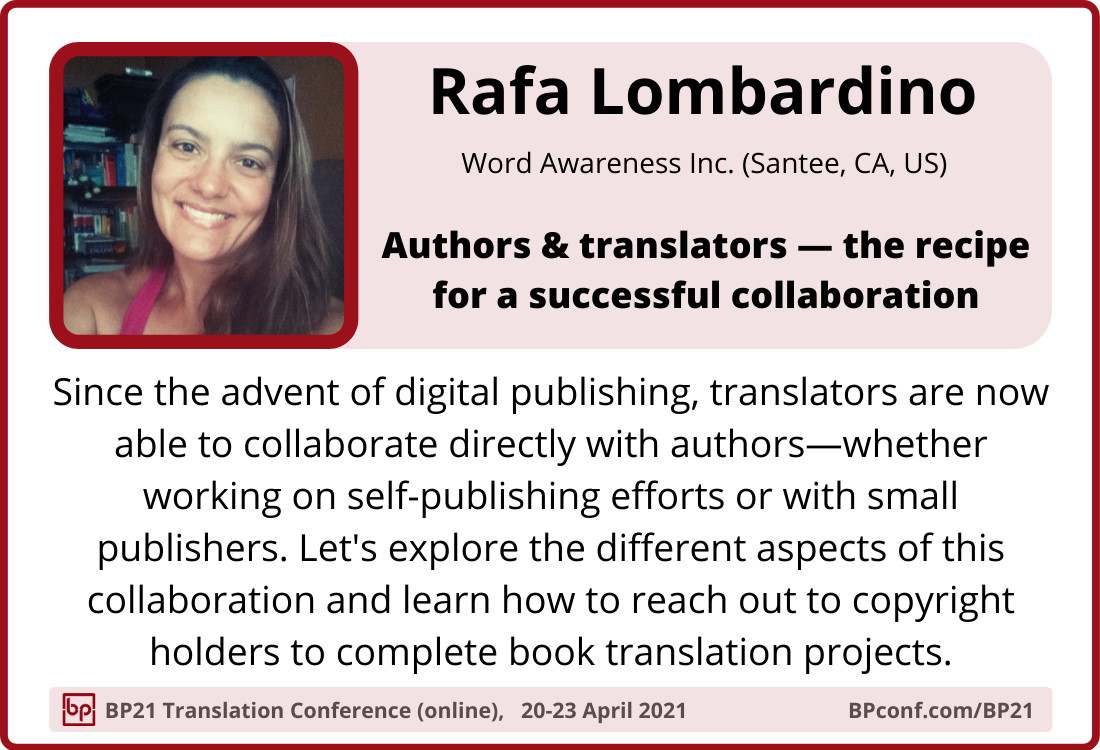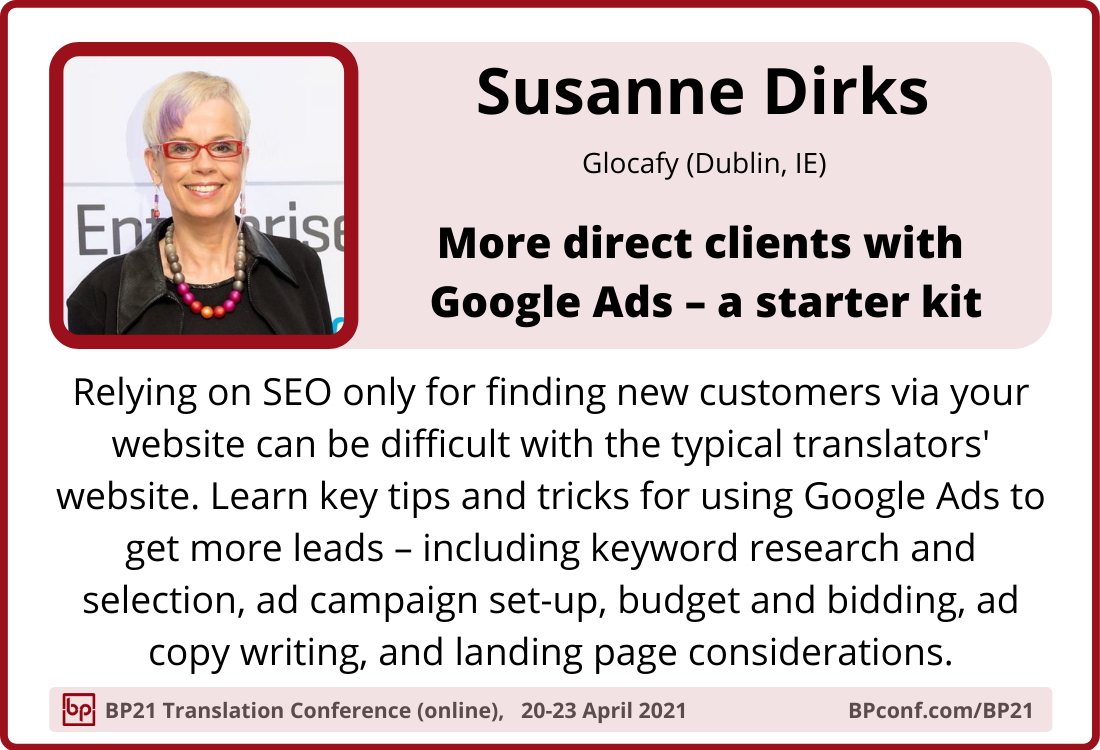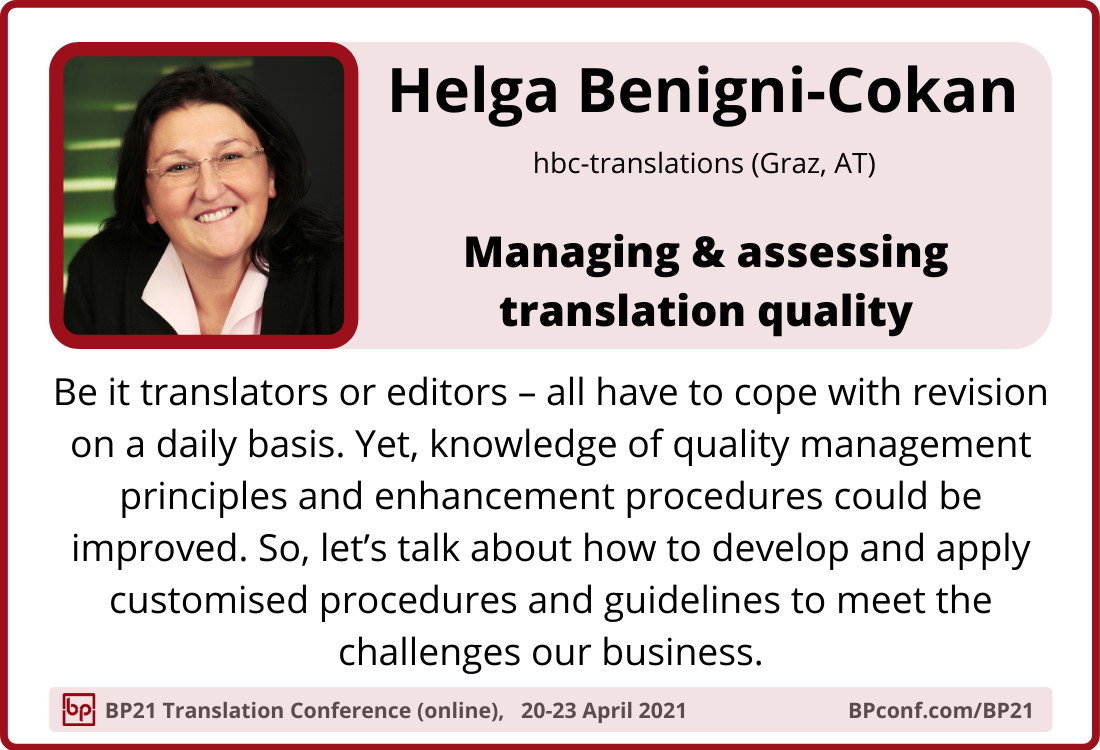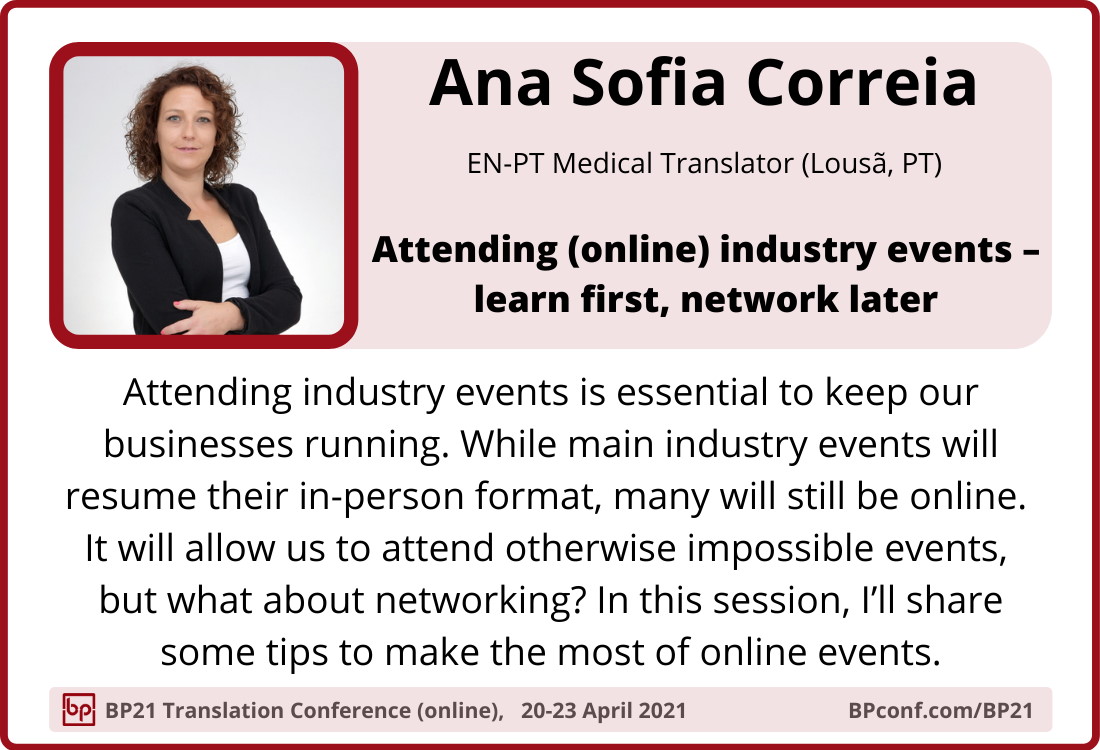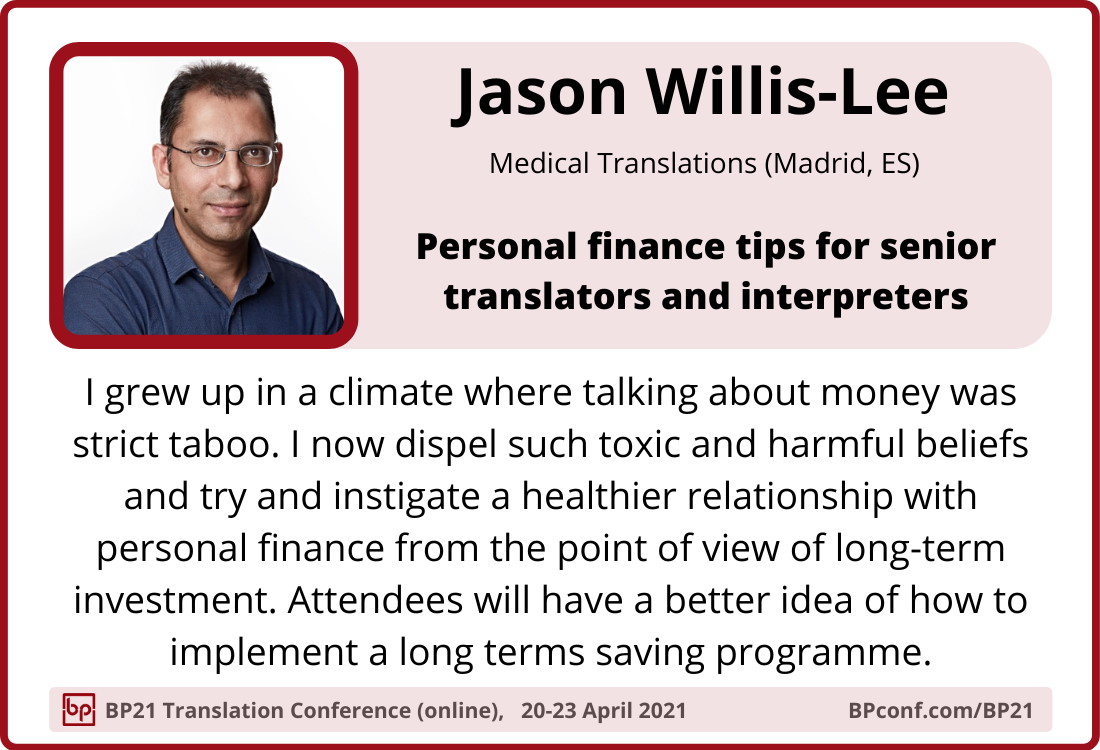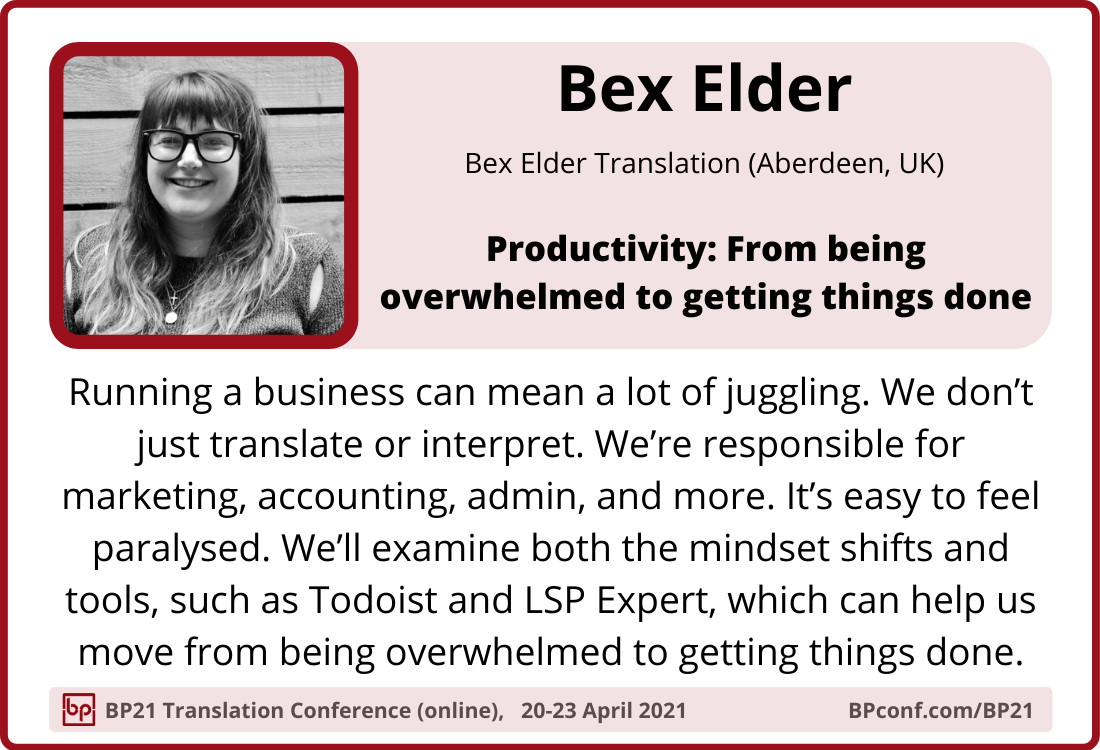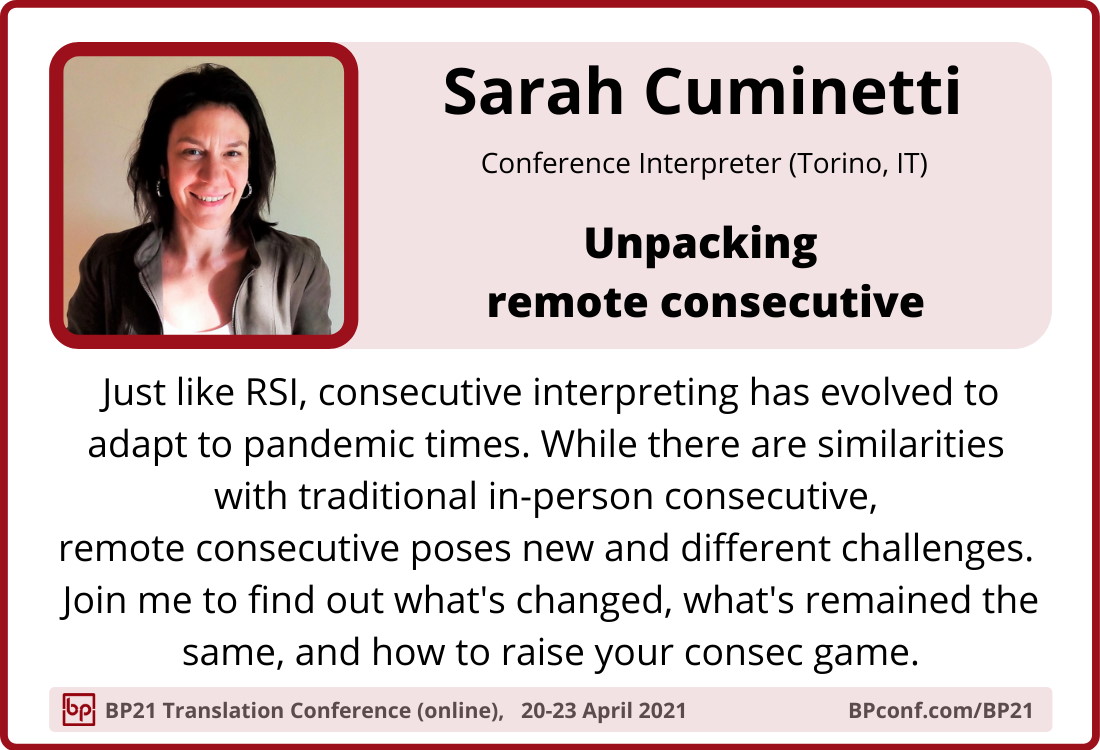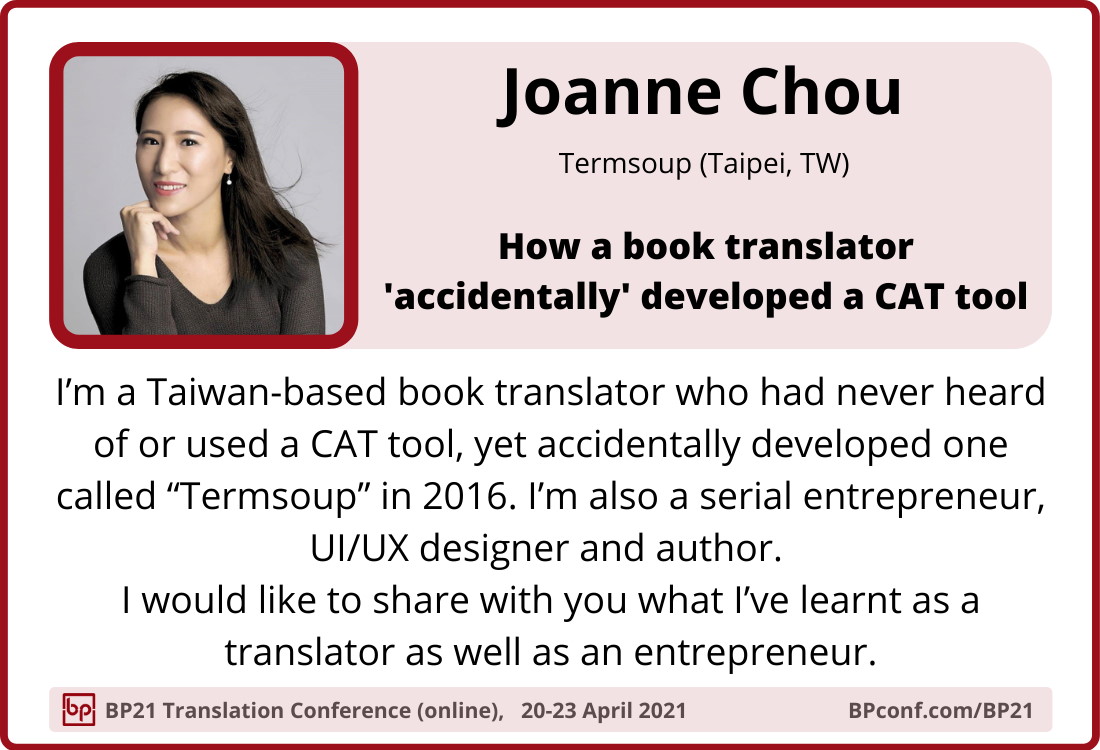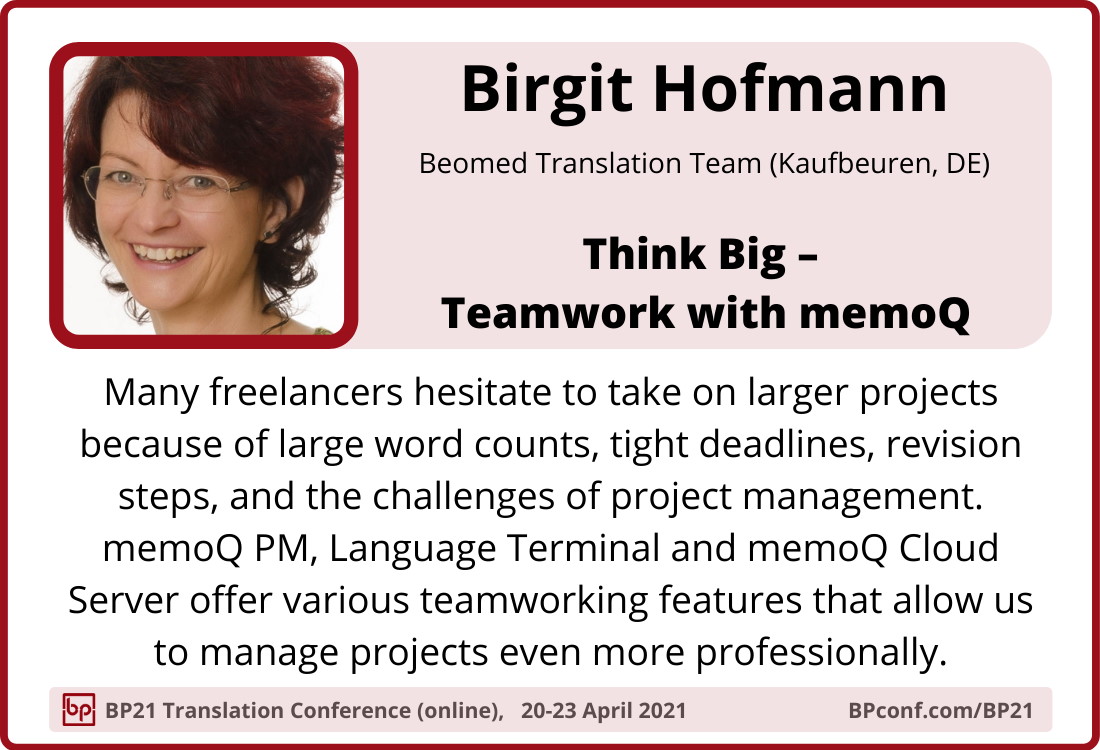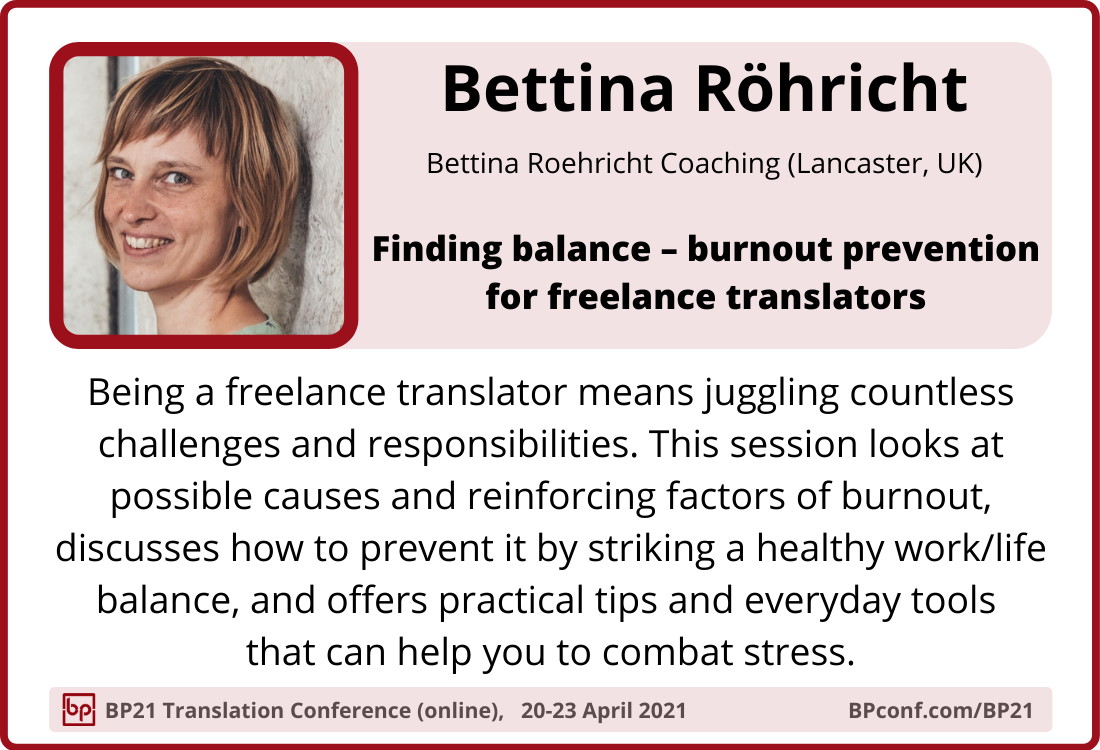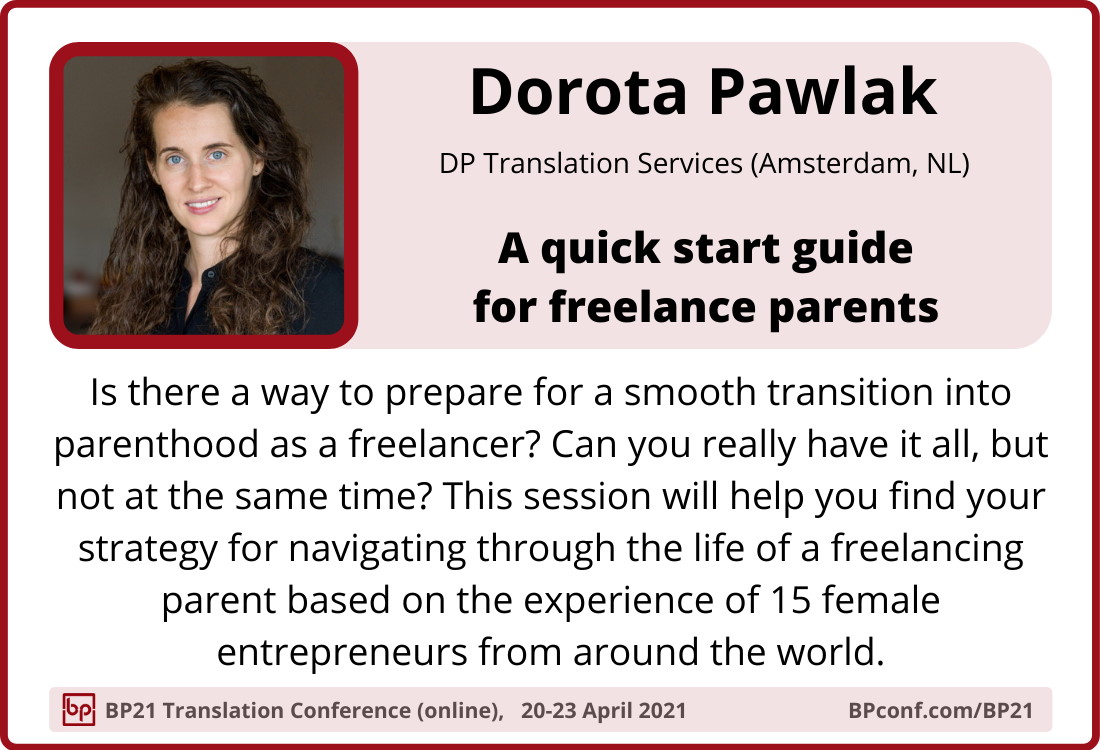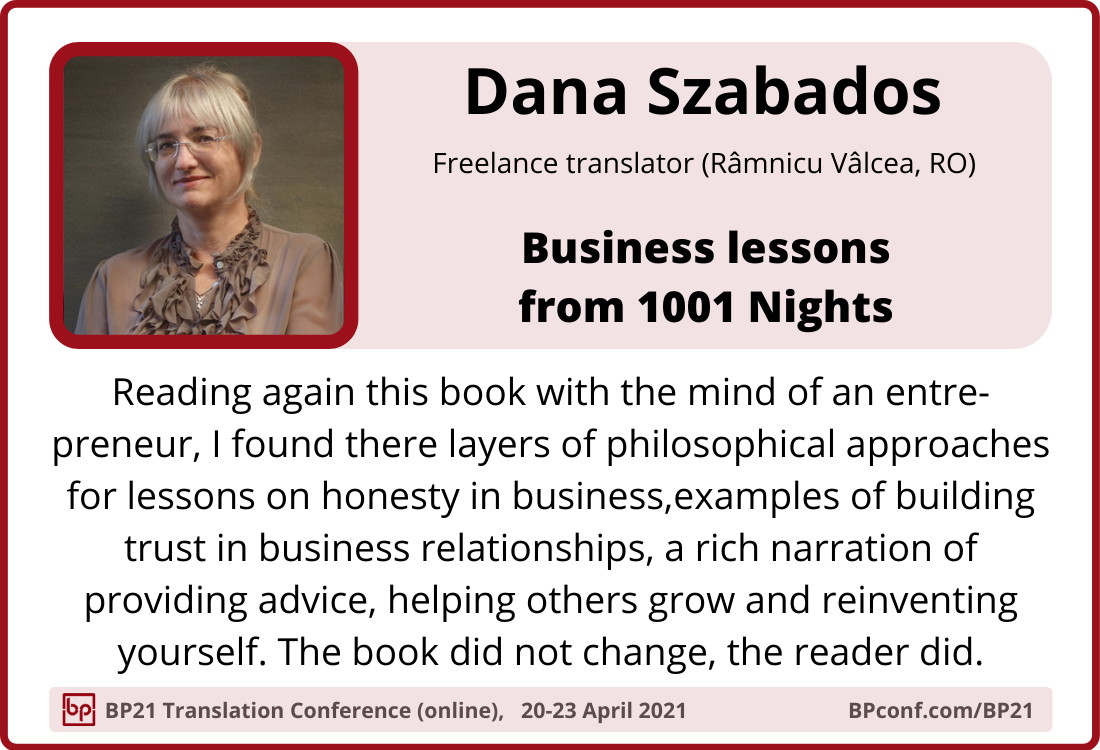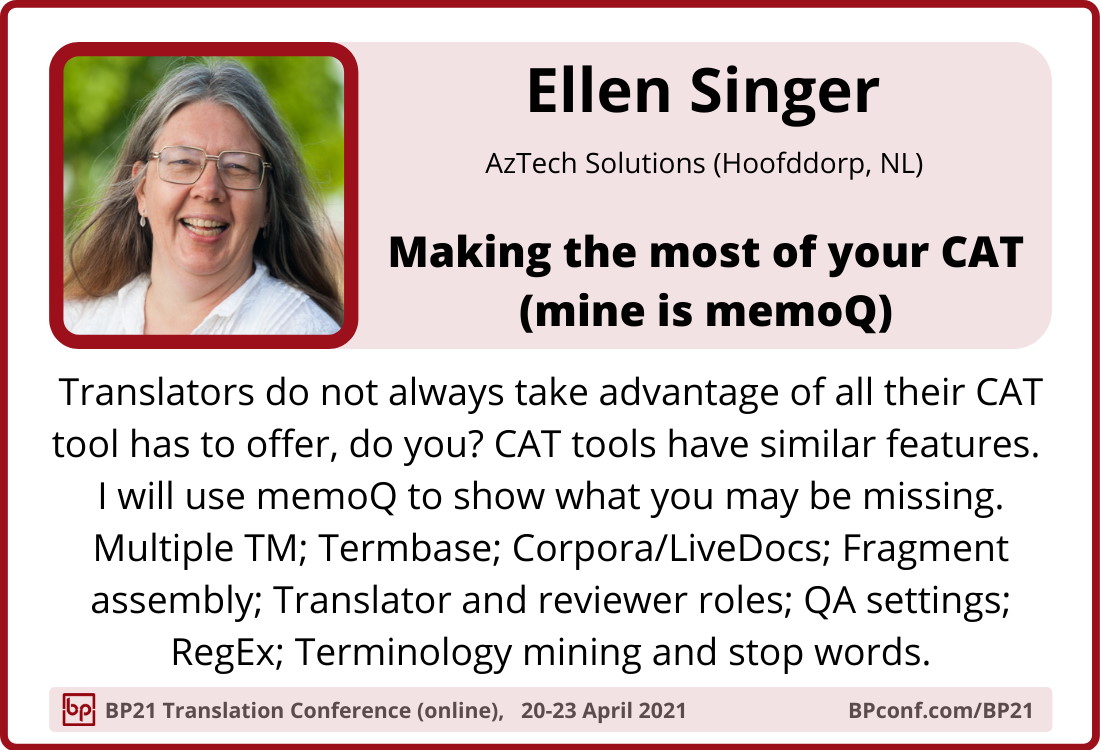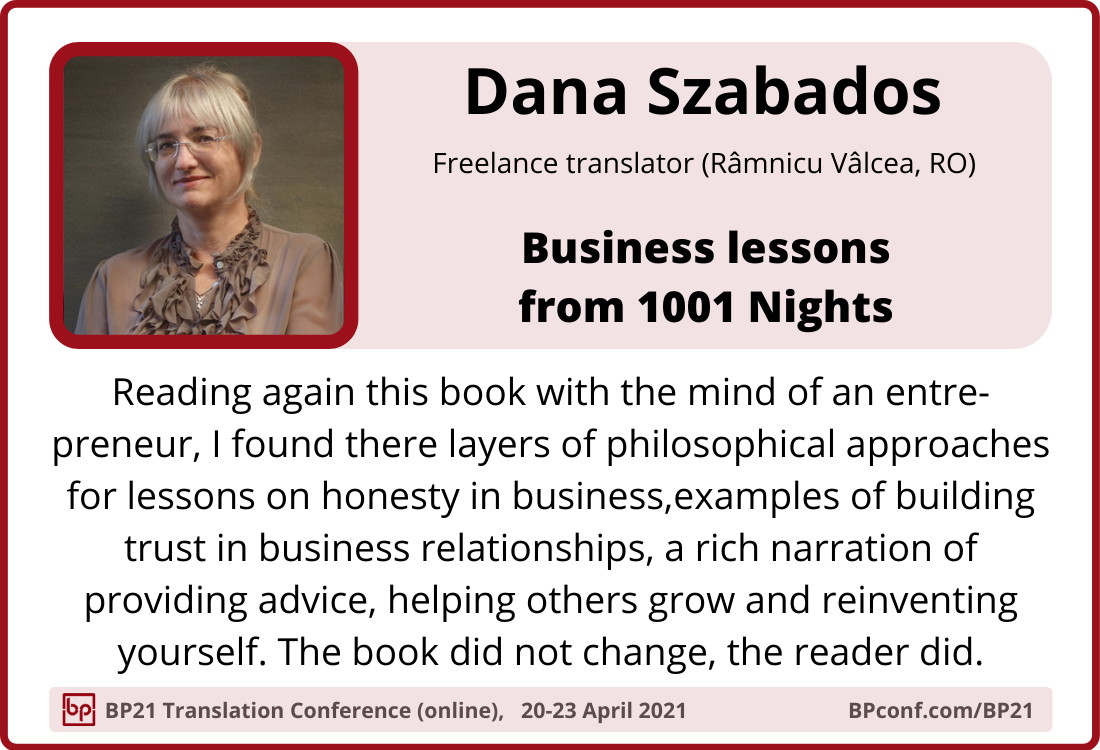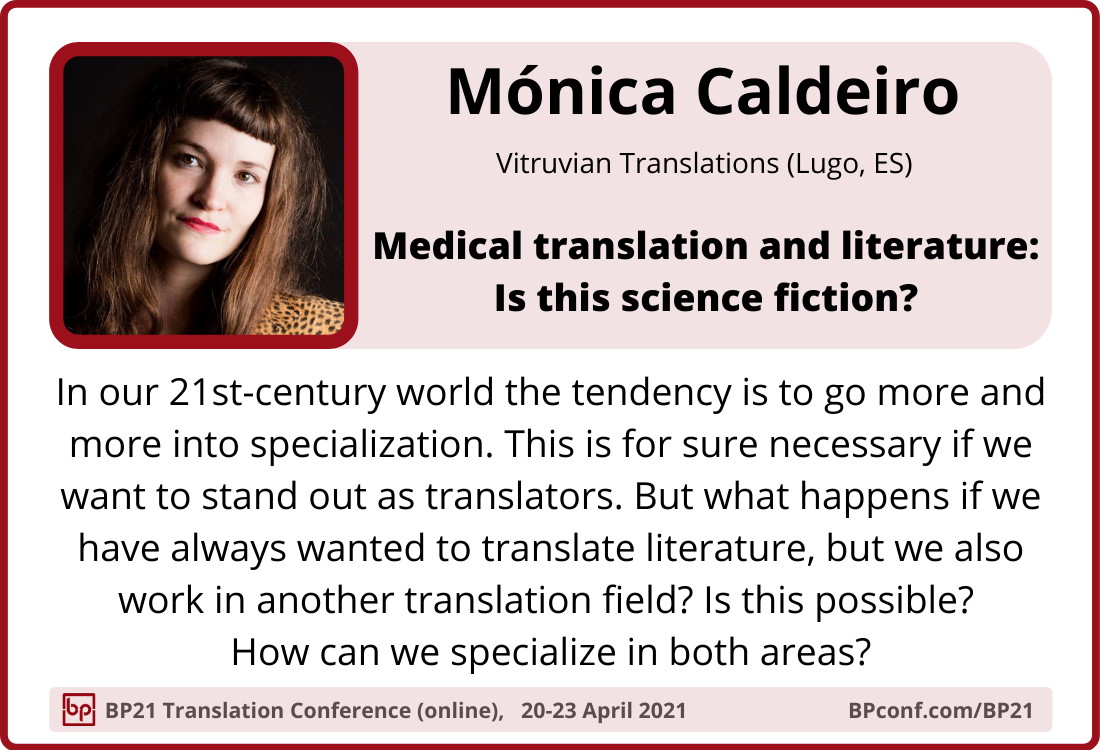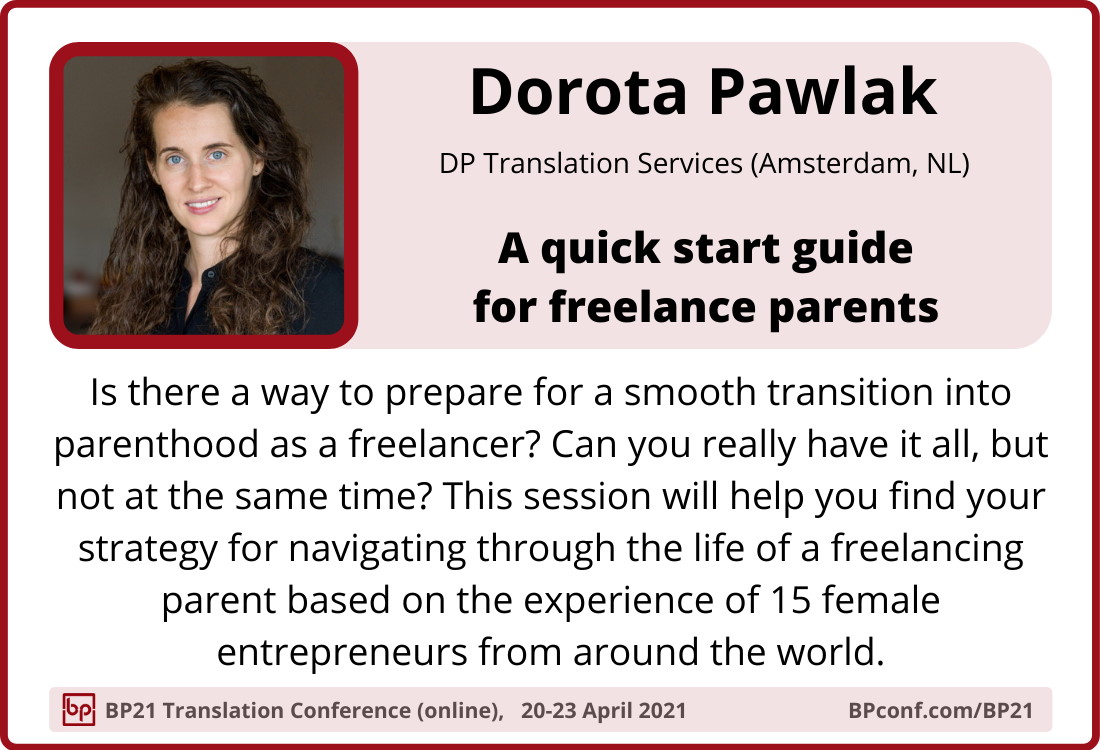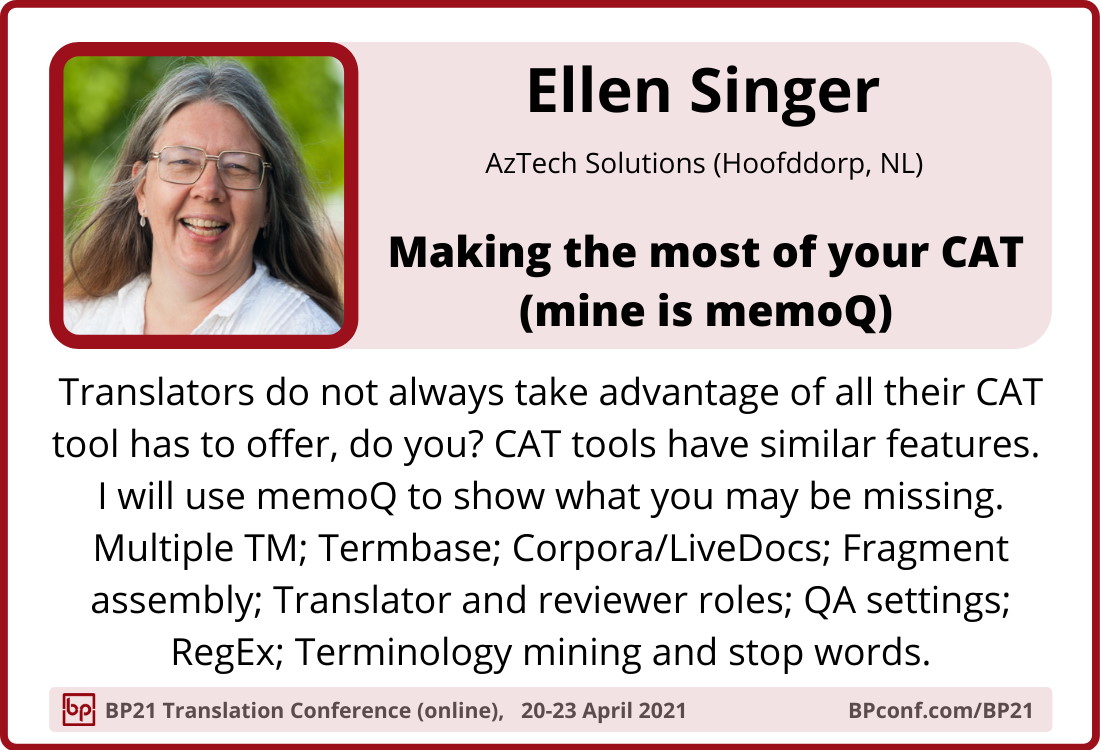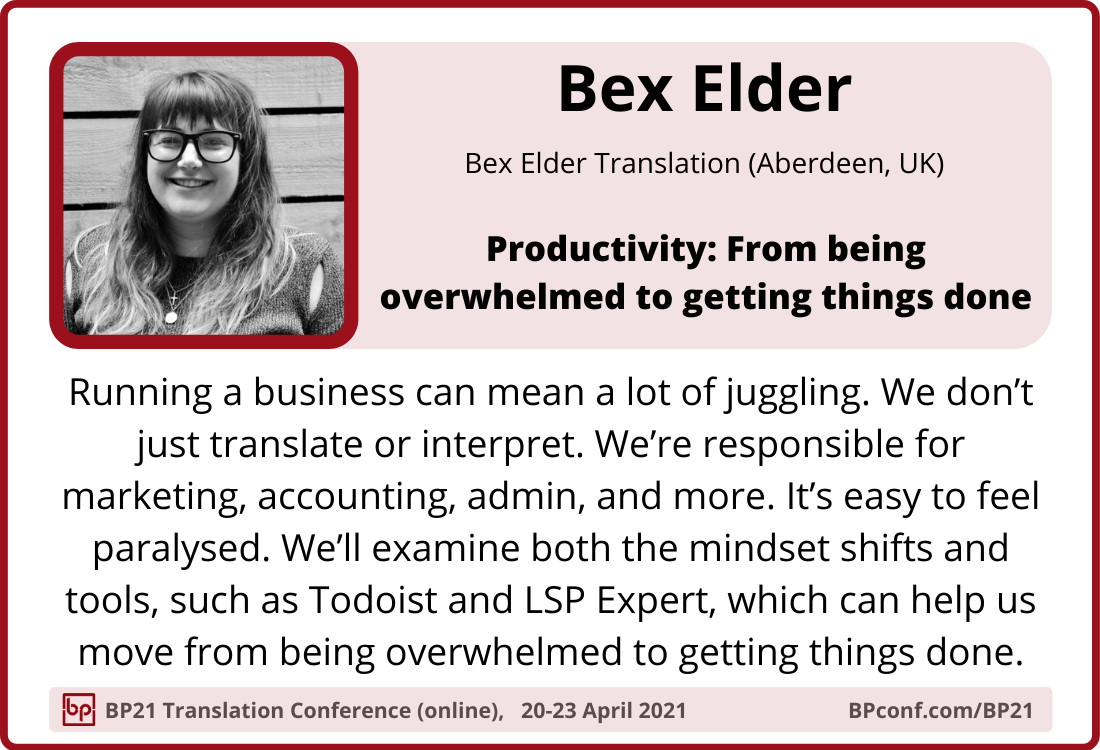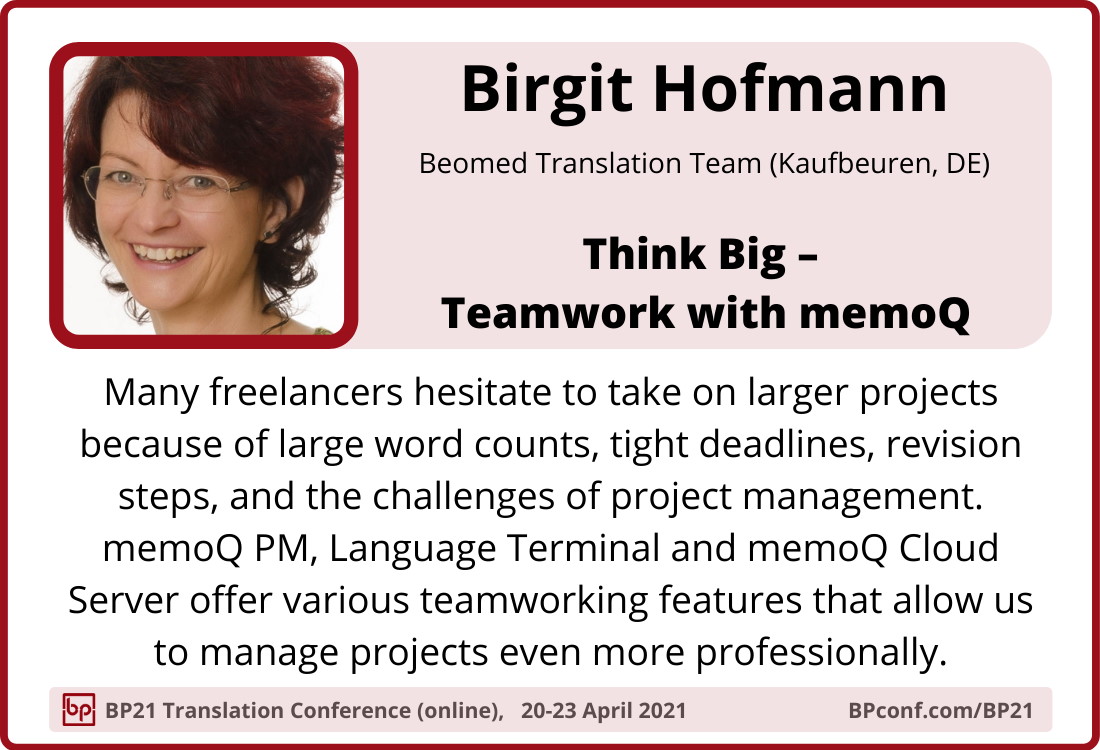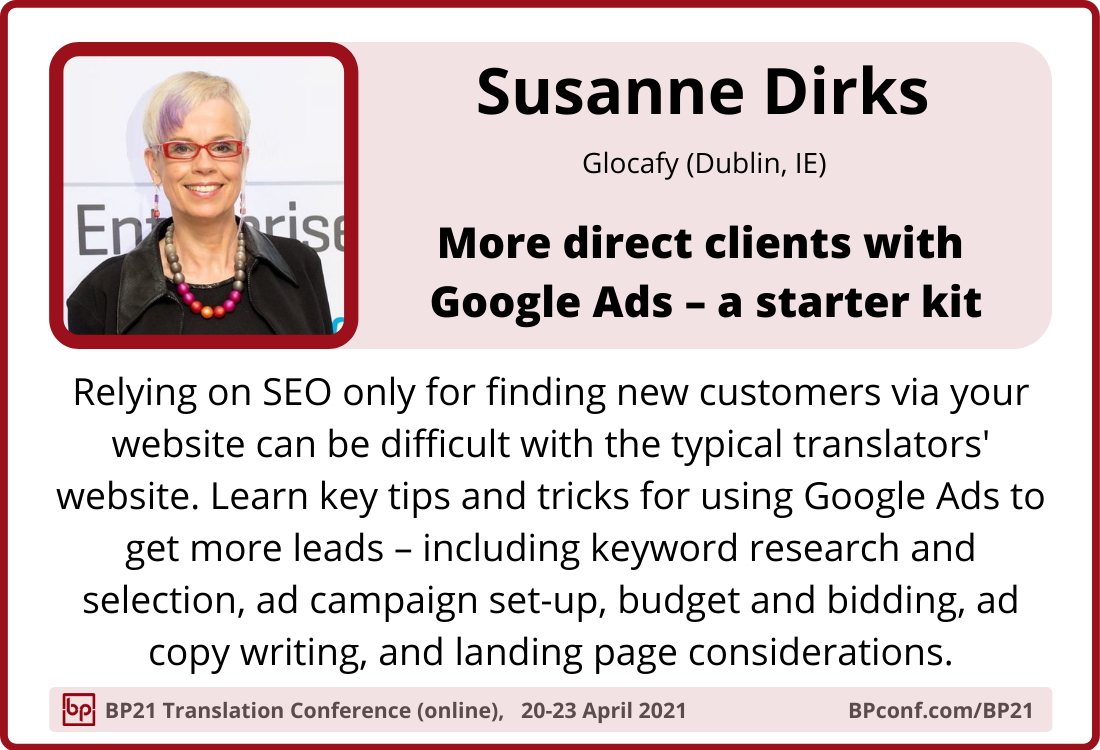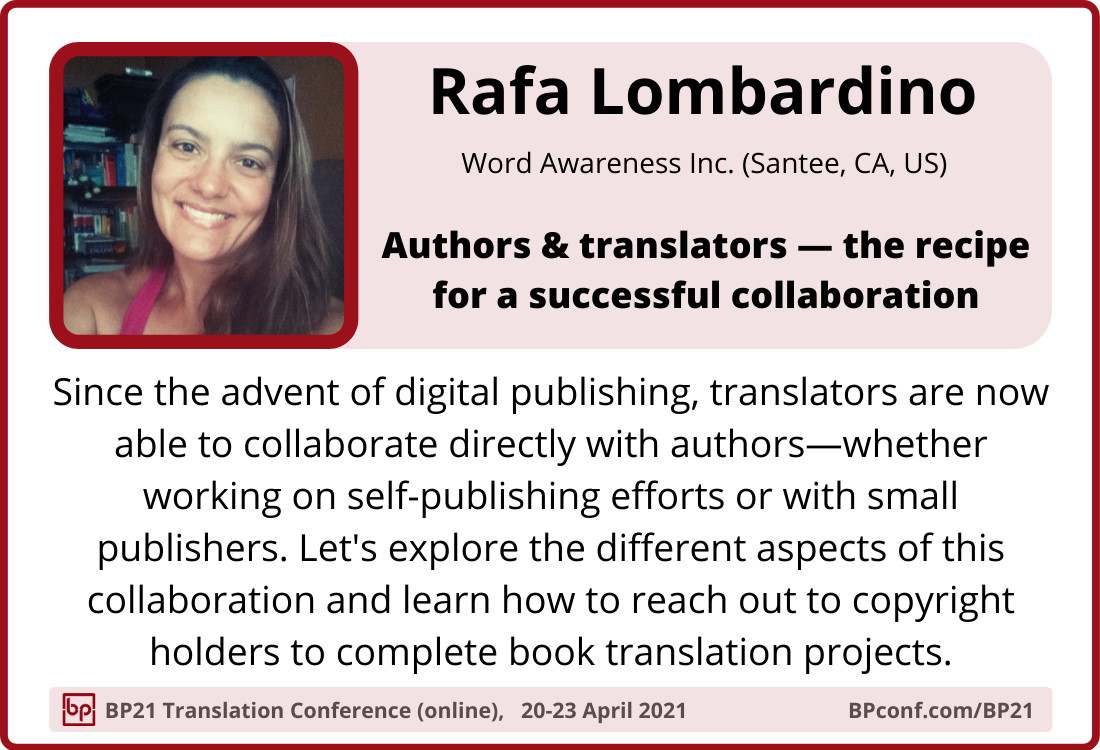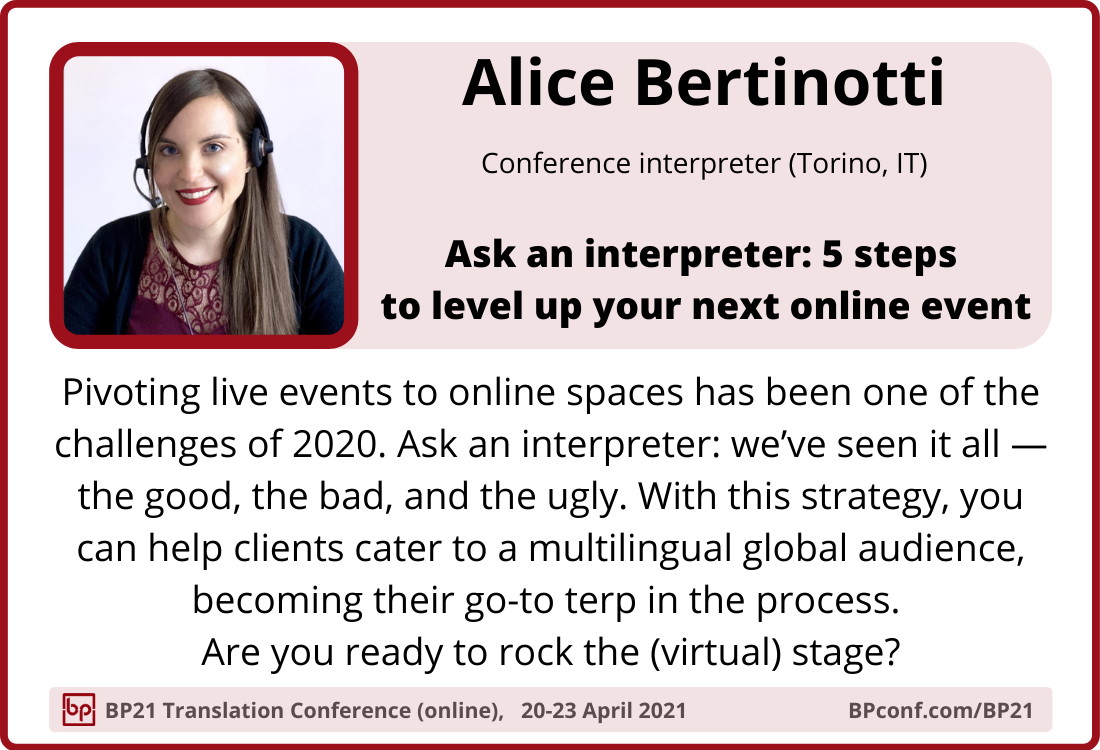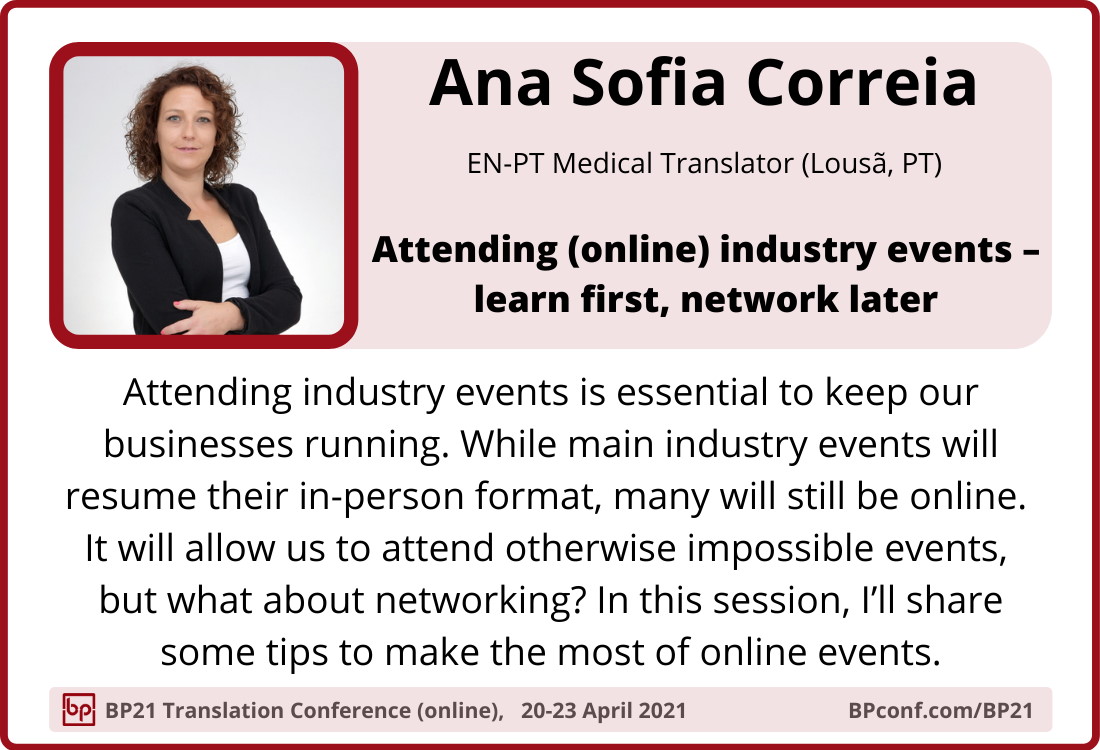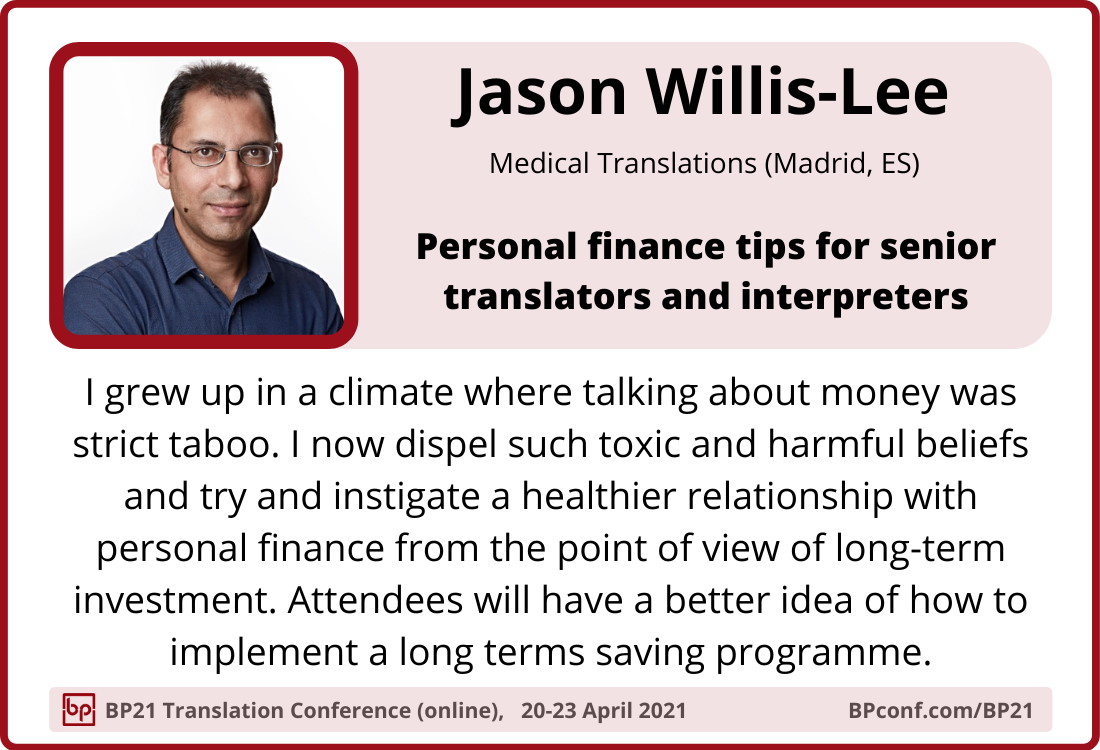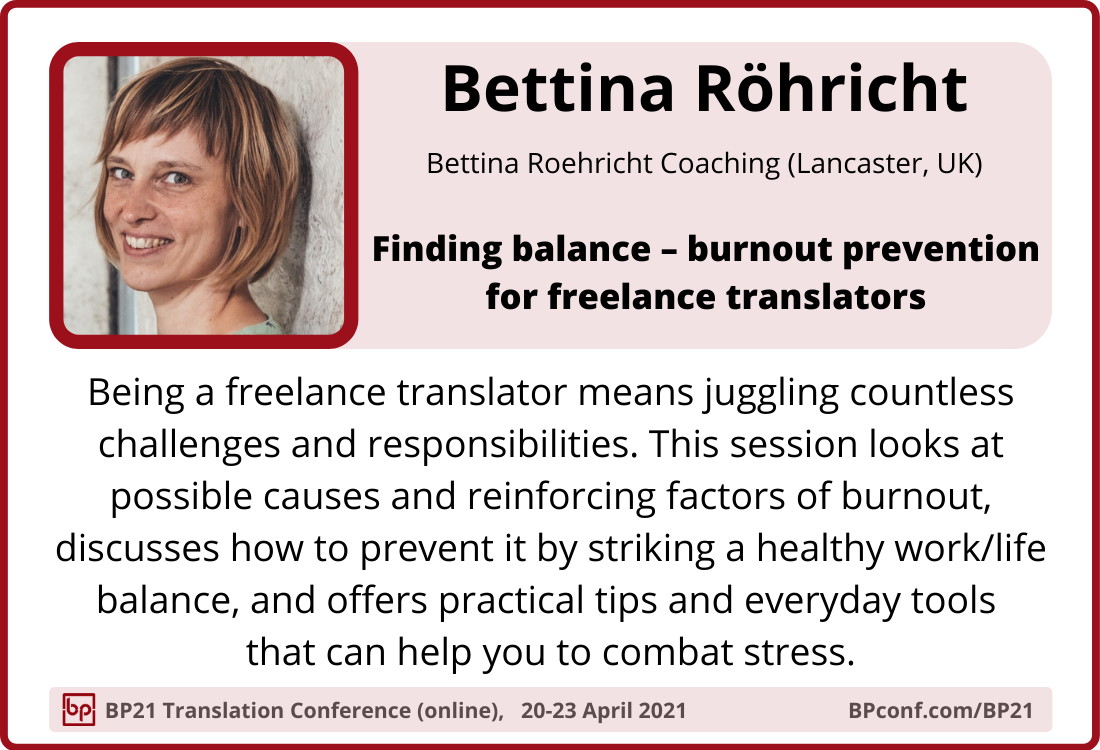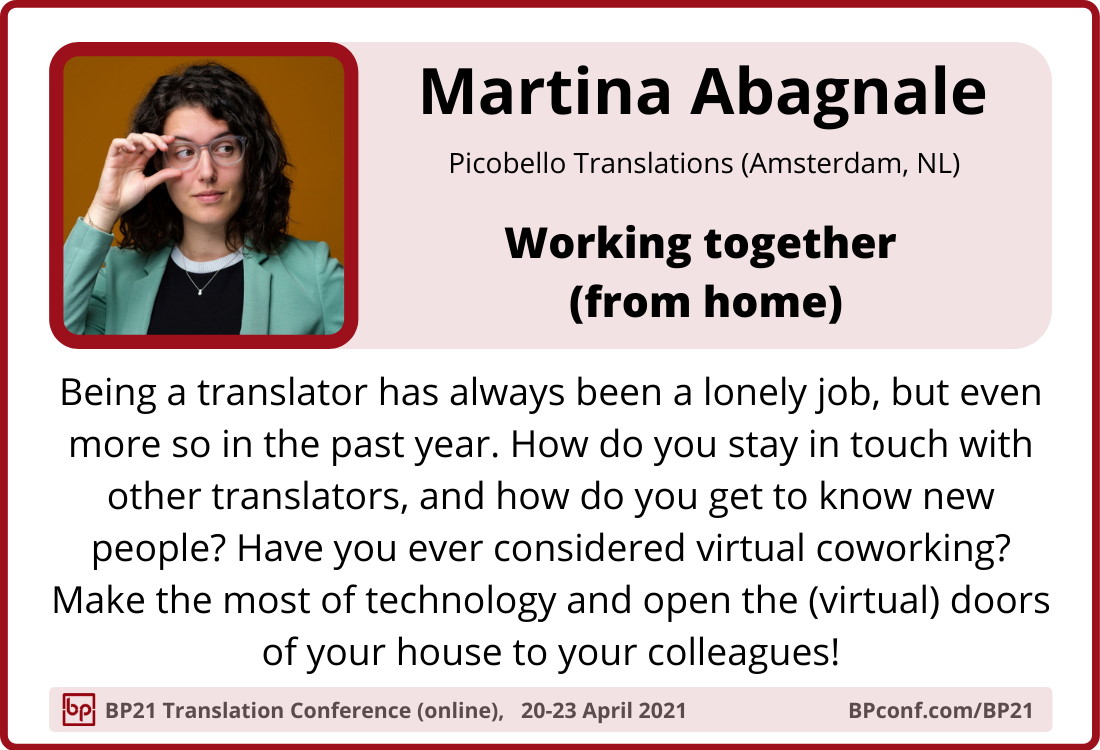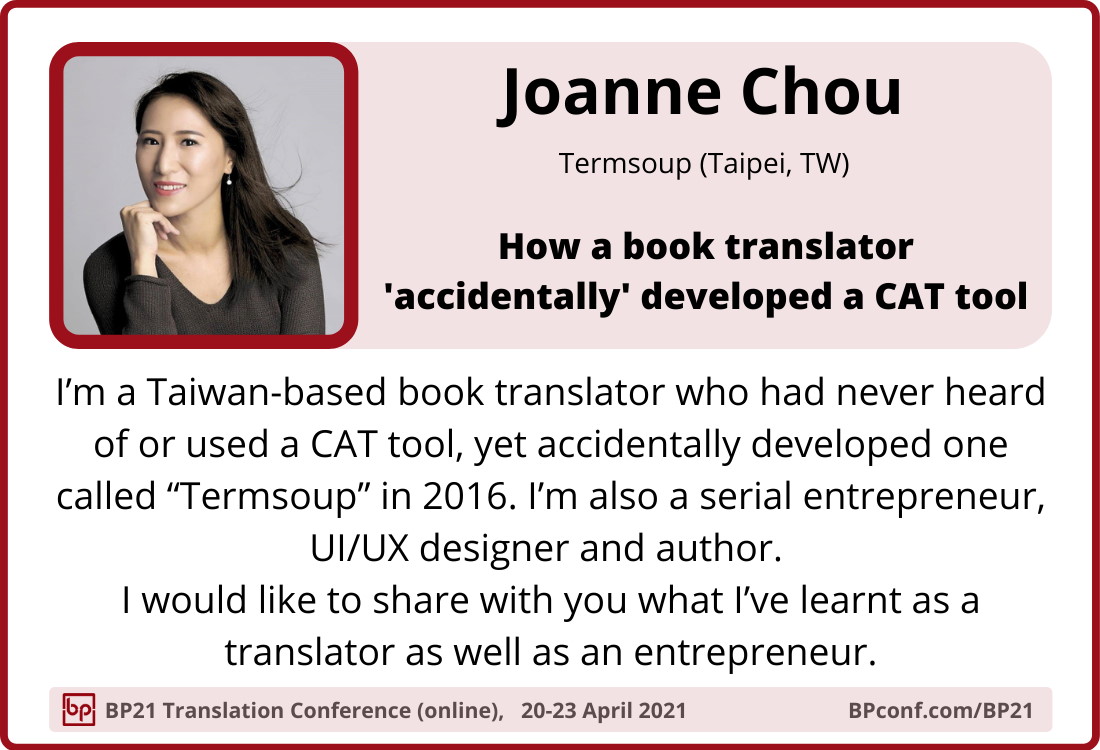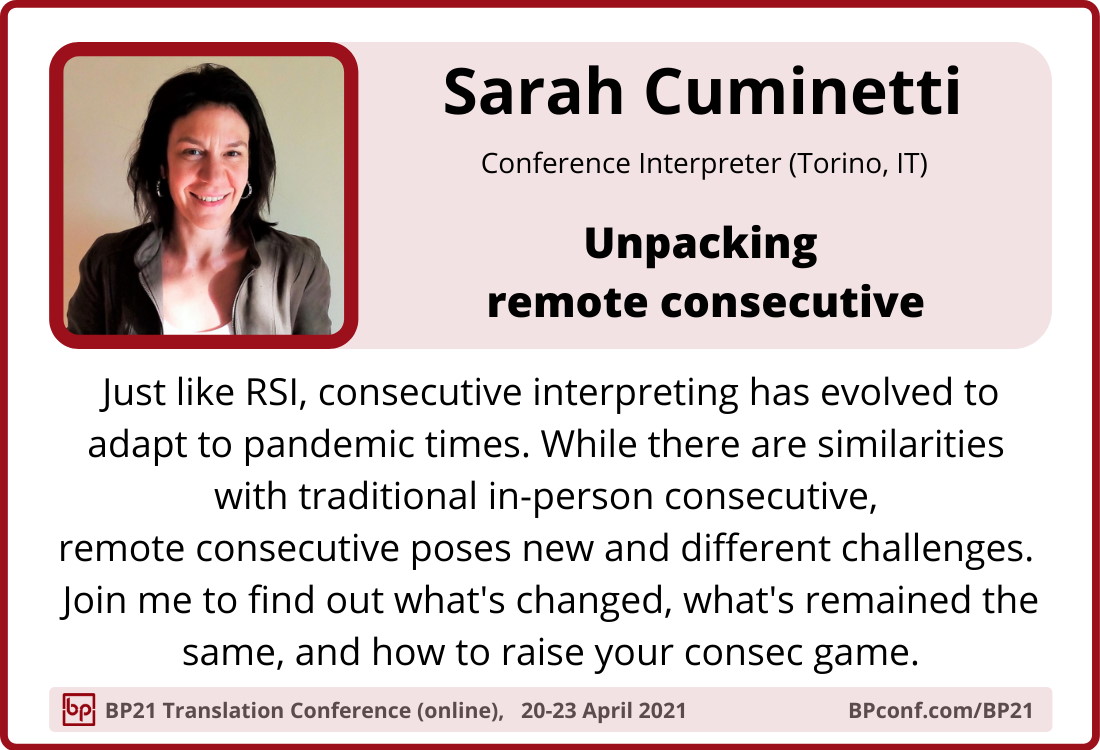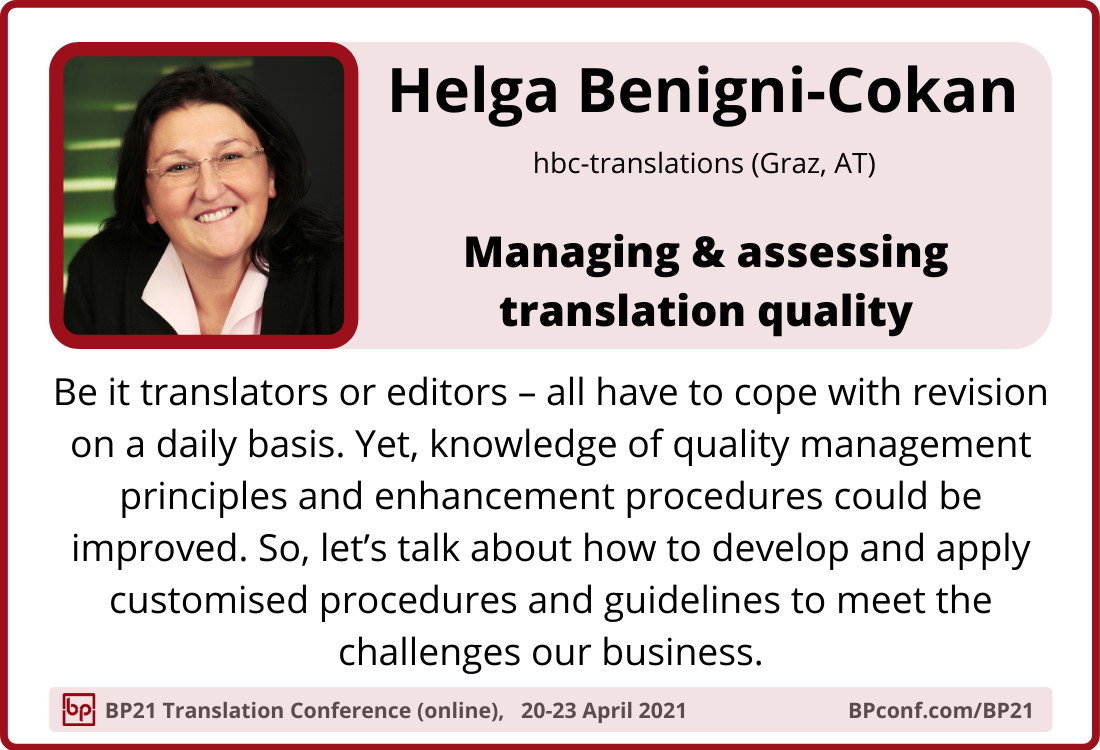 Business & Practice...
Ever since BP14 Translation Conference in Budapest, our events have been underpinned by two broad subjects: Business and Practice.  These are sadly missing from most translation courses, and no matter if you're just starting out or you're a seasoned translator, there's always something to learn:  how to get peter paying clients, how to keep track of your projects, how to fully master your CAT tool, how to branch into a new field, you name it.
Most attendees find the programme useful and engaging, relevant and practical.
Breaking Patterns
BP Translation Conferences have always been at the forefront of embracing new technology and new techniques of organizing events for translators.  In 2020 we were first ones to successfully transition the entire event to an online platform in just a few weeks.  Earlier we were the first ones to show first names on attendee badges in large print to make it easier to socialize.
This year we carry on introducing new solutions to make networking easier — this time by moving our online networking activities to a brand new platform that allows to form more meaningful connections with fellow attendees.
Many translators tend to get stuck in years of routine when conducting their freelance business.   BP Translation Conferences, with their focus on Business & Practice, help you become more efficient in what you and encourage you to try new techniques — hence this year's motto:  Breaking Patterns.
Dates and times
BP21 Translation Conference will take place over 4 days on 20-23 April 2021 (Tuesday to Friday), between 14:30 and 19:10 CET every day, in two parallel tracks on the Zoom platform. 
We will probably have some workshops on Monday, 19 April and the preceding Friday.
Timings are chosen to allow as many translators as possible to join in from various different time zones.
Beneficial Pricing
As long as we have online events, we can give discounts to colleagues from lower-income countries.  Essentially the prices of our online events and video collections depend on which country you buy your tickets from.
The prices you see on our online store are based on your computer's ID address, and may not be accurate. The definitive prices are applied on the Checkout page after entering your invoicing details.
Currently displayed prices are valid only for the first 100 tickets sold.  Prices for the next batch of 100 tickets will be somewhat higher, and so on.
As a reference, the 'Super early bird' price for translators in the highest income countries is 80€ (+VAT), and the price will eventually reach 120€.  Prices in the lowest income countries start at 30€ and will eventually reach 45€.
As soon as workshops will be published, you'll be able to purchase workshop tickets at reduced prices available for BP21 attendees (i.e. you don't necessarily have to buy these items at the same time.)
... for Badass Polyglots
At the last 2 regular conferences (Vienna and Bologna) we counted around 280 attendees each from 40 countries.  At BP20 last April (already online), 470 people were present from 50 countries from around the world.
Ours is a very open-minded and welcoming community, where all newcomers can fit in almost immediately, and where old-timers can catch up with their fellow Badass Polyglots as if they last saw each other just last week.
Best Presentations
Practically all of our speakers are practicing translators themselves, having faced the same difficulties the attendees may experience in their everyday lives.
In the post-conference evaluation surveys, attendees regularly say the programme is better than at other comparable events. (And networking fares 'much better' than elsewhere.)
This year we'll have almost 40 sessions and short talks as part of the conference itself, as well as 4 workshops sold separately.  A preliminary programme will bee available from Monday, 15 February, to be finalized by the end of the month.
Networking & Socializing
While Zoom is still the platform of choice for the presentations, for networking events we will use a new platform that better emulates real-life scenarios.
Imagine a single large room with several circles of people talking to each other.  You can freely move between such circles, and even see who's inside a circle before joining them.  You can have an early taste of this new platform for free on 13 February on our Networking Night.
Discounts
We offer a 5% discount for everyone who pays via bank trasfer or Transferwise.
Add any workshop at a 30% discount with the discount code 'wsh'.
You can buy access to our video collections  (BP Video Library, BP Workshop Week, Congreso de traducción BP21.es) at a discount when you buy these together with your conference ticket.
Discount code 'vid1': 40% off any 1 video collection
Discount code 'vid2': 50% off any 2 video collections
Discount code 'vid3':  60% off all 3 video collections
Discounts for students / faculty / recent graduates
Full-time students currently enrolled in a university course in translation (or related) studies AND under the age of 30 on 20 April 2021, as well faculty members teaching at such courses are eligible for a 40% discount off the price of BP21 Translation Conference.
Such students (but not faculty members) are eligible for a 50% discount off Jason Willis-Lee's workshop on 'Starting out as a freelance tranlsator' on Friday, 16 April 2021. (Tickets available from 22 February.)
Recent graduates of translation or related studies (those who attended a full-time university course in the 2018/2019 or 2019/2020 academic year) who are under the age of 32 on 20 April 2021 are eligible for a 20% discount off the price of BP21 Translation Conference. 
In all of these cases please complete this form, uploading a copy of your enrollment form/certificate and a photo ID.
Workshops
All times are CET (GMT+1). Make sure you check the time difference with your location.
16 April :: Jason Willis-Lee :: Setting up as a freelance translator
16:00 – 19:00 CET, Friday, 16 April
This practical workshop on Setting up as a Freelance Translator is aimed especialy for budding newbie freelance translators and translators with 0-3 years' experience already tucked firmly under their belts
• All you need to know on Setting up as a Freelance Translator
• Learn the full ins and outs of setting up shop as a freelance translator
The workshop will last 3 hours including 2 x 15 minute refreshment breaks
The workshop consists of presentation slides, resources, exercises and group discussions.
Jason Willis-Lee graduated in physiology after training as a doctor for over three years at Bristol Medical School including one year's full hospital training. He put in a brief stint as a clinical research associate before switching into applied linguistics and earning a postgraduate diploma in translating and interpreting from the University of Bath. He now works full time in Madrid as a self-employed Med Pharm translator (clinical trials, medical reports and research articles) in the Spanish-English and French-English language pairs. He has previously given subject specific webinars for medical translators on the topics Blood Tests, ECG, Diabetes and Cancer. He organised the specialization conference thread at the Elia Together event held in Athens in February 2018. He is also cofounder of the collaborative networking translation project medico-legal translations.
.
19 April :: Tess Whitty :: Optimize your website and online profiles
16:00 – 19:00 CET, Monday, 19 April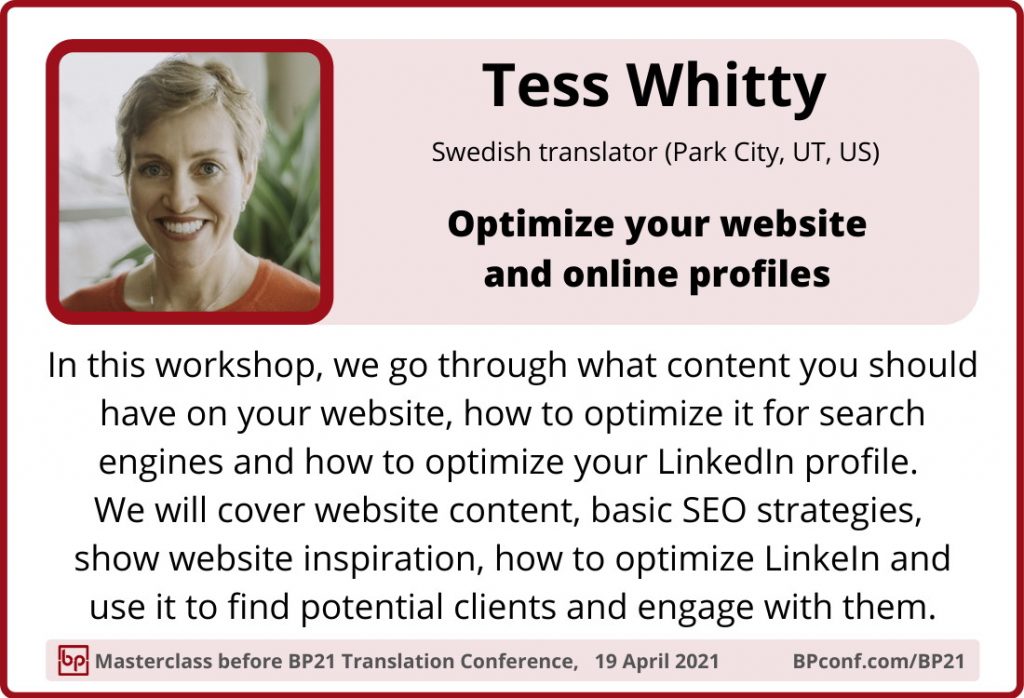 There's no better time than now to review your online presence and make sure you are attracting your ideal clients. Everyone is spending more time on Google, Social Media, and accessing web-based resources than ever before. This is a great opportunity for you to get in front of your potential and existing clients with relevant information and interaction.
In this workshop you'll get tips and steps to develop the following:
An optimized Website
• What content you need on your website
• Basic SEO strategies
• Website inspiration
Optimized Online Presence
• How to optimize online directories
• How to set up an optimized LinkedIn profile
• How to use LinkedIn to find potential customers and engage with them
We will not cover how to set up your first website, although I can give you resources for how to do that. The workshop focuses on optimizing an already existing website, plus how to use social media and LinkedIn to attract clients.
Tess Whitty is a certified English into Swedish translator, specializing in digital marketing and IT. With a degree in International Marketing and background as marketing manager, she also shares her marketing knowledge and translator experience with other freelance translators as an award-winning speaker, trainer, consultant, author, and podcaster. She is involved in several translator associations as a committee chair, language chair, trainer and mentor. For more information, or to connect, go to MarketingTipsForTranslators.com or SwedishTranslationServices.com.
Workshops :: Practical information
Workshops are not covered by the conference tickets, you need to buy separate ticket for each workshop. The good news is you can get these at a 30% discount if you also attend BP21 itself — using the 'wsh' discount code.
Each workshop lasts 3 hours, and takes place online, on Zoom. You will receive the necessary acess details a couple of days before the event.
You'll also have access to the unedited Zoom recordings until 31 May.
19 April :: Herman Boel :: How to double your income in a few years' time
10:00 – 13:00 CET, Monday, 19 April
Let's face it, if you want to really earn a lot more money, you need to work less for translation agencies and (much) more with direct clients.
However, that requires a lot of hard work (with results logically only pouring in after more than a year) and it may be too difficult for you to get an overview of all the things you need to know and to do, and all that you need to watch out for.
That is what this workshop is all about. You will get a nice overview of not only what you need to do but also how to do it.
And we'll make it personal. As the workshop is with a limited amount of people, there will be not only theory but also practice. We'll look at your specific own situation and show how the theory can be implemented practically in your own personal situation.
As excellent quality in work and service is a prerequisite for success, do not enter the workshop if quality is not a priority to you.
After working as project manager for Belgian translation agencies for 15 years, Herman established himself as a freelance translator in 2011.
In the past 10 years he followed important business courses, allowing him to shift from working solely for LSP's to working as a translator and copywriter with direct clients, thus doubling his income.
Herman has also publised several best-selling non-fictional books and calendars in Dutch.
In his free time he enjoys badminton, running and gazing at planets through his telescope.
website: AltaVerba.be
Also available on Clubhouse (@hermanboel)
21 April :: Carlos la Orden Tovar :: Digital security: Walking on the safe side
10:00 – 13:00 CET, Wednesday, 21 April
Translators have long been familiar with online work. However, as the technology landscape evolves (pushed by the forced adoption of a digital lifestyle due to COVID-19 outbreak), concerns about safety and security of our data in a complex environment grow exponentially.
Is my PC exposed? Am I being targeted by data thieves? Is it safe to use Machine Translation? Is it GDPR compliant? Where is my data and how is it stored? Is the cloud safe? Which is the safest way to send and store my files?
All these questions and many more will be answered in this actionable workshop!
Carlos has recently hit the milestone of 20 years providing language services and training for companies and individuals all over the world.
Over the years, he has worked with dozens of international clients such as Amazon, Microsoft, 3M, Cisco, United Technologies, SDL and Nokia, to name a few. He is a regular at translation industry events and loves sharing knowledge with fellow professionals in order to build a better, more human, yet tech-oriented industry lead by happy people.
He currently lives in the beautiful city of Bologna.
Workshops :: Pricing information
Workshops are priced in a similar way to the conference itself, i.e. the price depends on where you live (although the differenece between the most and least expensive tiers is smaller than in the case of the conference itself).
Since the number of seats is limited, prices increase after each batch of 10 tickets sold for each workshop.
If you attend BP21, you're eligible to a 30% discount with the discount code 'wsh'. This is valid even if you buy your workshop ticket at a different date than your conference ticket.
Tuesday, 20 April 2021
All times are CET (GMT+1). Make sure you check the time difference with your location.
13:00 - 14:15 :: Networking + Csaba opens the conference
Pre-conference networking, getting to know each other.
At around 13:50 CET, Csaba opens the conference with a short talk.
14:30 - 15:20 :: Chris Durban :: Learning the moves: A guide to romancing the direct market
So you've found your feet, acquired experience at the wordface, and built up a reliable fallback clientele. You feel ready to seek out new, more demanding clients. Direct clients.
But many of the tips and tricks that work with translation companies or wow fellow linguists on social media won't get you far. They may even backfire. It's time to re-examine how you engage. Want to get past the Praetorian Guard and into the inner sanctum? For starters, it's less about military tactics and more about learning the steps of an intricate dance. Because you need to know the moves before you can execute them.
Chris Durban is a French>English translator based in Paris. She translates every day—primarily business texts for demanding clients—and enjoys it no end. She co-authored "The Prosperous Translator" and contributed to "101 things a translator needs to know", and has written client education materials ("Translation, getting it right"). She is also the founder of SFT's Université d'été de la traduction financière, and a co-founder the Translate in… series of writing workshops for translators, plus occasional lecturer and instructor.
15:30 - 16:20 :: Martina Eco :: The price is right: how to set your translation rates
Learning how to set your translation rates is key when you're a freelancer. To do so, you have to consider and research several factors, such as market trends, your competitors, your current circumstances and your clients' needs. The only way to achieve your financial goals and make your clients happy is by setting your rates consciously and with data to back you up.
During this session, we will explore how to use four pricing strategies (value-based pricing, penetration pricing, competitor pricing and premium pricing) to determine our translation rates and how to research data for each strategy. We will also look at cost-based pricing as a way to calculate your minimum rate and use it as a starting point for other pricing strategies.
Finally, we will briefly touch upon common pricing conundrums, such as what to do when a client asks for a lower price, or how to raise your rates over time.
Martina is a coffee-fuelled, pizza-loving Italian translator based in Hove, UK. She's the owner and director of 3P Translation, a company that helps English-speaking SMEs in the food, travel, tourism and hospitality industries grow internationally by providing marketing translation services.
Martina also works as a business and marketing consultant, and she's a visiting lecturer at London Metropolitan University, where she teaches Business Translation to MA students. Martina also supports other translators and interpreters by giving workshops, talks and webinars on marketing and business skills around Europe and online.
When she's not working, you will find her headbanging at a rock gig, or browsing through CDs and vinyls in a charity shop.
17:00 - 17:50 :: Nora Díaz :: Are your clients a good fit for your business goals?
A key step to take our translation business to the next level is to start looking at our client portfolio strategically, applying a standardized set of criteria across the board to determine which clients are the best fit for our business goals and to ultimately seek clients who align closer with our ideal client profile. In this session, we will explore the criteria and methodology that will help us achieve this.
Nora Díaz holds a B.A. in English Language Teaching and Translation. She is a full-time published EN-ES translator and translation team leader, working for clients located around the world on a daily basis translating, editing or proofreading content on a wide variety of topics, including healthcare, legal, technical and general texts, and leading teams of linguists, including translators, editors and proofreaders from Mexico, South America and Spain working together on large projects. Her interest in productivity has led to a constant exploration of technology to boost productivity, such as CAT tools, speech recognition and custom macros. In her blog, Nora Díaz on Translation, Teaching and Other Stuff she shares what she has learned with translators from around the globe.
18:00 - 18:30 :: Kathryn Smyth :: Introduction to GET CLIENTS NOW!™ for more effective marketing
GET CLIENTS NOW!™ is both a best-selling book by business coach C.J. Hayden and a training programme for freelance professionals. Straightforward, structured yet flexible and highly effective, this sales and marketing system has been used by thousands of freelance business owners and other professional service providers throughout the world since 1995.
Whether you are brand new in business or a seasoned professional, whether you need more clients, want better-paying clients and more interesting projects, or simply aspire to earn a better living with less effort, GET CLIENTS NOW!™ has the answers.
It teaches over 100 tactics and practical 'how-to' tools to help you come up with new ideas to better focus your prospecting efforts, inject more energy into your marketing, and gain the confidence necessary to promote yourself to prospective clients. You identify the "success ingredients" that are missing from your current marketing activities and create a personalized marketing plan, comprising just ten simple things to be implemented on a daily or weekly basis, in order to effectively and efficiently market your professional services and generate an endless stream of clients.
Originally from Northern Ireland, Kathryn has been living and working in France since 1994. After a corporate career spanning 18 years in various sectors of industry, during which she held executive positions in sales and marketing, project management and economic intelligence, Kathryn set up her first freelance business as a technical translator in 2012. Today she translates exclusively from French into English, primarily in the naval construction and aeronautics fields (she is a certified Airbus Helicopters translator), as well as in the luxury hotel sector.
Kathryn is a state-qualified professional trainer in France, with five years' experience in training freelancers in the creation and development of their businesses. She became a licensed GET CLIENTS NOW!™ facilitator in 2016 (the only one in France), and since 2017 has trained and coached over 150 established freelance professionals and postgraduates planning to set up their own business in the techniques described in the GET CLIENTS NOW!™  book and related 28-day marketing programme. Since September 2020, she ensures in-person and online training in marketing and the GCN method for the Société Française de Traducteurs.

18:20 - 18:50 :: Chiara Vecchi :: Customer service pills for translators
 We usually don't meet our customers – either agencies or direct clients – in person, so sometimes we might forget that there are people on the other side of the screen. And since we all like to be taken care of, let's s have a look at a few tips to provide top-notch customer service to your customers and prospects so that they will want to work with you… because it's you and no one else! Expect useful advice from a former multilingual customer service specialist!
Chiara translates from English and German into Italian from her home in Italy. She specialises in cosmetics, medicine and travel & tourism. Before diving into translation, she worked in sales, customer service and marketing in Italy, Germany and the UK. She holds a MA in Translation from Swansea University (UK) and a BA in Translation and Liaison Interpreting from the prestigious School for Interpreters and Translators in Forlì (Italy).
You can find out more about her on her website or connect on LinkedIn.
Track B :: Running your business
14:30 - 15:20 :: To be announced later
15:20 - 16:30 :: To be announced later
17:00 - 17:50 :: Susanne Dirks :: More direct clients with Google Ads – a starter kit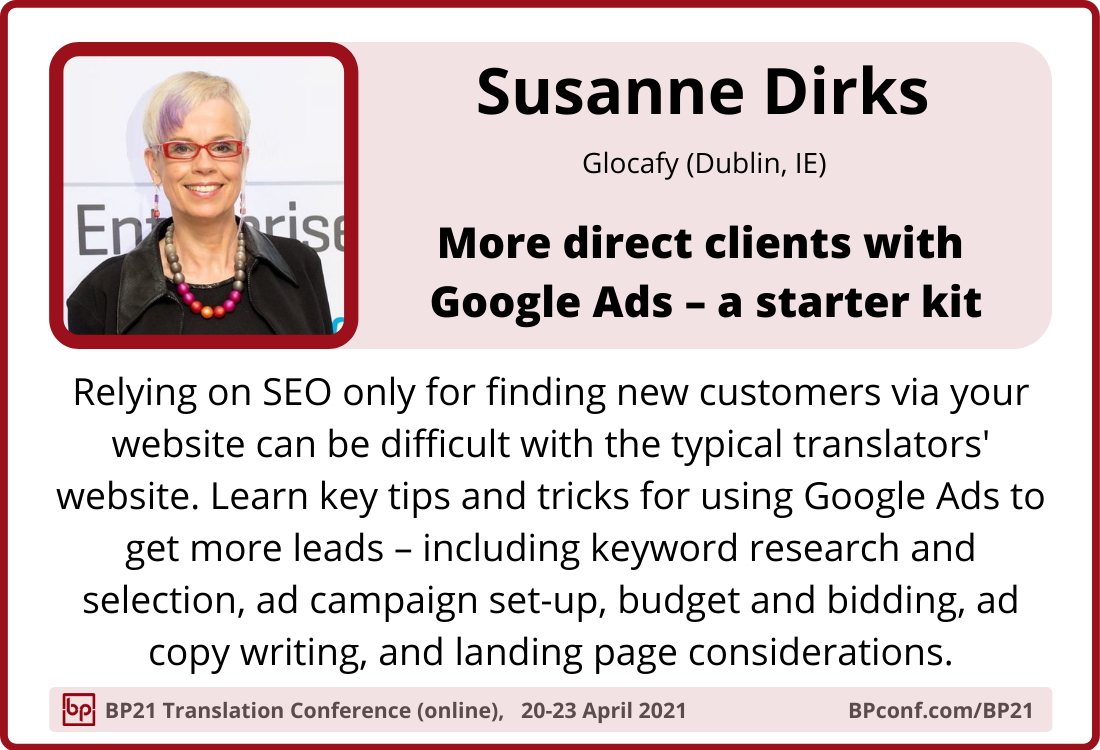 Relying on SEO only for finding new customers via your website can be difficult with the typical translators' website, as you are typically competing against large translation agencies – with considerably larger websites and bigger marketing budgets.
Google Ads provides a good mechanism to complement SEO and get to the top of the Google search results page in a quick and controlled way.
In the session, Susanne will discuss and explain some of the key concepts of using Google ads, including campaign types and campaign set-up for international ads, keyword research and selection, budget and bidding, ad copy writing, and landing page considerations.
Google Ads is a big topic, so the special focus of this session will be to provide basis knowledge as well as key tips and tricks relevant to translators with view to getting best results with a small budget. Susanne will provide examples from here own experience – in English and German.
Susanne, a native German based in Ireland since 1993, is an international business/internet consultant as well a translator with an educational background in translation (Staatlich geprüfte Übersetzerin, 1989) and Information Technology / Artificial Intelligence (BSc Hons 1992, MSc 1993 plus other diplomas in recent years).
After many years of working as a business/IT consultant in a multi-national, Susanne set up her own business Glocafy and now helps export-focused SME companies fully leverage the Internet to grow leads and sales in export markets, primarily her native German market. Drawing on her experience as an international consultant, her understanding of different business environments and cultures as well as her knowledge and experience in localisation/translation, IT and internet marketing, Susanne helps companies develop and implement business-driven strategies for international web presence, including planning and implementing website localisation, translation, international search engine optimisation (SEO) and international Google Ads campaigns.
In addition to her paid work, Susanne also serves on the Executive Committee of the Irish Translators' and Interpreters' Association (ITIA), chairing the Sub-Committee for Marketing/Website, and is a Board Member of the Irish Writers Centre.
18:00 - 18:30 :: Bex Elder :: Productivity: moving from being overwhelmed to getting things done
18:40 - 19:10 :: To be announced later
20:30 - 22:30 :: Networking
Networking room on Wonder.
Meet your speakers  ::  Talk business  ::  Open your heart  ::  Have fun
We may also have a quiz night, we'll see.
Wednesday, 21 April 2021
All times are CET (GMT+1). Make sure you check the time difference with your location.
Track C :: Working with texts
14:30 - 15:20 :: Elina Nocera :: Watch your tone... for texts that connect
In an overcrowded marketplace, successful brands don't just talk at their audiences; they have conversations and build relationships with them. Verbal identity plays a crucial role in this. It conveys a brand's message and personality and shapes the way its target audience perceives it. You know that voice you hear when you read engaging copy? That's the brand's voice shining through, and it needs to be conveyed consistently no matter who's writing or speaking– even beyond borders. But what if we can't hear that voice? What if the guidelines (if any) are vague? In this talk, we'll go through various examples to see what a strong verbal identity looks like, which tones of voice create an emotional connection, and how we can develop our own.
Elina I. Nocera is a bilingual Italian-English translator and copywriter with 13 years of experience, 9 of which as a freelancer. She crafts words to help brands express their personality and connect with their international audience through a natural tone of voice.
She works with both agencies and direct clients and specialises in marketing, design, and tourism.
Elina has an MA in foreign languages and literature and a PhD in comparative literature from the University of Perugia. In 2011, she translated a novel by Mozambican author João Paulo Borges Coelho from Portuguese into Italian for Edizioni dell'Urogallo.
Obsessed with good writing, she regularly attends CPD courses to keep up to date with the latest developments and hone her writing skills.
Elina is based in Umbria, Central Italy. When she's not glued to a computer screen, she's probably travelling, reading, enjoying a session of HIIT or body combat, or watching (not binge-watching) her favourite TV shows.
15:30 - 16:20 :: Rosie Robbins :: How to think like a copywriter
To produce truly great marketing copy, translators need more than creativity and excellent writing skills. They need to apply strategic thinking and develop a clear understanding of the client's business goals. This isn't easy, but by learning to think like the world's most successful copywriters, translators will be able to future-proof their careers, produce better work, faster, and enjoy a stronger, more rewarding relationship with clients.
Session card and bio to be added later
17:00 - 17:50 :: Vatslav Yehurnov :: Oh, I've been edited
You received an edited version of your translation. In the ideal case the changes are visible, but it's way too often they are not. Or you were editing someone, and you need to show just the changes, and fast, to avoid making the same corrections again and again in the future. Tools, tips and tricks to reveal every little change in a wide variety of file formats and workflow types, from CAT tools to subtitles, etc. We'll try to cover as many tools and cases, as the time allows. It is very important to keep track of changes in our work, so these tools could come in handy to anyone.
Translator. Editor. DTP man. Amateur photographer. Clumsy programmer. Gamer. Husband. Father. A BP fan since 2014, ATA-certified since that time as well. Since it is quite hard to find spare time when two boys are running around, Vatslav had to become a productivity and efficiency geek. Specializations: IT, agricultural machinery, information security, marketing.
17:50 - 18:20 :: Helga Benigni-Cokan :: Managing & assessing translation quality
If you like it or not – revision has become part of our everyday life, be it as translators or editors. Although quality management for translators is a must, knowledge about how to implement procedures to enhance and manage translation quality on a permanent basis could be improved. Especially, as the assessment of translation quality by editors applying related procedures in the revision process becomes much more comprehensible, transparent and objective. So, let's talk how to develop customised procedures and guidelines, how to get past subjective impressions and judgements to objective quality criteria, and how to improve our work without much effort on a daily basis to meet the challenges of the modern translation industry.
First of all, you should perhaps know that Helga is a so-called 'Revision Nerd'. Heaven forbid she got a pencil in hands while reading the newspaper – off she is, correcting spelling and punctuation mistakes without even realising it…. Well, more than 30 years in the translation industry and permanent professional development especially on revision topics seem to have an impact.
So, having participated in the last three BP conferences and enjoying being part of the community, she would like to share her knowledge acquired in the field for her colleagues' benefit. Also, working as an editor, she strives for better quality management by freelancers and to be able to deliver editing jobs with results like "Excellent translation", "Good work", "The translator knows what he/she does". Her hope is that the guidelines and procedures presented will help translators to better manage their work and editors to implement an objective basis and transparent criteria in assessing translation quality.
18:20 - 18:50 :: Ana Ribeiro Olson :: "Their baby" is ugly: Now what?
Clients see their text as "their baby," but what if their baby is ugly? Should we tell them? In this talk, attendees will be encouraged to abandon the service-provider mindset and become true partners to your clients. We will discuss the need to assess our work from a broader/more holistic perspective, problems we should be on the lookout for, how to suggest improvements to the original text in a professional way, and why this approach is beneficial for them (and us!).
Ana is a transcreator and copywriter, with 10 years of experience translating marketing content from English and Spanish to Brazilian Portuguese. She also teaches Creative Translation in Brazil, focusing on tourism and marketing transcreation, always highlighting the best practices in our industry. She currently serves as social media manager for APTRAD, the Association of Professional Translators and Interpreters working with the Portuguese language. Her website is AnaRibeiroOlson.com.br
18:50 - 19:10 :: Panel discussion
Track D :: Interpreting
14:30 - 15:20 :: Sarah Cuminetti :: Unpacking remote consecutive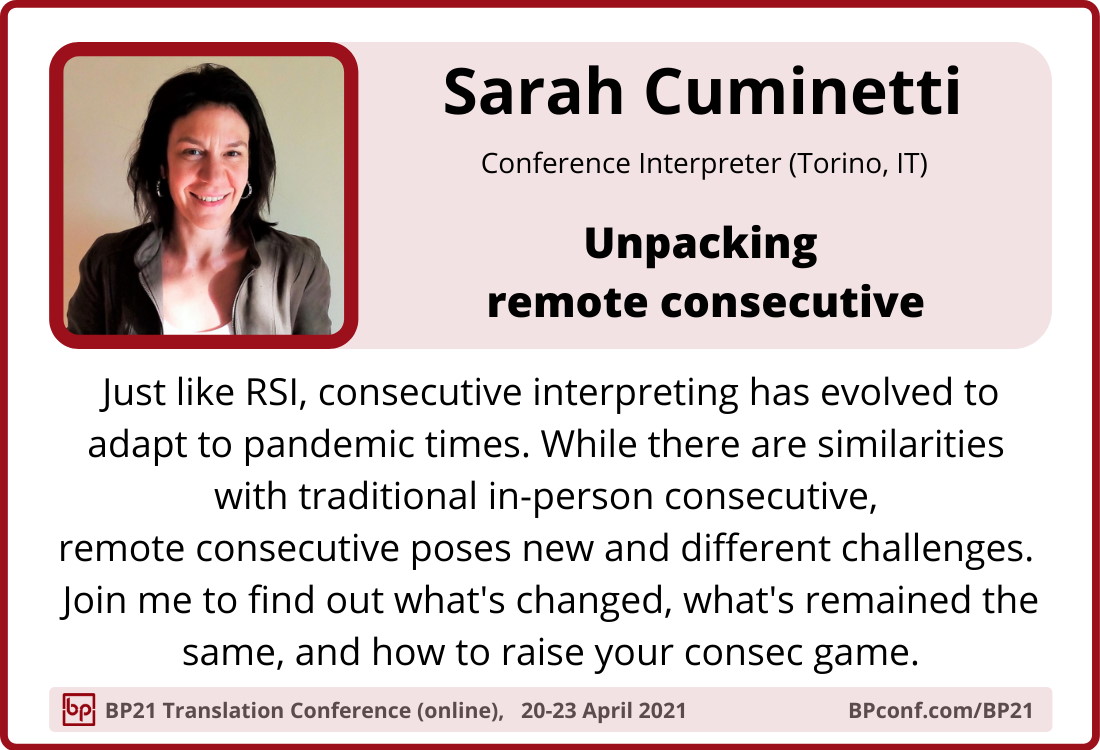 Just like simultaneous, consecutive interpreting has evolved to adapt to pandemic times. While there are similarities with traditional in-person consecutive, remote consecutive poses a number of new and different challenges. In this past year, I have worked almost exclusively online and have learned the hard way that the more things change, the harder you need to work, both before and during the assignment, to deliver top-quality results. In this talk, I will give you my tips on how to prepare and perform at your best in remote consecutive. Join me to discuss what's changed, what hasn't, and what you can do to take your consec skills to the next level.
Sarah Cuminetti is a professional conference interpreter, trainer and conference speaker based in Italy. She is a member of ATA, Assointerpreti, and AITI. She has been working on the private market in simultaneous and consecutive interpreting for more than 15 years, and more recently also in remote consecutive and remote simultaneous. She works regularly in consecutive, both online and offline, with Italy's leading cultural institutions, festivals and publishing houses for book presentations with best-selling authors. She also specializes in art, international and diplomatic affairs and business (n)etiquette. You can follow Sarah on Twitter, LinkedIn and Facebook.
15:20 - 16:30 :: Nóra Uhri :: Remote interpreting in practice
Virtually the only way we can work in times of lockdown, remote interpreting (RI) has been the community's hot potato issue for the past year. While interpreters are fairly good at dealing with the unexpected, working remotely brings this to a whole new level—and raises a series of questions.
What does it take to rock an RI job? What difference does it make when we're not in the same room as our clients? How to cope with challenges such as poor sound quality, visual input and uncooperative clients? This hands-on workshop focuses on the practical side of RI. We'll have a close look at best practice before moving on to a hands-on training session. Brace yourself, as you'll be able to experience remote interpreting firsthand!
Nóra Uhri is an entrepreneur, conference interpreter and translator for German, Hungarian, English and French. Besides working with international business clients and organizations, she has five years' experience as a remote interpreter for health, legal and community settings.
In 2018, she designed a practice-oriented workshop on Remote Interpreting for practicing interpreters and students of Interpreting Studies. As the interpreting community faces a surge in demand for remote interpretation services, she believes it to be vital to fully understand how remote interpreting assignments can be carried out successfully before interpreters take on their first remote interpreting project.
Nóra has a background in teaching intercultural communication. She is deeply convinced that a fundamental sense of cultural differences is vital when it comes to interpreting—be it on-site or remote. Based in Vienna, she is an active member of UNIVERSITAS Austria, Interpreters' and Translators' Association where she dedicates herself to promoting the profession.
17:00 - 17:25 :: Alice Bertinotti :: Ask an interpreter: 5 steps to level up your next online event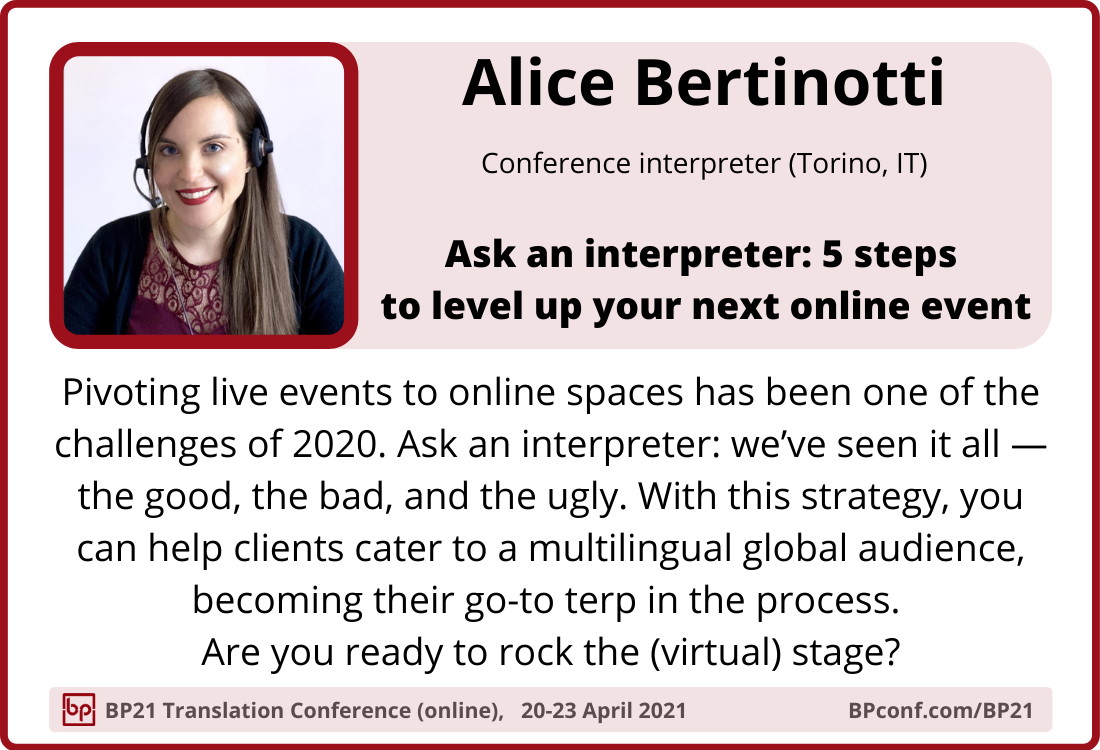 Pivoting live events to online spaces has been one of the challenges of 2020. Ask an interpreter: in the past year, we have seen it all — the good, the bad, and the ugly.
With all the options available, it is perfectly normal for old and new clients to feel overwhelmed by the what, where, and how of planning a virtual event. Adding one or more languages to the equation often seems too much of a hassle. That's when you step in with a plan.
Borrowing the 5-step strategy of international event planners, you can help your clients design, set up, and manage a successful multilingual meeting. Plus, offer your interpreting services not as an 'add-on' but as the added value.
Are you ready to rock the (virtual) stage?
Alice Bertinotti is an Italian conference interpreter working with English, French, and Spanish.
A University of Leeds alumna, Alice set up her interpreting and translation business in 2012, after gaining valuable experience first at the European Parliament and then at FAO, where she worked as Terminology and Language Resources Assistant.
She specialises in technical domains – IT, medical technology, and robotics – and enjoys testing new apps and software. Alice is also a keen trainer and conference speaker. She presented at the Translating Europe Workshop and BP19, and delivered a series of CPD courses on digital tools, terminology management, and remote interpreting across Italy.
In her spare time, Alice tweets about geeky stuff and life in the booth (@AliceCLG). You can also find her on Terp Help Desk.
17:25 - 17:50 :: Tatiana Kaplun :: (Title to be added later)
Session card, abstract, and bio to be added later
17:50 - 18:15 :: Gabriella Nagy :: (Title to be added later)
Session card, abstract, and bio to be added later
18:15 - 18:40 :: Sue Leschen :: (Title to be added later)
Session card, abstract, and bio to be added later
18:40 - 19:10 :: Panel discussion
20:30 - 22:30 :: Networking
Networking room on Wonder.
Meet your speakers  ::  Talk business  ::  Open your heart  ::  Have fun
We may also have a quiz night, we'll see.
Thursday, 22 April 2021
All times are CET (GMT+1). Make sure you check the time difference with your location.
14:00 - 15:20 :: Sameh Ragab :: Translators: Are you ready and well-equipped to handle "Big" translation?
Translation-related "Big Data" is the fuel for CAT tools, terminology management, translation and language technologies. These data are either used to train NMT engines or for conversion to formats that allow for fast search retrieval via CAT tools and search engine platforms. However, are translators ready enough and well-equipped to handle such big data? Join Sameh Ragab in another advanced session that will elaborately shed light on the above, through practical demos detailing how to automate the handling of big data in the translation industry, and how to harvest them from reliable resources.
Sameh Ragab is a lead auditor for the International Standards Organization 17100 and a certified translation services provider. He is also a computer-assisted translation (CAT) tool and terminology management expert, a registered translation vendor with the United Nations and World Bank, and a certified localizer. He has over 28 years of experience in the translation industry. His focus is on Arabic and Middle Eastern language services. He has also trained translators and localizers to use CAT and terminology management tools. An international speaker and trainer focusing on the technical side of translation, he has given workshops all over the world.
15:30 - 16:20 :: Ellen Singer :: Making the most of your CAT (mine is memoQ)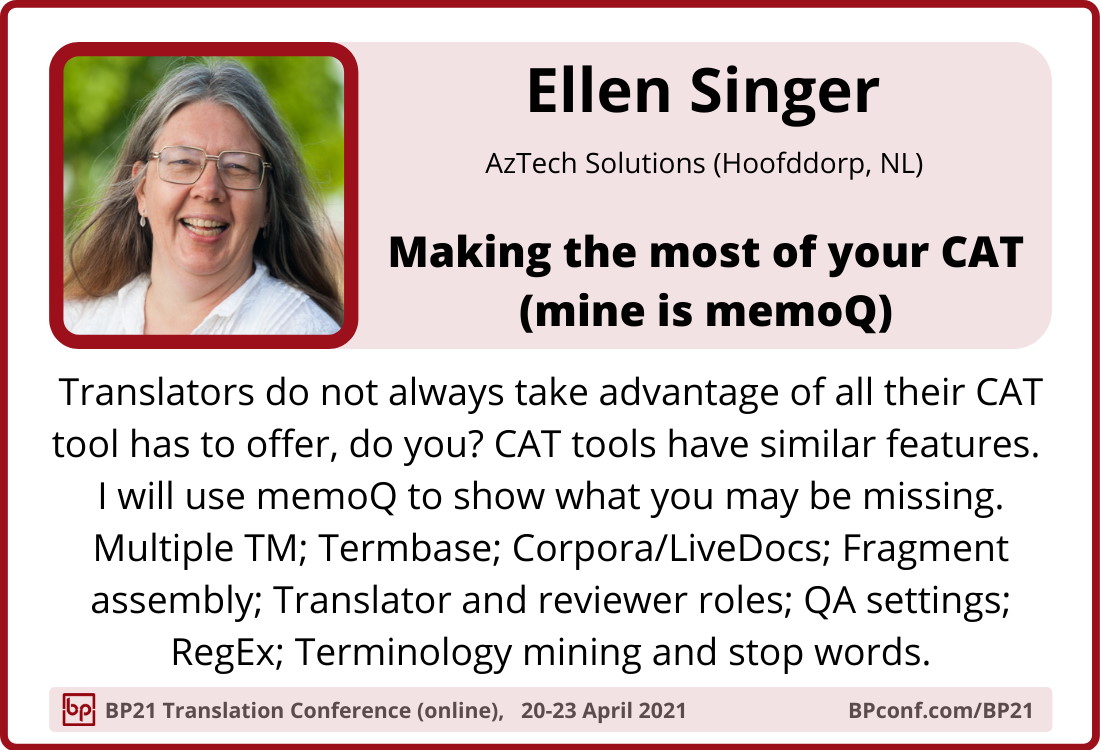 CATs started as simple programs to which various functionalities were added over time. Many translators do not use all their CAT has to offer, do you?
This is not about your preferred CAT. A good CAT has similar functions either included or as a plug-in. The objective of this presentation is showing you what can be done and why this can be useful. Once you know it is out there, you can find ways of making it work for you.
Multiple translation memories; Termbase; Corpora/LiveDocs; Fragment assembly; Translator and reviewer roles; QA settings; RegEx; Terminology mining and stop words.
Ellen has been a technical translator since 1995 at AzTech Solutions, a small translation agency that provides a wide range of services. Although she specializes in technical translation and has used CAT tools since the nineties, Ellen's interests and skills are far-ranging. For the past five years she has taken up the challenge of projects requiring creativity and rhyming skills, as well as transcreation and copywriting projects.
17:20 - 17:50 :: Birgit Hofmann :: Think big - Teamwork with memoQ
Many freelance translators are afraid to take on larger projects, partly due to large word counts, tight deadlines, different CAT tools and project coordination.
But large-scale projects are fun and more profitable!
By working together and revising each other's translations we can also expand our knowledge and enhance our professional standing.
memoQ supports freelance translators with several teamwork options. This presentation gives an overview of memoQ PM, Language Terminal and memoQ Cloud Server.
These tools allow freelancers to build flexible or ad hoc teams and handle large-volume projects in memoQ, while still achieving consistency in terminology and applying repetitions efficiently.
Birgit is an enthusiastic teamworker and has now been using memoQ Cloud Server for some time. It has helped her successfully manage large translation projects with teams of up to 5 colleagues, sharing TBs, TMs and corpora and taking turns to translate and revise texts.
Her goal is to encourage more freelancers to acquaint themselves with this service/platform so that they can take on more profitable projects and convince their clients that freelancers are equally professional as translation agencies.
18:00 - 18:30 :: Tímea Palotai-Torzsás :: An alternative to lengthy EU terminology research: Juremy.com
To be able to produce high quality legal or technical translations, or to comply with the stringent consistency and referencing requirements of institutional EU translation, you need to perform extensive terminology research. But the currently available tooling forces us to make a trade-off between depth of research and time commitment.

If you invest too little time, document quality suffers. But you certainly don't want your work-life balance to suffer either. We experienced the issue first-hand, and set out to address it.

This effort led to Juremy, our online concordance search tool: it has high coverage of the EU legal corpus, it is fast, and is easy to use. It removes the repetitive tasks from terminology research, so you only need to creatively synthesize the information surfaced.

In our presentation, we look at the workflow issues of terminology search in the different publicly available databases. Then we present the advantages of our tool through some typical terminology examples. Finally, the special functionalities are presented, such as filtering and sorting.
Tímea has 7 years of experience as a legal translator working with documents of the Court of Justice of the EU in FR-HU and EN-HU language pairs. She is an attorney-at-law practicing in Budapest, focusing on intellectual property law matters. She also has a degree in economy and international communication.
Co-author of the tool Robin Palotai is a full-stack software engineer. He worked at Ericsson, was a search backend developer at EPAM, and he was the tech lead of a small team at Google. He is passionate about building user-centric features.
18:40 - 19:10 :: to be announced later
20:30 - 22:30 :: Networking
Networking room on Wonder.
Meet your speakers  ::  Talk business  ::  Open your heart  ::  Have fun
We may also have a quiz night, we'll see.
Friday, 23 April 2021
All times are CET (GMT+1). Make sure you check the time difference with your location.
Track G :: Book translation
14:30 - 15:00 :: Rafa Lombardino :: Authors and translators - The recipe for a successful collaboration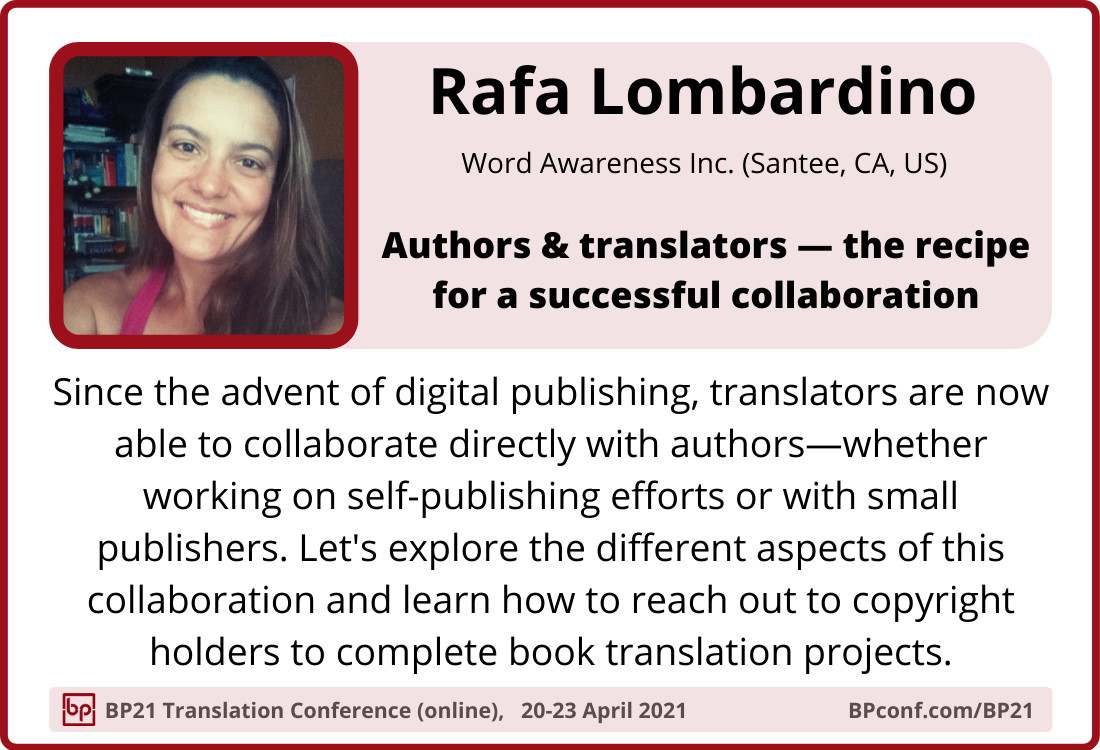 Since the advent of digital publishing, translators are now able to collaborate directly with authors―whether working on self-publishing efforts or with small publishers. Let's explore the different aspects of this collaboration, including the collective decision-making process to localize the final translated book to the target audience, either through foreignization and domestication. Let's also learn how to reach out to copyright holders to complete book translation projects, including ways you can contact self-published authors to create this successful collaboration.
Rafa Lombardino is a Brazilian translator and journalist who has been living in California since 2002. She is the author of "Tools and Technology in Translation ― The Profile of Beginning Language Professionals in the Digital Age," published in 2004 and based on her class by the same name. She started working as a translator in 1997, is certified by the American Translators Association (English > Portuguese & Portuguese > English), and has a Professional Certificate in Translation (Spanish > English) from the University of California San Diego Extension, where she started teaching in 2010. Her additional combinations are Spanish > Portuguese, Italian > Portuguese, and Italian > English.
She is the President and CEO of Word Awareness, a network of professional translators established in 2004 and incorporated in 2009. Rafa also hosts the Translation Confessional Podcast and the Tools and Technology in Translation YouTube channel. She has acted as the Blog Editor of ATA's Portuguese Language Division (PLD) and served as the Division Administrator in 2017-2019. She has an Associate's Degree in Computer Sciences, with emphasis on Data Processing, and a Bachelor's Degree in Social Communications, major in Journalism. She specializes in Technology, Corporate Communications, Human Resources, Education, EH&S (Environment, Health, and Safety), Health and Well-Being, Tourism, Audiovisual, and Literature.
15:00 - 15:30 :: Mónica Caldeiro :: Medical translation and literature: Is this science fiction?
In our 21st-century world the tendency is to go more and more into specialization. This is for sure necessary if we want to stand out as translators. But what happens if we have always wanted to translate literature, but we also work in another translation field? Is this possible? Can we specialize in both areas? How are they interwoven? In this talk I will address the possibilities from my own experience to encourage, from a positive point of view, other translators to dive into literature as they also work in other translation fields.
Mónica Caldeiro is a medical translator EN > ES and literary translator EN > ES, CA. She studied Spanish Philology at the University of Barcelona (UB) and her PhD courses in English Studies at the University of Santiago de Compostela (USC). She also holds a master's degree in Medical Translation.
Her work as a literary translator focuses mainly on 20th Century American poetics. She has translated poets such as Joanne Kyger, Ted Berrigan, Charles Bernstein and Sheri-D Wilson. She has also translated non-fiction that falls between the categories of medicine and literature. Find out more about her work in VitruvianTranslations.com and MonicaCaldeiro.wordpress.com.
15:30 - 16:00 :: Óscar Curros :: Teamwork and quality assurance in book translation
Translating a book requires planning, teamwork, and appropriate quality assurance processes. The translator must assess the text in advance to be aware of the main challenges posed by the project. Planning how to manage the project from the beginning will allow better time allocation for each task. It is also important to configure adequately the team that will be involved in the process of revision and proofreading. Teamwork is a win-win method because the translator learns from others while interacting with them. This is closely related to the quality assurance method followed. Since each project requires a specific approach, different situations will be discussed.
Óscar Curros, 39, is a journalist and translator born and raised in Santiago de Compostela, Spain. He is the Chief Language Officer of CIS Interpreters, a West Hollywood interpreting and translation agency. Óscar Curros lived for 11 years in Brazil, where he translated for Spanish newspaper El País and contributed to the Brazilian newspaper Folha de S.Paulo, among other clients.
He holds a BA in Journalism from the University of Santiago de Compostela, a master's degree in Strategic Communications Management from the University of São Paulo, Brazil, and a master's degree in Human Rights Education from the University of Brasilia, Brazil.
Óscar Curros is the Spanish translator of the Brazilian classic Sua Majestade, o Intérprete (His Majesty, the Interpreter, not available in English yet) by Ewandro Magalhães. The Spanish version is entitled Su Alteza, el Intérprete.
16:00 - 16:20 :: Panel discussion
17:00 - 17:50 :: Joanne Chou :: How a book translator accidentally developed a CAT tool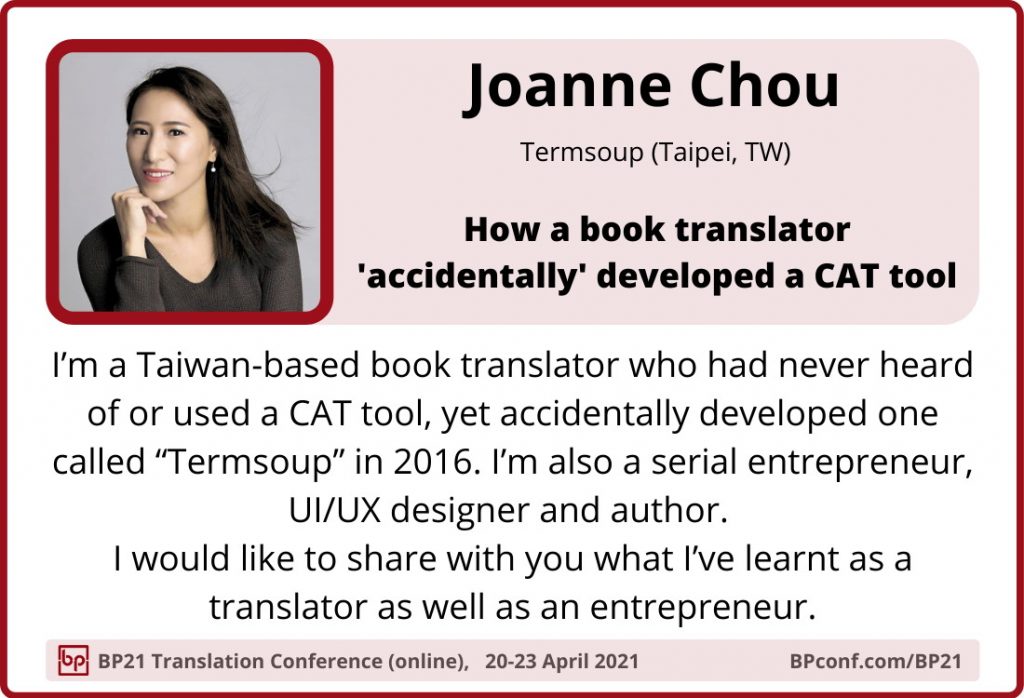 Termsoup is a CAT tool designed and developed by a Taiwan-based book translator who had never heard of and used a CAT tool. Lacking a CAT tool experience sounds like a disadvantage in this case, yet soon the translator found it actually an advantage! Without having any prior knowledge in CAT, she can think outside the box when designing it.
Besides some must-have features a CAT tool should equip, Termsoup has functions and interfaces especially designed for book translation. The software is now popular among local book translators as well as technical and localization translators. People love its usability and minimalist style.
If you're looking for a CAT tool that is intuitive to use and pleasant to the eye, don't miss Termsoup and our story!
Termsoup is the most user-friendly and elegant CAT tool, and it is the best choice for book translation. Most CAT tools are designed by localization specialists, yet Termsoup is created by Joanne Chou, a Taiwan-based book translator. Joanne is also a serial entrepreneur, UI/UX designer, and author.
Termsoup is popular among translators in Taiwan, and we also have translators, translation agencies and universities using it from the U.S., U.K., France, Germany, Hong Kong, Malaysia, Indonesia, etc. Welcome to have a free trial!
Track H :: Work-life balance
14:30 - 15:00 :: Dana Szabados :: Business lessons from 1001 Nights
This short talk aims to reveal a new approach of the old collection of folk tales, seen through the eyes of a freelance translator. The diversity of topics in the Arabian Nights covers and reflects a variety of business principles. By applying the approaches and principles in the books, a freelancer can develop their business based on a plan, fulfill their tasks, retain their clients and grow. Overall, the book is a success story, sparking the interest of the readers, captivating them. What if we see the readers as the clients and Scheherezade as the successful freelancer?

Based in Râmnicu Vâlcea, Romania, Dana has been an English to Romanian freelance translator, proofreader and copywriter since 1996. She specialises in the technical, sustainability and marketing fields, as well in fashion and cosmetics.
She is interested in creating awareness on the importance of translation in everyday life, across all industries. She is passionate about new technologies and their impact on the freelance translators' workflow.
15:10 - 15:40 :: Martina Abagnale :: Working together (from home)
Being a translator has always been a lonely job, but even more so in the past year. How do you stay in touch with other translators, and how do you get to know new people? Have you ever considered virtual coworking?
A virtual coworking session can help you recreate the buzzing café atmosphere that boosted your productivity, or it can replace your monthly aperitif catch-up with your fellow translators.  Make the most of technology and open the (virtual) doors of your house to your colleagues!
Martina Abagnale is an English and Dutch into Italian translator based in Amsterdam, the Netherlands. After starting her career as a project manager at a translation agency, she became a freelance translator in 2019. She specializes in legal and financial texts and helps companies prepare their documents for legal use in Italy. She regularly organises (virtual) events for beginner translators.  You can follow her on LinkedIn

15:50 - 16:20 :: Dorota Pawlak :: A quick start guide for freelance parents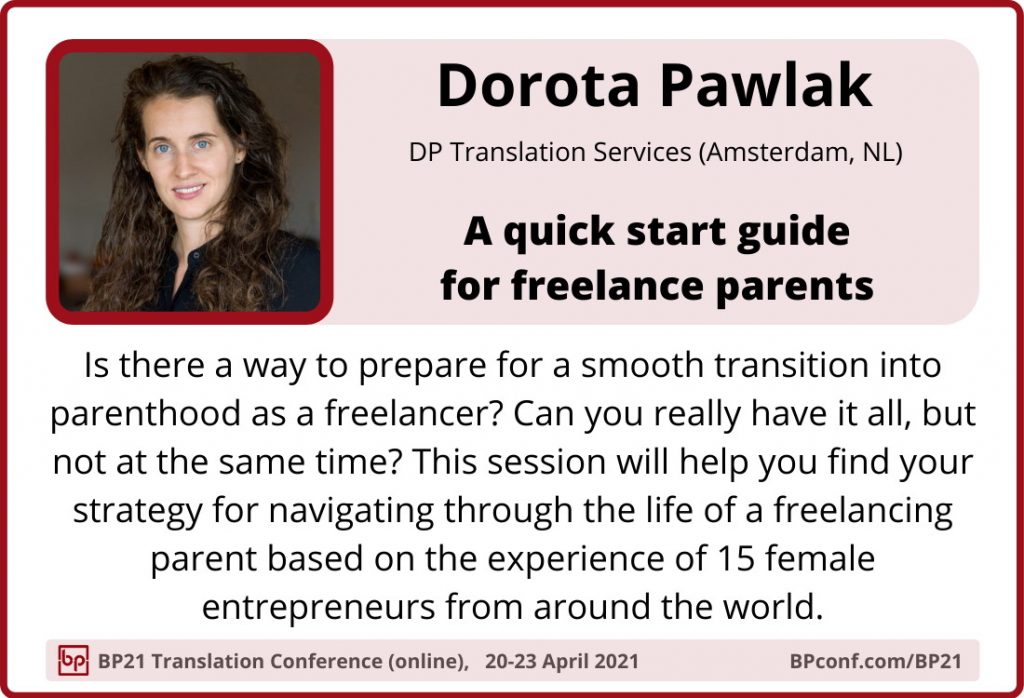 Freelancing and being a parent is not an easy task, especially if you don't want to or can't take a longer break from your career. Is there a way to prepare for a smooth transition into parenthood as a freelance translator? Can you really have it all, but not at the same time?
This session will help you find your strategy for navigating through the life of a freelancing parent. The speaker will present challenges that you can face as a first-time parent and business owner, based on the experience of 15 interviewed women from around the world and her own. She will also suggest some steps you can take to make your journey into the parenting world less bumpy and more exciting.
Dorota Pawlak is a translator specializing in website and mobile app localization. She holds an MA in Translation and MSc in Multilingual Computing and Localization. Dorota runs online courses on localization on her website at DorotaPawlak.eu, and helps other freelancers to start and grow their businesses. She recently published her book "You've got this: How to continue your freelance career when you become a mother".
17:00 - 17:50 :: Bettina Röhricht :: Finding balance - Burnout prevention for freelance translators
Being a freelance translator can be challenging. On top of earning a living, we need to find new clients, manage our time, attend networking events, take care of admin and marketing, and keep up our own training and development. All of which adds up to a lot of responsibility and potential for stress – all the more so when you're in lockdown. This session looks at possible causes and reinforcing factors of burnout, discusses how to prevent it by striking a healthy work/life balance, and offers practical tips and everyday tools that can help you to combat stress.
As freelancers, we tend to focus on our careers and sometimes neglect our personal wellbeing, especially in times of stress. Looking after ourselves in every way is the best way to ensure we're going to stay healthy and continue to be able to work and enjoy life.
My name is Bettina Röhricht and I'm a freelance translator and coach based in England. Originally from North Germany, I translate from English and Portuguese into German, specialising in politics, education, and the environment.
Having worked as a freelance translator for about 21 years, I'm very familiar with all the stress and responsibilities that come with the territory. In addition to my career in translation, I started working as a coach about 10 years ago to help other translators deal with work-life balance and self-care issues, overcome internal barriers and be happier, more successful, freelancers.
In my spare time, I enjoy reading, dancing, singing, and chilling with my cats. I'm also passionate about plant-based food, conservation and generally saving the planet.
18:30 onwards :: Farewell party
One last networking night on Wonder (and probably also on Zoom)
19:00   Csaba's closing thoughts
We may also have a quiz night, we'll see.
Frequently asked questions
Tickets / Prices / Discounts
How do I register for an event?
Registering for an event means paying for an event. You can do this in BP's store, under the Shop menu above (BPconf.com/shop). If you don't see the event in the store yet, it means registration has not started yet. In this case you may want to sign up to our mailing list to be notified when registration starts.
BP21 prices
Starting from January 2021, as long as we have online events, prices are determined on the basis of your geographical location. The idea is to make online events more affordable for translatos in lower income countries. 
Also, prices do not increase at certain dates, but after each batch of 100 tickets sold. 
The 'Super early bird' price for BP21 valid for the richest countries is 80€ (+VAT), and will eventually reah 120€ after several steps. The starting price at the lower end is 30€, eventually reaching 45€.
'2 tracks' tickets
BP21 will consist of 8 tracks, each with 5 sessions/talks (on Friday only 4 sessions/talks). 
This year we offer a new ticket type: '2 tracks'. This type of ticket costs 60-65% of the full ticket (depending on where you live), and gives you access to 2 full tracks of your choice.
You'll also receive access to the unedited Zoom recordings of the selected tracks until 31 May, access to networking sessions on the selected days, as well as a certificate of attendance.  
You will receive a form where you can indicate your choice after placing your order.  This ticket type will be available as soon as the detailed programme is published (most probably on 22 February).
Workshops and video collections
At BP21 we will have 4 workshops (titles, details, and prices will be published around 22 February).
BP21 attendees will be able to register for the workshops at reduced prices, but you can also buy access to these workshops without attending the conference itself.
Currently we offer  3 video collections (BP Video Library (135 conference sessions);  BP Workshop Week (8 workshops);  BP21es recordings (32 sessions in Spanish)).
You can buy access to any of these collections at a discount (see below) when buying them at the same time as your conference ticket.
Discounts
We offer a number of discount codes that you can use.
'vid1': 40% off any video collection (BP Video Library, BP Workshop Week, Recordings of BP21es) if you buy it together with a ticket to BP21.
'vid2': 50% off any two video collections if you buy them together with a ticket to BP21.
'vid3': 60% off all video collections if you buy all three together with a ticket to BP21.
'wsh': 30% discount off any workshop if you also buy a ticket to BP21 itself (workshops will be announced on or around 22 February)
Students / faculty members: You're eligible for a 40% discount off your conference ticket. Recent graduates are eligible for a 20% discount.  Upload your documents here, and you'll receive the discount code by email.  The number of students / faculty members with this discount is limited to 10% of the total number of attendees.
Group discount: If you wish to purchase at least 4 tickets for the same company, contact us directly for an additional 20% discount, mentioning the items you'd like purchase, together with your invoicing details.
All about VAT
In most cases you'll need to pay VAT on top of the net prices shown below.  (27% Hungarian VAT — the company that issues the invoices is registered in Hungary.). VAT is calculated automatically based on your settings on this Checkout page.
You don't need to pay VAT if
(i) you purchase as a company, you are based in an EU member state outside Hungary, and you have a valid European VAT number. (In this case on the Checkout page you'll need to click on the 'Company billing' checkbox AND enter your company's name, then enter your VAT number WITHOUT the 2-letter country prefix);
(ii) if you purchase as a company, and you are based ouside the European Union. In this case it's your responsibility to make sure you're eligible for VAT-free purchase according to your country's regulations.  In some countries solo entrepreneurs are eligible for VAT-free purchases from abroad. (In this case please open the 'I'm based outside the EU and I purchase as a company' box on the Shop page for more details.)
In the first two steps of the shopping process (on the Shop and Cart pages), VAT is still shown in all cases.  Once you arrive on the Checkout page, you'll be able to specify if you wish to purchase your ticket as a company. If you are eligible, the VAT amount will disappear from the total payable amount.
The registration process in full detail
1. On the Shop page, select the events/products you wish to register for (hover over the image then press the + button), then add them to the cart.
2. Apply any discount coupon you may have, then proceed to the Checkout page.
3. Enter your billing details, selecting 'Company billing' if applicable.
4. You may or may not have to pay VAT, depending on where you are, and whether you buy your ticket as an individual or as a business.  More on VAT in a separate FAQ item.
5. Choose your method of payment: (a) bank transfer, (b) TransferWise, or (c) credit/debit card or Paypal.  In case you choose (a) or (b), we offer a 5% discount.  These payment methods are available until a week before the relevant event.
6. For (a) and (b) you will receive a pro forma invoice immediately with information on our bank account details. You will receive your invoice once your payment arrives on our bank account. For (c) you will receive your invoice immediately.
7. You will receive Zoom access details by email a day or two before the event. You will also receive other emails before and after the event.
Payment by bank transfer / Transferwise
If you're based in Europe, this may be the cheapest and most straightforward method of payment. Transferwise is a safe and cheap alternative to bank transfers.
We offer a 5% discount if you choose either of these methods.
IMPORTANT: in the Comment field, make sure you enter your Order Number (a 5-digit number) so that we can identify your payment.  You don't need to include anything else, but do mention the Order Number (i.e. NOT the number of the pro forma invoice).
Payment by bank card / PayPal
You can also pay with your Visa or Mastercard (either credit or debit). We currently use PayPal as a card processing service. You do not need to set up a PayPal account to be able to pay with your card.
Choose this option if you wish to pay directly from your PayPal account.
Domestic bank transfer within Hungary
If you have a bank account in Hungary, the easiest and cheapest way to pay is domestic bank transfer.
Choose bank transfer in the registration process for a 5% discount. As you soon as you place your order, you will receive a pro forma invoice ('díjbekérő').  The HUF amount will be shown in small print under the EUR amount, based on the Hungarian National Bank's official exchange rate for the day.
Our HUF bank account for domestic transfers within Hungary is 11705008-20466866.
Előre is köszi szépen 🙂
I placed an order but I'd like to choose a different method of payment
If you already paid with your card or from your PayPal account, the amount has already been deducted from your account.  If you wish to cancel your purchase, you'll need to request a refund.
If you placed an order indicating payment by bank transfer or TransferWise, but you would prefer to pay using your bank card or from your PayPal account, simply ignore the existing order, and place a new one, this time selecting the right method of payment.
Cancellation policy
Tickets to offline conferences can be refunded up to a certain date. Detailed information will be published for each event. Usually a full refund (minus a 25€ handling fee) is available up to 45 days before the starting date of the event; and a 50% refund (minus a 25€ handling fee) is available up to 15 days before the starting date of the event.
As a general rule, tickets to online events cannot be refunded (you'll have access to the recordings if you're not available to attend). However, such tickets can be transferred to another person for a small handling fee.  Since we use geotargeted pricing, such transfer of tickets is only allowed to people in the same (or lower) pricing zone.  Contact us in such cases.
Tickets to the Video Library and other video collections cannot be refunded, since you'll receive the unique access URL immediately after your payment is approved, and you can start watching the videos.
If an offline event cannot take place due to force majeure, we will make all reasonable efforts to transfer the event to an online platform. In this case you will have an option to (a) accept attendance at the online event and receive a refund of your original purchase amount minus the price of such online event, or (b) refuse attendance at the online event, and receive a full refund of your original purchase amount minus a handling fee set out in the cancellation policy of the individual event.
If an online or an offline event cannot take place due to the Organizer's fault, you will receive a full refund of your original purchase amount within 60 days of the scheduled starting date of such event.
If an online event cannot take place due to force majeure, we will do all reasonable attempts to hold such event at a later date, within a reasonable period of time.
Conference format / Recordings
OK, this is an online event -- any details?
BP21 Translation Conference will take place online, just as last year.  
All sessions and talks will be part of various Zoom meetings — most of you must be already familiar with this platform.
There will be two simultaneous tracks on each day (Tuesday to Friday, 20 to 23 April 2021), in most cases starting at 14:30 CET and finishing at 19:10 CET.  
For each track you will receive the necessary access details by email a few hours in advance on each day, around 9:00 CET each day.
You can hop between the tracks any time: simply leave the Zoom meeting you'ree in, and join the other one using the access details you receive in the email.
Networking sessions
For all networking sessions we will use Wonder, a new online platform for emulating real-life scenarios.  This is a very intuitive platform, you will learn how to use it in no time.
You will receive the necessary acess details in time.
We will have two main networking sessions: one before the first couple of conference sessions on the opening day, and the other one after the last couple of conference sessions on the closing day.  The networking 'room' will stay open during the conference week, so you may pop in any time.  Most likely the busiest times will be European evening hours, between 20:00 and 22:00 CET.
When you open the link for the first time, you will need to give permission for the app to use your camera and microphone, then you'll need to enter your name and upload a profile photo. Alternatively, your webcam will take a photo that you can use.
Once you're in, you'll see a number of 'areas', such as 'Medical translators', 'Russian', 'Interpreters', etc.  You will also a number of circles, each consisting of up to 15 people.  Move your photo closer to any of these circles to join the conversation.  Once a circle reaches 15 people, additional people cannot join. In this case move closer to another circle, or even to 'lonely' people to form a new circle.
All participants are listed in alphabetical order.  You can chat with anyone, and there's also a general chat, as well as a chat fr each circle.  When you click on a person's name in the list, the entire room will dim, only the person's photo will be lighter — so it's very easy to find a particular person in the room.
If you prefer 'good old' Zoom, we'll also have Zoom networking sessions at the same times.
What if I cannot attend all of the sessions?
Well, even in the best case scenario you'll be able to attend only half of all sessions, because of the two simultaneous tracks. 
All sessions will be recorded in Zoom, and these will be available for free for all BP21 attendees, starting the following Monday (26 April).   These unedited recordings will be available until the end of May.  You will receive more details about how to access these recordings in due course.
The edited versions of the sessions will be added to BP Video Library from about early June. This video collection currently has 135 titles (BP16 through BP20), and will be expanded to about 175 titles with BP21 sessions. If you purchased a licence in the past year, you will have access to BP21 sessions as well.
You can purchase a 1-year license to BP Video Library at a 30% discount using the 'vid1' discount code if you purchase it together with your conference ticket.  (Or at a 45% discount with the 'vid2' code if you add another video collection, such as 'BP Workshop Week'  or 'Grabaciones del Congreso de traduccióm BP21es').
Certificates of attendance
Certificates of attendance will be available, more information on the procedure will be published in March.
Recordings
All sessions and short talks will be recorded on Zoom. These unedited recordings will be available to all conference attendees until 31 May 2021. (If you purchase a '2 tracks' ticket, you'll have access to the recordings of the selected tracks only.)
Edited videos will be added to BP Video Library from early June. (They may be available in a different package as well, to be decided later.)
You may also be interested in these BP events