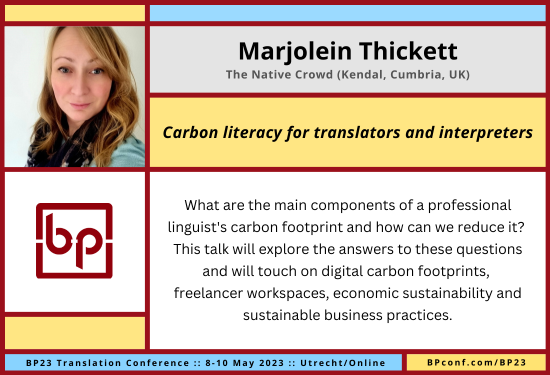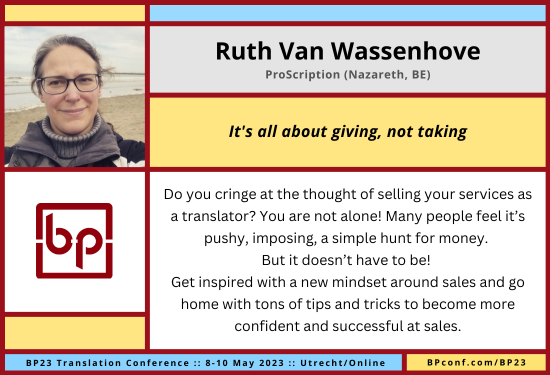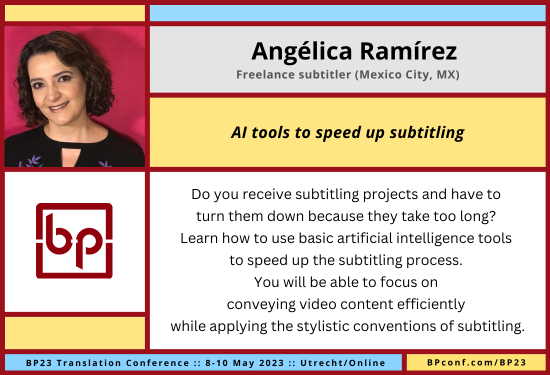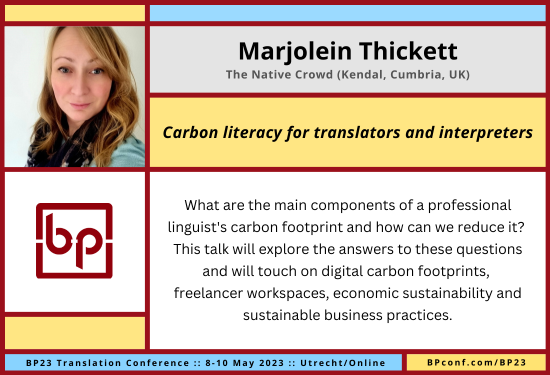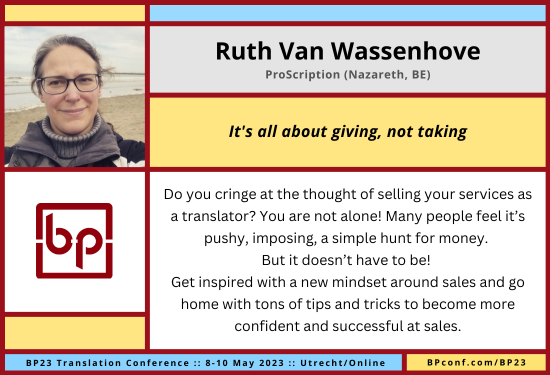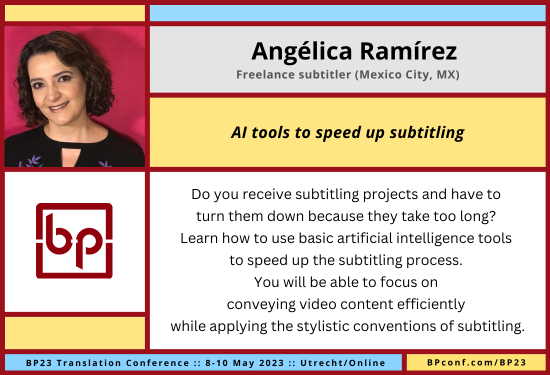 BP23 will take place in Utrecht and online
340 registered already
230 in-person, 110 remote attendees
Tuesday, 2 May
Registration closes for in-person attendance
BP23 Translation Conference
9-10 May 2023 :: Utrecht & online
'Bonding Prequel'
Online event, all times are CET
18 April
12:30   Kick-off with some networking
13:00   Jenny Zonneveld: Your network is your most valuable asset
14:00   Alison Hughes: Self publishing: I did the groundwork so you don't have to
15:00   Networking
16:00   Session to be announced soon
19 April
12:30   Kick-off with some networking
13:00   Marek Pawelec: memoQ as a reviewer's tool (3-hour workshop)
16:00   More networking
These two days are covered by all remote and in-person tickets to BP23 
Detailed description of the sessions
9:30 – 13:00  Workshop
Silvia Schulz :: How to write a killer service page for your website
14:00 – 17:30 Workshop
Virginia Katsimpiri :: 'The Fully Booked Translator' formula revealed
14:00 – 18:30 Registration
Pick up your badge / bag if you attend the welcome reception
19:00 – 21:30 Welcome reception
With a networking game
All events on this day take place at Crowne Plaza
You'll need a separate ticket for each of the events on this day
8:00 – 8:55  Registration
Pick up your badge / bag if you haven't done it yet
9:00 – 17:00   Conference sessions
At Jaarbeurs convention centre
17:00 – 19:30  Explore the town
Walk down the streets, paddle along the canals
19:30 – 22:30  Gala dinner
At Humphrey's in the old town
The exact timeline of sessions will be announced early April
The gala dinner is included in the Utrecht Premium ticket, or you need a separate ticket
 9:30 – 16:00   Conference sessions
At Jaarbeurs convention centre
16:00 – 17:00  Farewell reception
Included in the conference ticket
The exact timeline of sessions will be announced early April
Most international attendees usually arrive a day or two earlier, and/or leave a few days later, so there will be plenty of opportunities to organise fringe events together.
A detailed list of tips on what to do in Utrecht and around the country will be published soon.
Registration
All prices are net. Prices will go up Monday midnight (24 April)
Only card payment after 28 April. Only remote tickets after 2 May.
See your cart and proceed to checkout
More ways to connect
Sign up to our mailing list so that we can notify you of our events >>
Badass Polyglots love BPconf
Unsolicited testimonials from BPconf attendees
So many inspiring talks and workshops! Marketing (my clients' and my own!), transcreation, copywriting, SEO, microcopy, industry updates, well-being, and all kinds of Business Practices. Indeed, a great selection of speakers, talks, topics and activities. Too many to mention.
Impact transcreator & writer, Spain
BP conferences never disappoint: the topics, the professional approach of both the organisers and the attendees make them stand out of the translation events. See you next year in Utrecht.
Technical translator, Romania
It was an honour to speak at the conference that influenced pretty much every aspect of my life! My career, my mindset, my friends and colleagues… thank you Csaba!
Artlife Translations, London/Budapest
I can't wait to watch the recordings of the sessions I missed because of other sessions. It was really difficult to choose. Now my brain is overflowing with ideas I want to incorporate into my own BP (Business Plan). Exactly what I wanted and expected.
Cycling Translator, Czech Republic
Technisch waren die Bausteine der Konferenz nach- und nebeneinander laufende Zoom-Webinare und -Meetings, begleitend gab es in Whova Zeitpläne, Chats und Selbstvorstellungen der Teilnehmer*innen.
Medical translator, Germany
I'm so happy that I was part of the "gang."
BP22 was an amazing experience for my first time ever conference and debut as a speaker.
Win With Words, Amsterdam
The best part of this is that most of the attendees of BP translation conferences have the same mindset; positive look at the industry and passion to improve themselves.
TranslationPartner.com, Cairo (EG)
Thank you for keeping in mind that a big part of any conference is the networking and for making it all so interactive from the very start where we were able to cast our votes on the topics to the very end where we're able to give extensive feedback to make next year's conference even better.
Phoenix Translations, Austria
It's only been three days since I arrived from BP19 in Bologna and I'm still under the 'conference buzz' (…)
It was my first BP, but it won't be my last.
Carolina Casado Parras
VibrantWords Translations, UK
I'm still soaking in all the information and the networking of these three intense days.  My first conclusion is that we are undoubtedly a group of Badass Polyglots with so much knowledge to share, and so many different skills and specializations.
iTechwords, Portugal
Let's be honest, after the dark years of Corona the expectations of the first event in person were very high and you didn't disappoint. Whoever said that BP was addictive… they were right! See you at BP23 in Utrecht!
EDIT Translations, France
Accommodation :: Travel info :: Etc.
How does a hybrid event work?
A hybrid event means some attendees are present in person, while other attendees follow a live stream online.  Good hybrid events also offer online networking opportunities for remote attendees.
BP22 was our first hybrid event, and we plan to carry on with this format in the future.  At BP23 Translaiton Conference, we'll implement some improvements over BP22, to make the remote experience even better and more engaging.
With a remote attendance ticket, you will:
have access to all session live
have access to all recordings
can participate in polls and other interactive features live
ask questions live from the speakers
have access to a list of all attendees
chat with other attendees during the sessions and throughout the event
In case you have to cancel your in-person attendance in the last minute, you can still attend the event remotely.
More detailed information will be available before tickets go on sale in January. 
VAT
In some cases you'll need to pay a 21% Dutch VAT on top of the conference ticket, while in some cases you don't. 
You'll need to a pay a 21% VAT if you purchase your ticket as a private individual, no matter where you are based
You'll need to pay a 21% VAT if you're based in the Netherlands, whether you purchase your ticket as a company or as an individual. (As a company, you'll be able to claim back the VAT amount in your tax return.)
You will not need to pay a 21% VAT if you purchase your ticket as a company registered in an EU member state other than the Netherlands. In this case you'll need to provide your valid VAT number.
If you're based outside the EU and you purchase your ticket as a company, you're also eligible to VAT-free purchase. (This information will be clarified after a thorough check with the relevant Dutch VAT regulations.)
While the company organizing BP Translation Conferences is registered in Hungary, for VAT purposes we'll need to charge the local VAT of the country where the physical event will take place.  All invoices will be issued with out Dutch VAT number. (To be obtained later in 2022.)
I don't know anybody -- can I still go?
BP Translation Conferences are very friendly affairs, but a bunch of like-minded individuals from around the world.  Even if you're new to our events, you may know some people already from online platforms or social media.
We'll have special networking games on site to make it easier to get in touch with other attendees and to make meaningful connections with them.
I follow a special diet
Vegan, leactose-free, and/or gluten-free options will be available at all venues.
In fact, BP translation conferences have offered these options since our very first event (BP14).
About 3 weeks before the event you'll receive a survey to indicate your diet choice.
How much money do I need in total?
The conference ticket itself will cost around 300-350€ (+VAT), depending on how much in advance you register.   If you add two networking dinners (most people do), this will cost around 100€ more.  (These prices will be finalized before early January.)
You'll need to pay for your flight or train tickets, and this, obviously, greatly varies according to where you live.  As a rule of thumb, the earlier you buy your ticket, the cheaper it is.
Accommodation:  A single room in the conference hotel will cost 129€ for single occupancy.  You can save a substantial amount if you can find a roommate to split the costs.  If you stay more than just a couple of days, renting a holiday apartment may be a cheaper and more comfortable option, especially if you can split the costs between 3-4 or more people.
You may want to set aside some money for fringe events such as walking tours, as well as museum entrance fees, meals, train tickets to Amsterdam and/or other nearby cities.
Where does my money go?
In-person tickets:
Conference room rental + Video team + Catering + Speakers' expenses + Software licences + Miscellaneous (badge + bag + rollups, etc.) + Organiser's profit (i.e. a compensation for his time for giving up translation jobs)
Remote tickets:
Video team + Speakers' expenses + Software licences + Organiser's profit (i.e. a compensation for his time for giving up translation jobs)
Dinner tickets:
90% goes to the restaurants
What are start and end times each day?
On Monday, 8 May, we'll have a few workshops that are not covered by the conference ticket, but will be available separately.  Workshops will run between 9:30 and 13:00, and between 14:00 and 17:30.
The welcome reception will take place probably between 18:30 and 21:30 in a downtown location. This will not be part of the actual conference ticket.
Those who attend the welcome reception will be able to pick up their badges and bags in the afternoon.
On Tuesday, 9 May, the actual conference starts at 9:00.  Anyone who has not picked up their badge and bag can do so before the conference starts.  Sessions will run until about 17:00.   
The gala dinner will start around 19:30 at a downtown location, and will be available for a separate ticket.
On Wednesday, 10 May, sessions will start around 9:30 and run until about 16:00, followed by a farewell reception until about 17:00 at the conference venue. This reception is part of the conference ticket.
Certificates of attendance / CE points
All attendees (on-site and remote) will receive a certificate of attendance.   
ATA usually accepts the conference for 10 CE points — the confirmation will arrive some time in February.
If you live in France, you may need a special form to be filled in so that your attendance can be accepted by continuous education insitutions — we're happy to sign this for you.
Will there be an ATA exam?
ATA decided to make their certification exams available online, so there's no need (and probably no demand) for on-site exams.
Invitation letters for visa application
If you need a visa for the Netherlands (and the Schengen zone), BP Translation Conference, as the organizer of the event, will send you an invitation letter.
You will need to apply for a visa at the Dutch embassy or consulate operating in your country.
We have no influence on the decision of the Dutch authorities.
If you cannot attend the conference in person because your visa is denied, you'll receive a full refund (until 25 April).
Event locations
Monday, 8 May:  Workshops will be held at Crowne Plaza, which is located inside the Hoog Katerijne shopping mall right next to Utrecht's train station.
Those who attend the welcome reception int he evening will receive their badges and bags also at Crowne Plaza in the afternoon.
The location of the welcome reception hasn't been decided yet, there are still 4 possible venues for this.
Tuesday and Wednesday, 9 and 10 May: The actual conference will take place at Jaarbeurs, a multifunctional events hub a few hundred meters from Utrecht's train station.  The exact area will be announced soon.  
We'll have all sessions, coffee and lunch breaks, as well as the farewell reception here. (The farewell reception is included in all on-site tickets.)
Tuesday, 9 May: The gala dinner will take place at Humphrey's, a restaurant right by Oudegracht, the main canal in the centre of the city. This is a 15-18-minute walk from Jaarbeurs, or a 10-minute walk from Crowne Plaza.
All venues are barrier-free.
Special dietary needs
All venues can cater for guests with special dietary needs. About a month before the event, you'll receive a form where you can indicate if you need vegan / lactose-free / gluten-free options, and/or if you are allergic to a specific ingredient.
Cancellation policy
We offer a generous cancellation policy. You can find its full text, together with our general terms and conditions here.
Discounts for students and recent graduates
We offer a 35% discount for full-time students of  translation, interpreting or similar studies if you are under 30 years old on 9 May 2023.
We offer a 15% discount for colleagues who graduated in 2021 or 2022 and are under 32 years old on 9 May 2023.
The total number of such discounted in-person tickets is limited to 10% of total in-person attendance.  There's no limit to the number of such discounted remote tickets.
Discounted tickets are available only until 30 April 2023.
Please upload a proof of student status / degree, as well as a copy of your ID that shows your name and birth date, and you will receive a discount code by email.
Tickets for a single day
It is possible buy single-day tickets.
This is how it works: 
1. In the Registration section above, select the 'Utrecht Basic' ticket. You may add any additional items.
2. On the Cart page, apply the discount code BP23Tuesday or BP23Wednesday for the day you wish to attend.
3. You'll get a 30% discount off the price of the Utrecht Basic ticket.
This is what you get:
In-person attendance on the day of your choice
All catering during the conference hours (2 coffee breaks and 1 lunch on Tuesday, 1 coffee break, 1 lunch, and 1 farewell reception on Wednesday)
Conference badge, conference bag
Access to the event app and online platform
Access to all recordings, including the sessions on the other day
Payment in 2 instalments
From now on you can choose to pay in 2 instalments: 50% at the time of placing the order, and the remaining 50% two months later.
Terms and conditions:
Available only for purchases of at least 400€ net (before VAT)
Only card payment
Available until 30 April 2023 only
A 10% surcharge applies
Select 'Payment by Partial.ly' on the Checkout page — you'll be taken to their page
Card payments processed by Stripe
The second payment will be charged automatically 2 months later. You'll receive a reminder email a week before.
Orders (invoices, app invitations) will be processed manually, within 48 hours
We may withdraw this option at any time without prior notice
(Known issue at the calculation of the payable amount: The 10% surcharge is added on top of the full cart total, before any discounts are applied, instead of the net amount, after any discounts are applied.  Bug reported to Partial.ly.  For now, use this payment option only if your cart does not include any discounted items. E.g. you're OK when choosing a 'BP23 Utrecht Premium' ticket, but not OK when choosing a 'BP23 Utrecht Premium' ticket AND a 1-year access to BP Video Library — since you are entitled to a 60% for the latter item.)