On the second day of BP19 Translation Conference we'll have 12+1 short talks for a single audience.  Each talk will last for 20 minutes, followed by a moderated 10-minute Q&A block.
The day includes two long coffee breaks and a lengthy lunch break, as well as a closing aperitivo right after the last talk of the day.
The talks below are in random order for the moment. The final schedule will be announced by mid-April. Click on the session cards to reveal more information about the subjects and the speakers.
The talks finish at 18:00, the closing aperitivo finishes around 19:00.
Warm-up
While you take your seats, Konstantin Kisin will keep you entertained as he prepares the stage for the day.  He will also host the Q&A sessions after each talk throughout the day.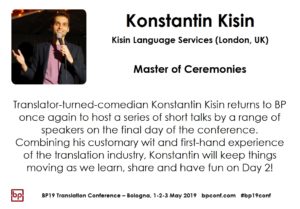 Later in the evening
There will be no centrally organised dinner on this day.
The good news is that the conference app allows for forming groups easily for fringe events such as dinners.  Go out with some fellow attendees and explore the culinary richness of Bologna.
Weather permitting, we could all meet later on in the evening on Piazza Maggiore (main square) and eat a late-night ice-cream.
And, if you fancy a party, we could go Qubo, an underground disco very close to the iconic 'due torri' (two towers).
(In fact, no venue above the ground is allowed to play music after midnight.)
Day trips and other activities over the weekend
Some people are already forming groups for day trips on Saturday and Sunday. So far there are day trips to Ravenna, Ferrara, and Florence.  (More details in the event app.)
Other proposed activities include jogging, a walking tour of Bologna, a night at the opera, and many more.
Some other people will continue their trip in Italy by travelling on Parma, Milano, Venice, Florence, Tuscany, Rome, and many mor fascinating destinations. Again, the event app is the best place to find travel buddies.